OneWeb to provide satellite coverage
SPECIAL SHARE: While online commenters pointed out China's investment in OneWeb, an official said that the British government retains final say over partnerships and access
The government expects satellite service by British provider OneWeb to cover all of Taiwan by the end of this year, Minister of Digital Affairs Audrey Tang (唐鳳) said.
The service expansion would provide more options for low Earth orbit (LEO) satellites to Taiwan, the Central News Agency quoted Tang as saying.
OneWeb services are currently only available in the northern part of Taiwan, said Tang, who made a rare trip to London earlier this week and visited OneWeb, which specializes in LEO satellites.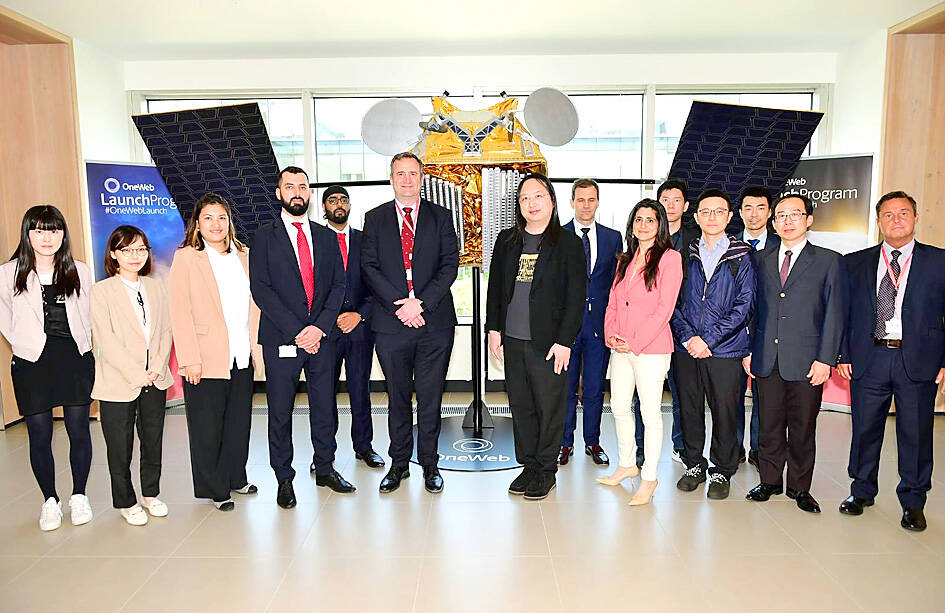 Minister of Digital Affairs Audrey Tang, front, fifth right, poses for a photograph with others during a visit to the headquarters of satellite company OneWeb in London in an undated photograph.
Photo courtesy of the Ministry of Digital Affairs
OneWeb, which is backed by the British government, is "very willing" to work with Taiwan to bolster Taiwan's communication infrastructure, she said.
The government's disaster response plan calls for the establishment of 700 satellite receivers placed across the country, the Ministry of Digital Affairs said.
Some of the receivers would be fixed and others mobile, and they would have to be configured to receive communications from multiple constellations of satellites in LEO and medium Earth orbit.
However, online commenters yesterday raised concerns, as China has invested in one of OneWeb's owners, with some saying that working with the satellite operator would run afoul of the ministry's own regulations.
In July last year, OneWeb announced it would merge with French Satellite operator Eutelsat, in which Beijing-run China Investment Corp (中國投資公司) has a 7 percent stake. Eutelsat's board approved the merger in November last year, and the deal is to be finalized this year.
An official speaking on condition of anonymity said that the British government would retain a special share in OneWeb that gives London a final say over any partnership with the company or access to its technology.
As a member of the "Five Eyes" alliance with Australia, Canada, New Zealand and the US, the UK can be counted upon to be strict about its national interests and information security, the official said.
The special share is a legal mechanism that grants the government more control over OneWeb than the face value of the share would normally confer, the official said, adding that it would permit London to allow only friendly nations to be part of the company's supply chain.
Additionally, China owns less than 5 percent of OneWeb and the company falls under the legal category of satellite operator under Taiwanese regulations, the official said.
That means rules barring collaboration with telecom companies with more than 5 percent Chinese shares do not apply to the proposal, as Internet users incorrectly suggested, they said.
The Taiwan Space Agency yesterday said that Taiwan would need more than 120 satellites to create a satellite-based Internet infrastructure, which far exceeds domestic launch capabilities.
The agency also sees no alternative than to seek help from foreign entities to launch the satellites, it said, adding that candidates for partnership would be vetted carefully in line with laws and regulations.
The agency previously said that the satellite project was a necessary measure to address the vulnerability of Taiwan's undersea Internet cables to sabotage by China.
Additional reporting by Wu Po-hsuan
Comments will be moderated. Keep comments relevant to the article. Remarks containing abusive and obscene language, personal attacks of any kind or promotion will be removed and the user banned. Final decision will be at the discretion of the Taipei Times.