KMT legislator penalized over sexual harassment
GUILTY AS CHARGED: Chen Hsueh-sheng repeatedly pressed his belly against a DPP lawmaker and made derogatory remarks when confronted over his behavior
The Taipei District Court yesterday upheld a verdict against Chinese Nationalist Party (KMT) Legislator Chen Hsueh-sheng (陳雪生), finding him liable for sexually harassing Democratic Progressive Party (DPP) Legislator Fan Yun (范雲) during a physical altercation on the legislative floor in 2020.
The DPP lawmaker accused Chen of pressing his belly against her back three times in a sexually suggestive manner during a scuffle between lawmakers from both parties.
Chen must pay Fan NT$80,000 in damages as stipulated by a summary ruling of the district court at the first trial, the court said in a news release.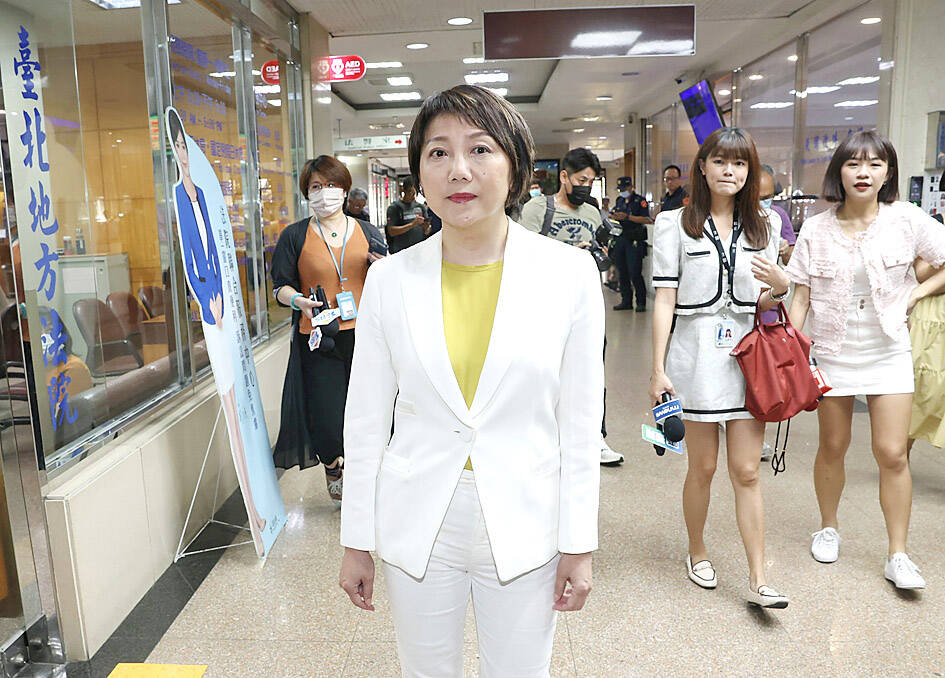 Democratic Progressive Party Legislator Fan Yun, front, is pictured at the Taipei District Court yesterday.
Photo: CNA
The verdict is final as the defendant has no legal grounds to file for an appeal, it added.
Witness testimony and photographic evidence proved to the court's satisfaction that the defendant deliberately slammed into Fan and that it amounted to sexual harassment, it said.
Moreover, Chen made several remarks during and after the altercation which constitute verbal sexual harassment, including "my belly will not make you pregnant," "do not flatter yourself" and "I am not desperate," it said.
These utterances, viewed in their totality and full context, invalidated Chen's defense that they were made in defense of his reputation and were not sexual in nature, the court said.
The court also dismissed the defamation lawsuit Chen brought against Fan for calling him a "subway pervert" and "creep from the dinosaur age," saying her remarks fall within the bounds of fair commentary on a fact subject to public criticism, the court said.
Fan told a news conference near the court that she would not celebrate the legal victory, because social media users continue to accuse her of making up charges for political gain.
"I am grateful to people for their skepticism and caustic comments, as they have improved my understanding of the hardships victims endure," she said, adding that she would donate the compensation in full to the Women's Rescue Foundation.
Chen said the accusation that he pushed his belly against Fan's backside was untrue and that he was too tall to touch the DPP lawmaker in the manner she described.
He said that an investigation by the Taipei City Council's gender equality committee had cleared him of any wrongdoing in connection to Fan and the legislative tussle.
Chen added that he made several poorly phrased comments in anger at being falsely accused, but they did not have any sexual connotation.
The court has ruled against him on baseless defamatory allegations, which showed that there is no justice in Taiwan, he said, calling on Fan to refrain from using the verdict as political fodder.
"I have been in politics for many years and have the trust and affirmation of Matsu residents," said Chen, who is running for re-election. "I will face gender issues with humility and a willingness to learn in the future."
When asked, a KMT spokesperson said the party respects judicial independence and people involved in the matter should use legal recourse to protect their rights if they feel the verdict was unjust.
The behavior Chen was convicted of does not affect his candidacy under the party's bylaws and there is no plan to replace him, the spokesperson said.
Comments will be moderated. Keep comments relevant to the article. Remarks containing abusive and obscene language, personal attacks of any kind or promotion will be removed and the user banned. Final decision will be at the discretion of the Taipei Times.