AI may be huge for Taiwan: Nvidia boss
EMBRACE CHANGE: Jensen Huang told NTU graduates that instead of worrying about AI itself, they should worry that people with expertise in AI would be taking their jobs
Artificial intelligence (AI) is redefining the computer industry, and Taiwanese companies could play a major role in replacing the world's traditional computers as they are the foundation of the industry, Nvidia Corp cofounder and CEO Jensen Huang (黃仁勳) said in Taipei yesterday.
Huang made the remarks while giving the keynote speech at National Taiwan University's (NTU) commencement ceremony.
AI has created immense opportunities, and versatile companies can be expected to take advantage and boost their position, while less flexible firms would perish, he said.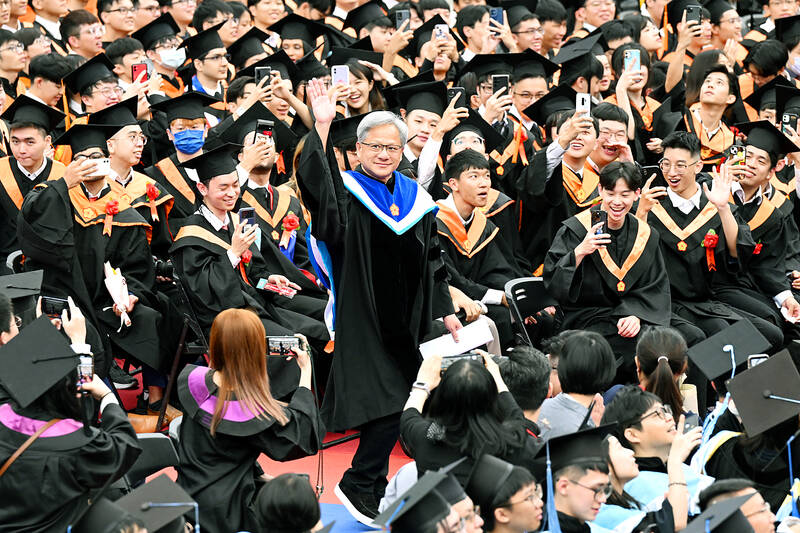 Nvidia Corp cofounder and CEO Jensen Huang, center, waves as he walks toward the stage to give a speech at National Taiwan University's commencement ceremony in Taipei yesterday.
Photo: Liao Chen-huei, Taipei Times
"In every way, this is a rebirth of the computer industry and a golden opportunity for the companies of Taiwan," he said, adding that as the foundation of the computer industry, Taiwanese companies, within the next decade, would replace US$1 trillion of the world's traditional computers with AI-accelerated computers.
Graduating students must learn to "take advantage of AI and do amazing things with an AI copilot by your side," Huang said, adding that instead of worrying that AI would take over jobs, they should instead worry that people with expertise in AI could and would take other people's jobs.
He said that graduating students are on the precipice of a great technological shift, and while his graduating class of 1984 witnessed how the personal computer revolution gave birth to the software industry of today, AI "is far more fundamental, because every computing layer has been reinvented. From how we write software, to how it's processed, AI has reinvented computing from the ground up."
"AI software has opened the door for computers to automated tasks for the world's largest [multitrillion-dollar industry] — healthcare, finances, transportation and manufactories," he said.
At the ceremony, NTU president Chen Wen-chang (陳文章) announced that NTU would be partnering with Nvidia to establish an AI center that would promote the use of AI in the university.
The project would incorporate AI "teachers" in classes to experiment with the use of AI software in education across all of the university's campuses, Chen said, adding that NTU would also work with Nvidia to research AI software and related topics.
Nvidia on Wednesday said that due to the acceleration of AI applications, its sales for this quarter are expected to reach US$11 billion, up 64 percent from a year earlier and more than an early market estimate of US$7.2 billion.
The company posted more than US$2 billion in net profit and US$7 billion in sales for the first quarter, again beating analysts' expectations.
Shares in the company on Thursday surged 24.4 percent on US markets due to optimism regarding AI applications. Nvidia shares gained an additional 2.54 percent on Friday.
Huang is tomorrow scheduled to deliver the opening speech at Computex Taipei, one of the world's largest computer trade fairs.
Additional reporting by CNA
Comments will be moderated. Keep comments relevant to the article. Remarks containing abusive and obscene language, personal attacks of any kind or promotion will be removed and the user banned. Final decision will be at the discretion of the Taipei Times.