Estonia backs Taiwan's WHA inclusion
US DISCUSSIONS: Monitoring and data are important factors to consider before the next pandemic, a US official said, adding that its work with Taiwan is important
Taiwan should be included in world health matters, Estonia said in a statement on Tuesday at the World Health Assembly (WHA) in Geneva, Switzerland.
In her address on the third day of the 76th WHA, the WHO's annual decisionmaking forum, Estonian Minister of Health Riina Sikkut said that her country believed nations should "facilitate inclusion and meaningful participation of all partners, including Taiwan, and this would benefit global health."
Estonia was one of 10 countries to support Taiwan's inclusion at the session, with the others being Lithuania, Luxembourg and Germany, which have no formal diplomatic relations with the nation, and diplomatic allies Haiti, the Marshall Islands, Nauru, Paraguay, Saint Lucia, and Saint Vincent and the Grenadines.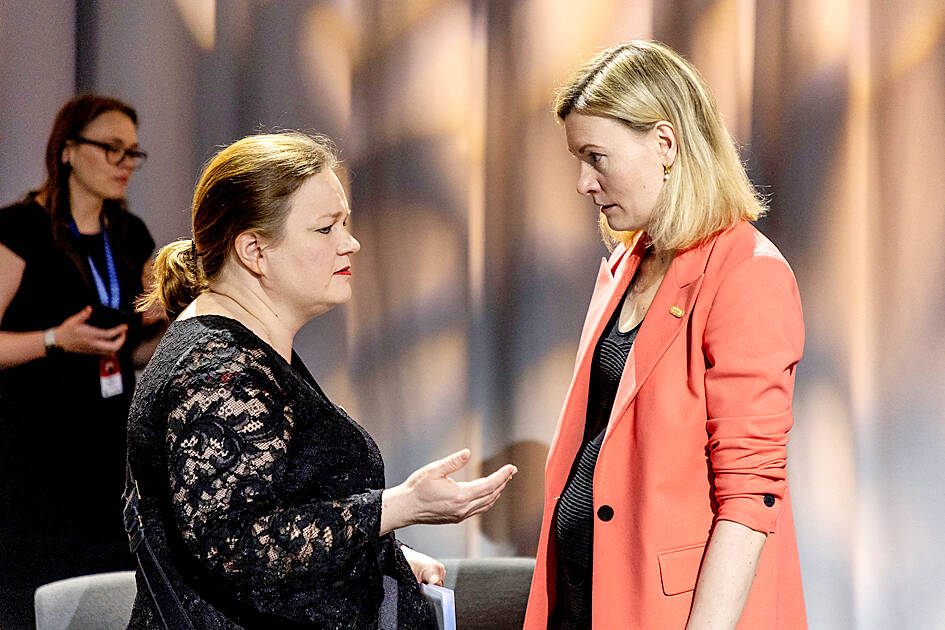 Estonian Minister of Health Riina Sikkut, right, speaks with Finnish Minister of Family Affairs Krista Kiuru at an event in Stockholm on May 5.
Photo: Reuters
Marshall Islands Minister of Health Joe Bejang made a personal plea to WHO Director-General Tedros Adhanom Ghebreyesus.
"We should stop the politics, stop the neglect, for we are all human beings and we should be focusing on achieving the highest possible standard of health for all people," Bejang said. "Let Taiwan help."
The support came a day after the WHA rejected a proposal from Taiwan's diplomatic allies, including Belize, Nauru, the Kingdom of Eswatini and the Marshall Islands, to put the issue of Taiwan being granted observer status on the WHA's agenda.
China objected to the proposal.
Earlier on Tuesday, the Ministry of Foreign Affairs held a separate Global Collaboration and Training Framework forum in Geneva to highlight the importance of Taiwan's involvement in the WHO.
Minister of Health and Welfare Hsueh Jui-yuan (薛瑞元) said that no country is safe from pandemics that are without historical precedent, and the Preparedness and Resilience for Emerging Threats initiative, touted by the WHO, was only implemented after the COVID-19 pandemic began.
Loyce Pace, assistant secretary at the US Department of Health and Human Services' Office of Global Affairs, said that the world should learn from the COVID-19 pandemic.
Health monitoring and data systems, as well as innovation in pandemic prevention, are important to prepare before the next great pandemic, Pace said.
The US affirms the importance of bilateral, regional and other collaborations that the US conducted with Taiwan, including through the Global Collaboration and Training Framework, Pace said.
Taipei Economic and Cultural Office in Geneva Director-General Nicole Su (蘇瑩君) said that the forum highlighted what Taiwan could bring to the table given its strengths in the medical sector to solve global problems and improve multilateral partnerships.
Comments will be moderated. Keep comments relevant to the article. Remarks containing abusive and obscene language, personal attacks of any kind or promotion will be removed and the user banned. Final decision will be at the discretion of the Taipei Times.