Quanta Computer to invest US$1 billion in Mexico
Taiwanese electronics manufacturer Quanta Computer Inc (廣達電腦) is to invest US$1 billion and create 2,500 jobs in Nuevo Leon state, Mexico, Nuevo Leon Governor Samuel Garcia wrote on Twitter on Monday.
Speaking from Quanta Computer's Mexican headquarters in the state capital, Monterrey, Garcia said the investment reflected the potential of nearshoring and was a sign of an "economic boom" in the state.
The investment is part of an expansion of Quanta's operations in the state, a Nuevo Leon spokesperson said.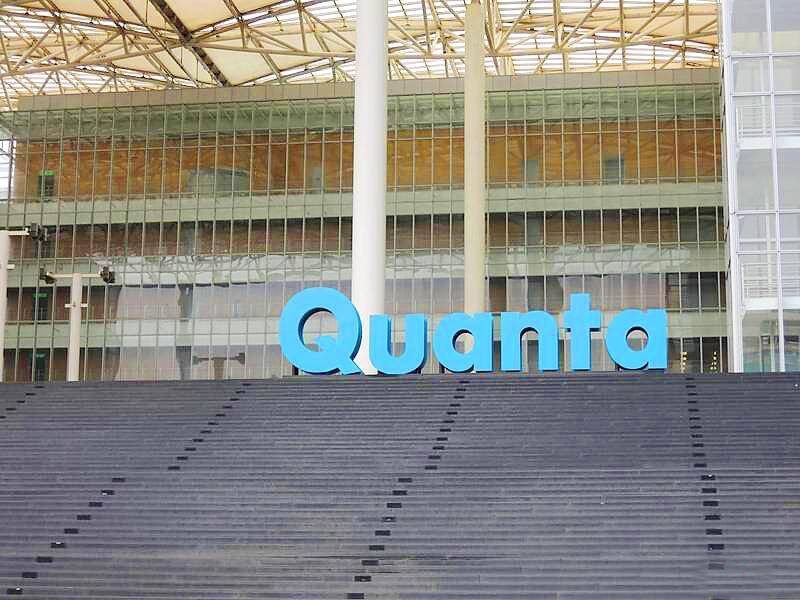 The Quanta Computer Inc logo is pictured outside the company's headquarters in New Taipei City's Linkou District on March 30, 2020.
Photo: Vanessa Cho, Taipei Times
Quanta Computer is a supplier for Tesla Inc, which earlier this year announced a new US$5 billion factory in Monterrey.
Mexico's foreign direct investment rose 48 percent in the first quarter from regular flows recorded during the same time last year, the latest sign that corporate nearshoring efforts are contributing to the nation's export boom.
Investment surged to US$18.6 billion over the first three months of the year, according to preliminary data released on Sunday by the Mexican Secretariat of Economy.
The percentage increase from a year earlier excludes the merger of media companies Grupo Televisa SAB and Univision Holdings Inc, and the restructuring of Grupo Aeromexico SAB, the secretariat said.
The sharp rise occurred as businesses have funneled money into Mexico in an effort to move closer to North American consumers.
Aside from the capital, no state received more money than Nuevo Leon's US$2.3 billion. Jalisco received US$1.2 billion, while Puebla and Mexico state followed with US$0.9 billion each.
The majority of the investment growth came from companies that expanded existing operations in Mexico.
The movement of companies from other parts of the world to just south of the US — a practice known as nearshoring — has generated a buzz around Mexico's production possibilities.
Nearly US$10 billion of the investment went to the manufacturing sector, while US$6 billion went into financial services.
Comments will be moderated. Keep comments relevant to the article. Remarks containing abusive and obscene language, personal attacks of any kind or promotion will be removed and the user banned. Final decision will be at the discretion of the Taipei Times.