British ex-PM Liz Truss to visit Taiwan next week
'BEACON OF FREEDOM': The foreign ministry said Truss is a long-time friend of Taiwan and has underscored the importance of peace and stability across the Strait
Former British prime minister Liz Truss is to visit Taiwan next week from Tuesday to Saturday, the Ministry of Foreign Affairs said in a press release yesterday.
"Taiwan is a beacon of freedom and democracy. I'm looking forward to showing solidarity with the Taiwanese people in person in the face of increasingly aggressive behavior and rhetoric from the regime in Beijing," Truss said upon announcing the visit.
The planned visit demonstrates Truss' firm support for Taiwan and the close friendship between Taiwan and the UK, the ministry said.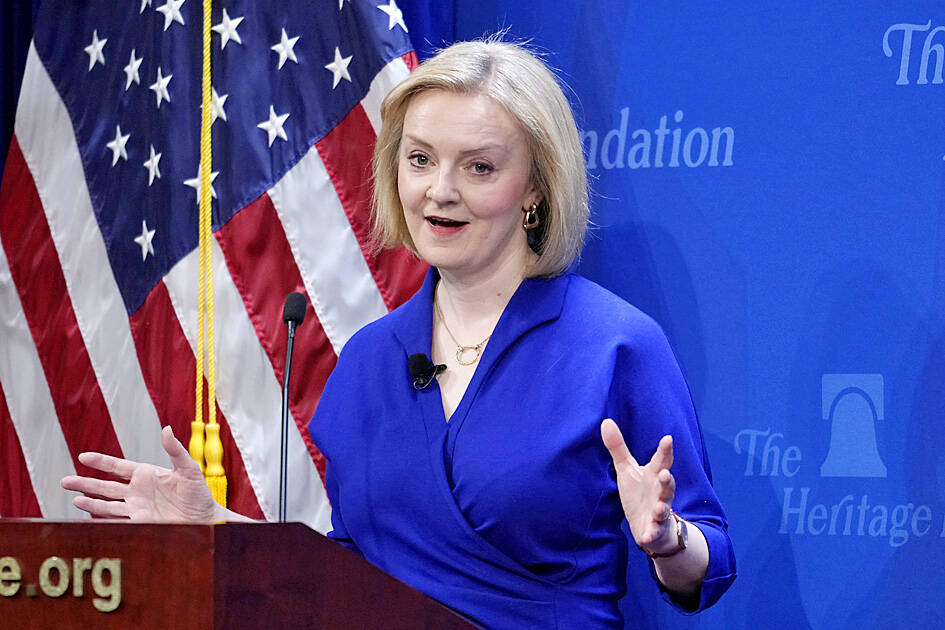 Former British Prime Minister Liz Truss delivers the 2023 Margaret Thatcher Freedom Lecture at The Heritage Foundation, a conservative policy institute in Washington, Wednesday, April 12, 2023.
Photo: AP
Truss has been a friend of Taiwan for a long time, and repeatedly underscored the importance of peace and stability across the Taiwan Strait when she was British secretary of state for foreign, commonwealth and development affairs in 2021 and last year, and continued to voice support for Taiwan afterward, it said.
The UK "must ensure that democracies like Taiwan are able to defend themselves," she said in a speech regarding her foreign policy in April last year.
The West must learn from its mistakes in failing to deter Russia's invasion of Ukraine and apply those lessons to Taiwan to "protect peace and stability in the Taiwan Strait," she said at the NATO summit in Madrid in June last year.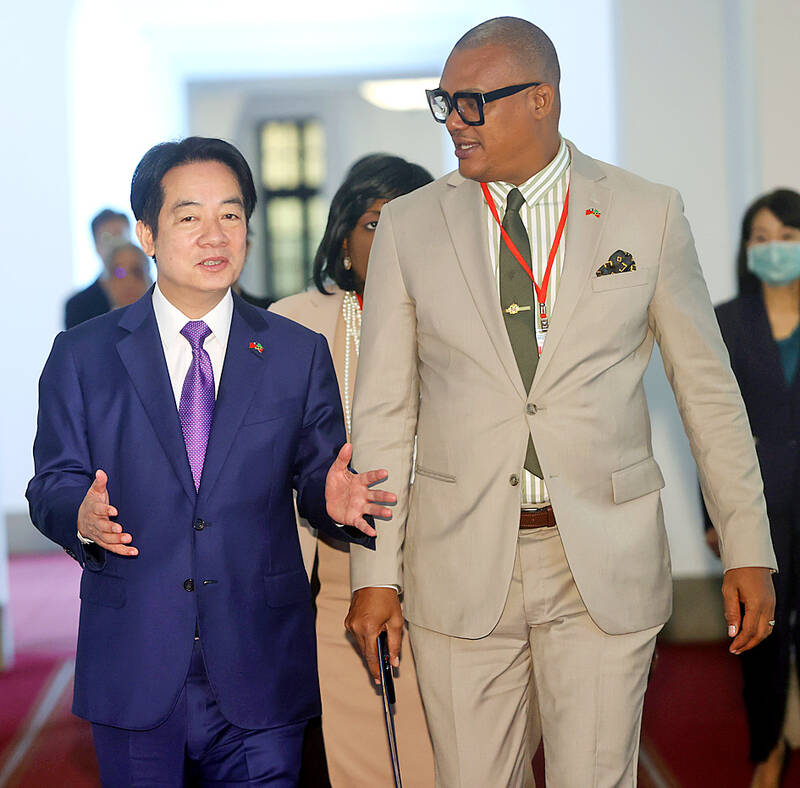 Vice President William Lai, left, walks with Saint Kitts and Nevis Deputy Prime Minister Geoffrey Hanley at the Presidential Office in Taipei yesterday.
Photo: CNA
Truss is to meet with government leaders, and people in business and academia, as well as deliver a speech on Wednesday next week at the invitation of the Prospect Foundation, the ministry said.
In other news, visiting Saint Kitts and Nevis Deputy Prime Minister Geoffrey Hanley invited Vice President William Lai (賴清德) to celebrate the 40th anniversary of the Caribbean country's independence in September.
Hanley, who arrived on Monday leading a delegation that is to stay until Friday, met with Lai at the Presidential Office in Taipei.
This year marks the 40th anniversary of Saint Kitts and Nevis' independence, as well as its diplomatic relations with Taiwan, Hanley said.
The partnership between the two nations is formed on the basis of democracy, peace and the rule of law, he said.
The spirit of unity gives both sides confidence to face global challenges together, including climate change and the post-COVID-19 pandemic era, he said, adding that Taiwan can make meaningful contributions to his country.
Taiwan has provided great help to Saint Kitts and Nevis in education, such as working with the country's Ministry of Education to train young people and encourage them to undergo higher education, he said.
He invited Taiwanese students to visit Saint Kitts and Nevis to learn English, the country's official language.
Saint Kitts and Nevis Prime Minister Terrance Drew invited President Tsai Ing-wen (蔡英文) to attend the independence anniversary when he visited Taiwan in November last year, adding that he would like to extend the same invitation to Lai.
Taiwan was the first country to form diplomatic relations with Saint Kitts and Nevis after its independence in 1983, after which the two sides have been supporting each other and maintaining a strong partnership, Lai said.
Taiwan has been working closely with the ally in a diverse range of fields with great success, including education, public health, infrastructure, information and communications, waste treatment and green energy, he said.
Lai thanked the Congress of St Kitts and Nevis for passing resolutions last month to support Taiwan's participation in international organizations such as the WHO, the International Civil Aviation Organization and Interpol.
Hanley, who is also minister of education, is dedicated to promoting special education, and vocational education and training, Lai said.
Lai wished Hanley a fruitful trip, during which he is to visit Wenshan School of Special Education, Taipei Municipal Daan Vocational High School and the Workforce Development Agency.
The delegation also met with Minister of Foreign Affairs Joseph Wu (吳釗燮) yesterday and attended a banquet with him.
The two countries have had a profound friendship for 40 years and would continue to strengthen bilateral ties based upon the sound foundation, Hanley said.
Comments will be moderated. Keep comments relevant to the article. Remarks containing abusive and obscene language, personal attacks of any kind or promotion will be removed and the user banned. Final decision will be at the discretion of the Taipei Times.