US senators launch new push to thwart China, deter aggression against Taiwan
US senators announced a major cross-party effort on Wednesday to combat China's growing global influence by limiting the flow of investment and state-of-the-art technology to the Asian giant, while deterring any potential threat to Taiwan.
The push comes after US President Joe Biden signed a package last year aimed at boosting competition with Washington's main economic rival, with US$52 billion in new subsidies for microchip manufacturing and scientific research.
Launching the latest legislative drive in the Democratic-led Senate, US Senate Majority Leader Chuck Schumer framed the fight to rein in Chinese President Xi Jinping's (習近平) Chinese Communist Party (CCP) as an epochal struggle.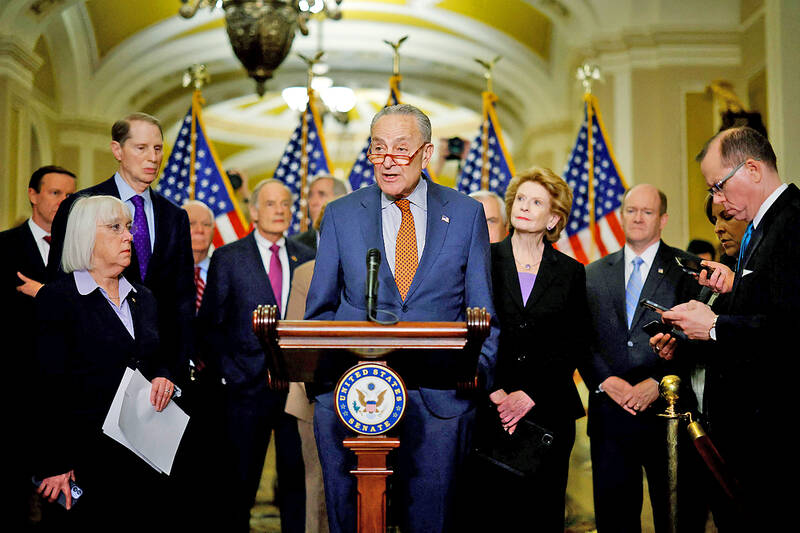 US Senate Majority Leader Charles Schumer, center, talk to reporters about proposed China competitiveness legislation at the US Capitol in Washington on Wednesday.
Photo: AFP
"The Chinese government is not constraining itself in its pursuit to dominate the 21st century, and if we in America were to rest on our laurels, if we let the CCP beat us, it would have serious consequences for the world's democratic nations," he said.
"The United States cannot afford to cede its leadership to governments opposed to democracy and individual liberty. We cannot let authoritarianism call the shots in the 21st century," he added.
Schumer and 11 of his most senior lieutenants held a news conference to outline a five-step plan aimed at addressing competition from China, which has seen its economy grow more than 10-fold since the turn of the century.
One element of the push would be proposals to deter Chinese aggression against Taiwan, the global leader in manufacturing high-end microchips.
Schumer did not offer specifics, but said the plan would build on bipartisan proposals from the US Senate Foreign Relations Committee, which last year approved US$4.5 billion for Taipei's defense over four years and affirmed Biden's power to levy sanctions on Chinese officials and financial institutions involved in actions against the nation.
The New York Democrat said lawmakers would look at export controls and sanctions limiting Beijing's ability to acquire — "and even steal" — US innovations in artificial intelligence, quantum computing and other advanced tech.
The US Department of the Treasury and the US Department of Commerce would get new authority to screen and halt the flow of cash to China's high-tech industries, he added.
The drive would also look at assisting small business, building a US workforce "for the future" and strengthening the process for assessing the national security implications of inward foreign investments.
Relations between Beijing and Washington have been declining steadily for years, with the rivals locking horns over trade, human rights and the origins of COVID-19.
Washington has also been a critic of the Chinese Belt and Road Initiative — which has invested US$840 billion in roads, bridges, ports and hospitals in more than 150 nations over a decade — arguing that it lures poor countries into debt traps with huge, unaffordable loans.
Schumer said the US and its allies were ready to cooperate on providing an alternative infrastructure funding source that "actually benefits those countries looking for a helping hand."
"Bottom line: Time is not on our side. The Xi regime is working every day to catch up and surpass the United States," Schumer said. "There is no reason our two parties here in the Congress ... can't come together and send a strong message to the Chinese government that we're united in this pressing national security effort and we are committed to maintaining America's lead in the future."
Comments will be moderated. Keep comments relevant to the article. Remarks containing abusive and obscene language, personal attacks of any kind or promotion will be removed and the user banned. Final decision will be at the discretion of the Taipei Times.