Virginia to open trade office in Taiwan
IMPORTANT PARTNER: Virginia is the biggest exporter to Taiwan among all states in the US, while it imports more than US$1 billion of products from the nation every year
A Virginia-Taiwan Trade Office is to open in Taiwan in the hope of boosting economic ties with the nation, visiting Virginia Governor Glenn Youngkin said yesterday.
Youngkin made the announcement during a meeting with President Tsai Ing-wen (蔡英文) at the Presidential Office in Taipei, saying that he had just signed an executive order for the new trade office to be established in Taiwan.
"This is Virginia's fourth international trade office joining others in Germany, South Korea and Japan, and represents an enduring commitment to fostering collaboration and enhancing our ties with Taiwan," he said.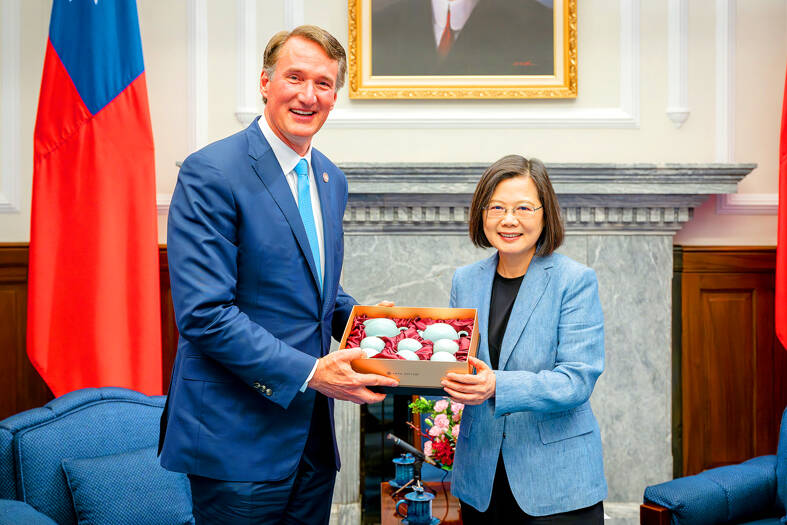 President Tsai Ing-wen, right, meets Virginia Governor Glenn Youngkin at the Presidential Office in Taipei yesterday.
Photo: EPA-EFE / Makoto Lin / Presidential Office
The Virginia General Assembly voted in support of a proposal to open a trade office in Taiwan in February after the case gained support from the Senate of Virginia earlier the same month, he said, adding that the decision demonstrates Virginia's strong commitment to cooperating with Taiwan.
Following the inauguration earlier this year of the Virginia-Taiwan Friendship Caucus, the state would continue to bolster ties with Taiwan, he added.
Virginia is the biggest exporter to Taiwan among all US states, with exports growing 27 percent from 2020 to last year, while it imports more than US$1 billion of products from Taiwan every year, Youngkin said.
Taiwanese businesses in Virginia have demonstrated the strength of the nation's manufacturing industry, especially semiconductors and electronic technology, he said.
Virginia's location, solid information and communication infrastructure, and abundant scientific and technological talent make it an ideal location for the semiconductor industry, he added.
The Port of Virginia, which serves as the "heart" of Virginia's economy, coupled with the new trade office would significantly increase the volume of goods moving into and out of the state, benefiting both Taiwan and Virginia, Youngkin said.
Youngkin is leading an international trade mission to Asia for the first time since taking office in January last year.
He arrived in Taiwan yesterday and is also planning to visit Japan and South Korea today, the Ministry of Foreign Affairs said in a statement.
Tsai thanked the governor for supporting Taiwan, citing the plan to establish a trade office and a resolution passed by the Virginia General Assembly in February supporting the nation's international participation.
Taiwan and Virginia have long worked closely on trade, education and culture, one example being renewing a memorandum of understanding on language education for the second time in August last year, she said.
The visit could open up more opportunities for the two sides to cooperate in diverse ways, and continue to bolster ties in industry and technology, she added.
Youngkin was also to sign a memorandum of understanding with the Ministry of Economic Affairs, and exchange ideas with the Taiwan External Trade Development Council and businesspeople to explore opportunities for economic and trade cooperation, the Ministry of Foreign Affairs said.
Additional reporting by CNA
Comments will be moderated. Keep comments relevant to the article. Remarks containing abusive and obscene language, personal attacks of any kind or promotion will be removed and the user banned. Final decision will be at the discretion of the Taipei Times.