Training on US weapons obligated by law: general
'KNIFE EDGE OF FREEDOM': Washington works with its allies in the first island chain to 'provide crisis response options,' US Army Japan Commanding General Joel Vowell said
US law prescribes that it provide training for the military systems it sells Taiwan, although its military assistance differs from that it has provided Ukraine, US Army Japan Commanding General Joel Vowell said on Thursday.
The US Army Japan stands in for the US Army with partners Taiwan, South Korea, Japan and the Philippines "on the knife edge of freedom" near authoritarian North Korea, Russia and China, Vowell told a virtual news briefing held by the US Department of State's Asia-Pacific Media Hub on the US Army's role in Japan and next month's Land Forces Pacific Symposium and Exposition in Honolulu, Hawaii.
He began his remarks by showing a rotated "lid map" with continental Asia at the bottom, emphasizing the first island chain stretching from Russia to the South China Sea.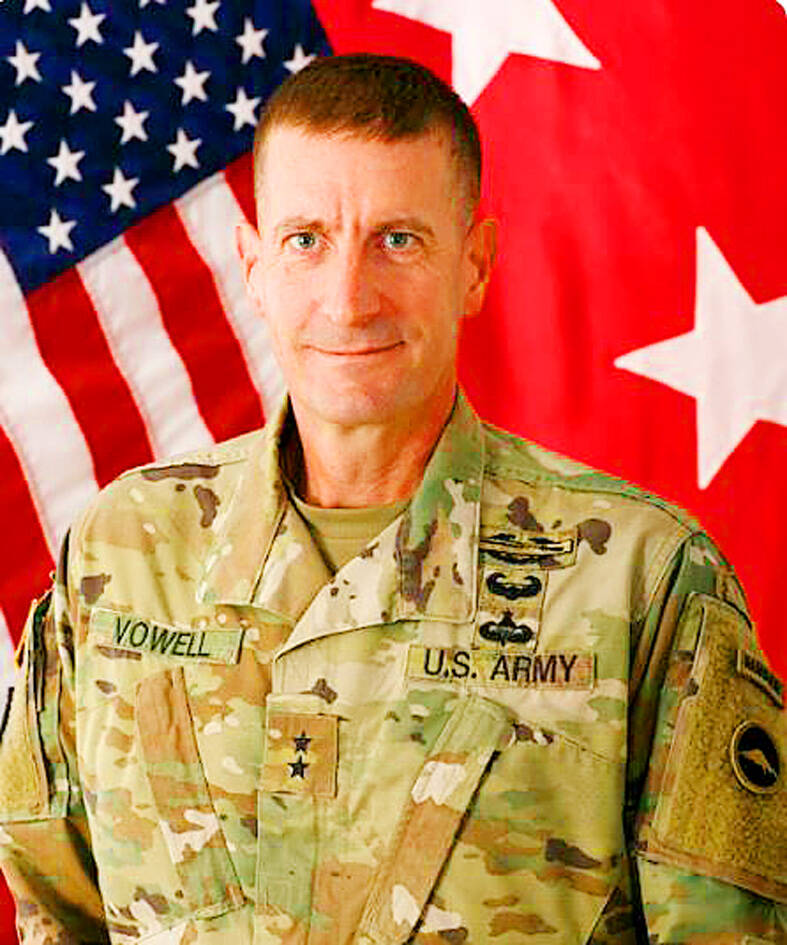 US Army Japan Commanding General Joel Vowell poses for an undated photograph.
Photo: screen grab from the US-Asia Pacific Media Hub's Twitter account
The US Army Japan's role is to "provide crisis response options" for any threats in the region to assure allies and deter aggression, and to ensure interoperability with the Japanese military, he said.
Asked about reports that more than 200 US military personnel are stationed in Taiwan and the possibility of including the nation in joint drills, Vowell emphasized the legal component of the US-Taiwan military relationship.
"We've historically had a military and State Department presence through AIT [American Institute in Taiwan], and that's generally been as required by law," he said.
The US' Taiwan Relations Act prescribes training to use the military systems purchased by Taiwan, he added.
For example, if the US sold a tank to Taiwan, it would send trainers — defense contractors or military personnel — to teach how to operate, shoot, move, communicate with and maintain it, Vowell said.
"That's what the law prescribes us to do," he added.
"Not recognizing Taiwan as a country is the United States policy and has been since the Taiwan Relations Act," but the US military has been working with the State Department and the AIT to "make sure they understand a framework for a potential defense," he said.
This is different from joint exercises with Ukraine in 2015, in which the US military trained Ukrainian regiments on tactical operations, he added.
In related news, a study last month showed that about half of Japanese believe the US would intervene if China were to invade Taiwan, while 61 percent said they were concerned about China's territorial ambitions.
Published on March 29, the study jointly conducted by the Chicago Council on Global Affairs and the Japan Institute of International Affairs compared survey findings from December 2021 and September last year.
The survey last year showed that 52 percent of respondents said the US would intervene in an attack on Taiwan, down from 55 percent in 2021.
The share of participants who said they fear China's territorial ambitions was similar to the 55 percent who in the 2021 survey saw China's development into a world power as a critical threat to Japan, it said.
Asked the same question in another survey, 52 percent of Americans believed China's territorial ambitions to be a critical threat.
Comments will be moderated. Keep comments relevant to the article. Remarks containing abusive and obscene language, personal attacks of any kind or promotion will be removed and the user banned. Final decision will be at the discretion of the Taipei Times.