Military closely watching Chinese drill
The military is closely watching a Chinese drill in the Taiwan Strait that began yesterday morning, ahead of a scheduled meeting between President Tsai Ing-wen (蔡英文) and US House of Representatives Speaker Kevin McCarthy in California.
Beijing said the drill is a "joint cruise and patrol special operation" led by a patrol vessel.
The Ministry of National Defense said Taiwanese forces are monitoring Chinese activity in the Strait through joint intelligence and surveillance, adding that no irregularities had been detected.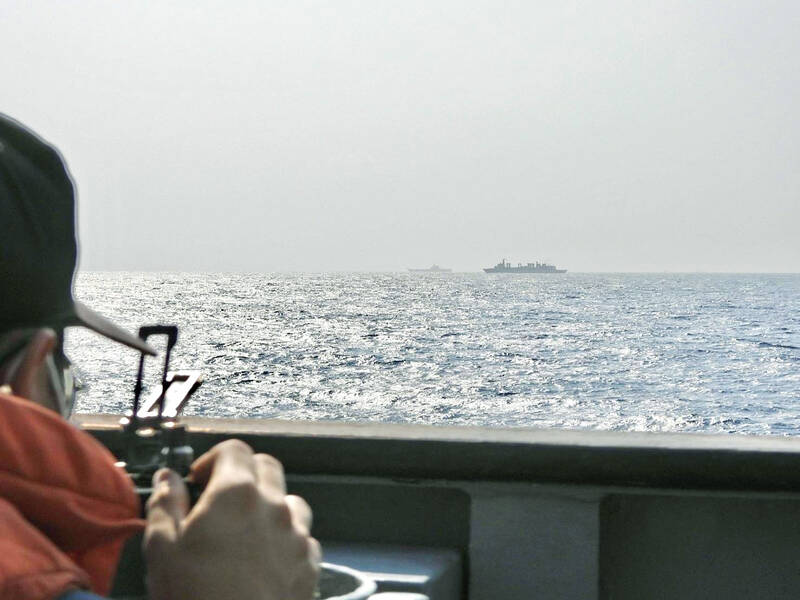 A Taiwanese navy soldier is monitoring China Shandong aircraft carrier at the sea, on the east of Taiwan on April 5.
Photo courtesy of Ministry of National Defense
The exercises are led by the Haixun 06 (海巡06), the first large Chinese vessel designated to patrol the Strait, joined by an undetermined number of maritime police vessels, China Central Television (CCTV) reported.
The report did not specify the exact location of the drill and when it would end, saying only that it was being held in the northern and central parts of the Strait.
NAUTICAL CHART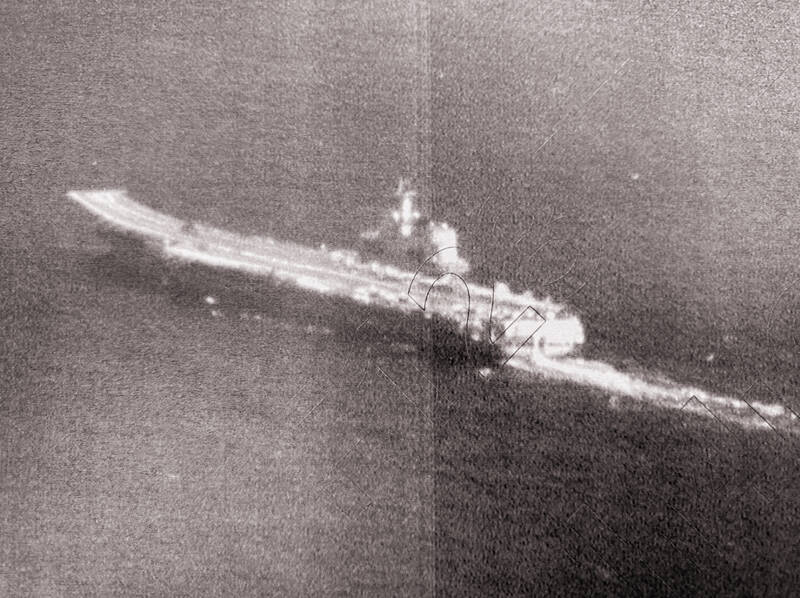 China Shandong aircraft carrier is pictured in the waters off Taiwan's southeast coast on April 5. The Defence Ministry said a Chinese carrier group leaded by Shandong aircraft carrier was spotted to pass through the Bashi Channel and then into waters to Taiwan's southeast. Those ships were going for training in the Western Pacific, and the Taiwanese naval and air forces closely monitored them.
Photo courtesy of Ministry of National Defense
However, a nautical chart attached to the report suggests that the drill might not be limited to the Strait.
The chart highlights two areas east and southeast of eastern Taiwan, without identifying what they represent.
Chinese-language media reported that the two areas are among those that were targeted by missiles during exercises that Beijing launched following then-US House speaker Nancy Pelosi's visit to Taipei in August last year.
Separately, the ministry reported that 14 Chinese military jets and three warships had been detected around Taiwan from 6pm on Tuesday to 6am yesterday.
Two of the aircraft entered Taiwan's air defense identification zone, the ministry said.
One of them was a Harbin BZK-005, a high-altitude, long-range uncrewed aerial vehicle used for reconnaissance purposes and the other was a Y-8 anti-submarine warfare plane, it said.
However, no Chinese military aircraft took the more provocative step of crossing the median line of the Taiwan Strait, the ministry said, adding that the number and routes of flights were similar to Chinese air force movements in the past few weeks.
Comments will be moderated. Keep comments relevant to the article. Remarks containing abusive and obscene language, personal attacks of any kind or promotion will be removed and the user banned. Final decision will be at the discretion of the Taipei Times.