Tsai-McCarthy meeting a milestone
BIPARTISAN SUPPORT: President Tsai Ing-wen last week met with Republican and Democratic lawmakers, and expressed her thanks for the US' support for Taiwan
President Tsai Ing-wen (蔡英文) was yesterday set to become the first Taiwanese president to meet with a US House of Representatives speaker on US soil, as she was scheduled to meet with House Speaker Kevin McCarthy.
Tsai arrived in Los Angeles on Tuesday night after visiting New York, Guatemala and Belize.
She was scheduled to meet with McCarthy at the Ronald Reagan Presidential Library in Simi Valley at 10am, McCarthy's office said.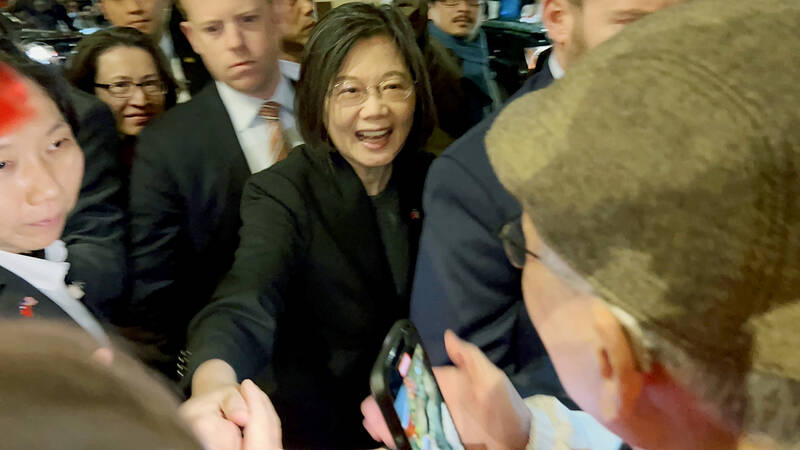 President Tsai Ing-wen arrives at Westin Bonaventure Hotel in Los Angeles, US and is welcomed by oversea Taiwanese.
Photo: CNA
Tsai and McCarthy would issue a joint statement after the closed-door meeting, while lawmakers who take part would hold a news briefing in the afternoon, the office said.
It would be the third time a Taiwanese president would have met with a House speaker since Taipei and Washington severed diplomatic ties in 1979.
The first meeting occurred in 1997, when then-House speaker Newt Gingrich met with then-president Lee Teng-hui (李登輝) in Taipei, and the second took place in August last year, when then-House speaker Nancy Pelosi met with Tsai, also in Taipei.
President Tsai Ing-wen, right, meets with the top Democrat in the House of representative Hakeem Jeffries in New York on March 30 before heading to Central America.
Photo courtesy of President Office
Presidential Office Deputy Secretary-General Xavier Chang (張惇涵) would not disclose the list of US lawmakers who were to attend the Tsai-McCarthy meeting when asked about the issue aboard the president's charter flight on the way to Los Angeles.
However, a source told the Central News Agency that Republican US Representative Mike Gallagher, who chairs a new House select committee on China and who visited Taiwan in February, and Democratic US Representative Raja Krishnamoorthi, a senior member of the China committee, would be in attendance.
China has objected to the meeting, warning that it would take "resolute measures" to protect its sovereignty.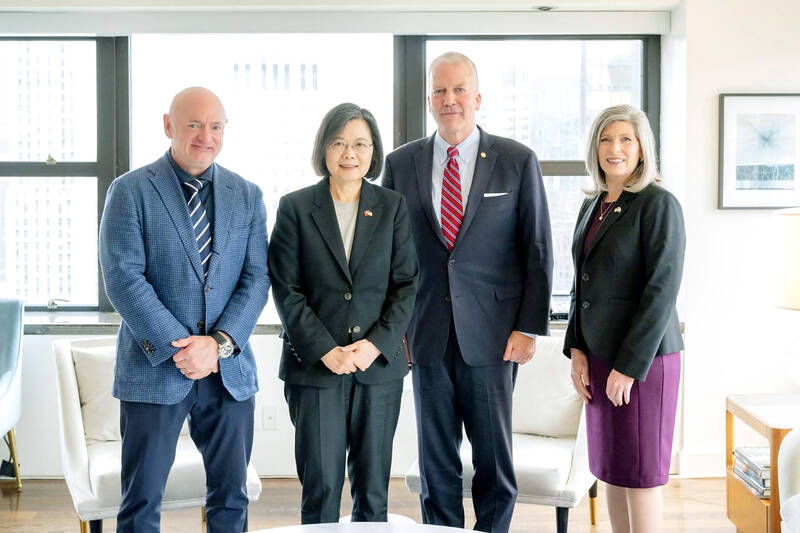 President Tsai Ing-wen, second left, meets with US Democratic senator Mark Kelly, left, Republican Senator Dan Sullivan, second right ,and Joni Ernst, right, in New York on March 30 before heading to Central American.
Photo courtesy of President Office
Chinese Ministry of Foreign Affairs spokeswoman Mao Ning (毛寧) on Monday said that Beijing strongly opposes "any form of official interaction and contact between the US side and Taiwan authorities."
Presidential Office spokeswoman Lin Yu-chan (林聿禪) said that "China is not in a position to meddle in" the matter, because Taiwan and its 23 million people have the right to engage with other democratic countries.
US National Security Council spokesman John Kirby reiterated the US position, cautioning China not to overreact to the meeting, US media reported.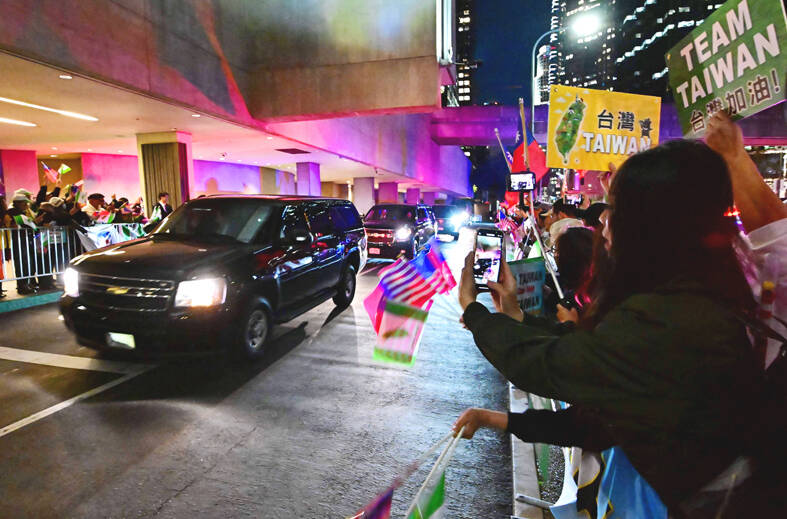 Supporters wave flags and cheer as President Tsai Ing-wen's motorcade arrives at the Westin Bonaventure hotel in Los Angeles on Tuesday.
Photo: AFP
"We've certainly seen some rhetoric coming out of Beijing with respect to President Tsai Ing-wen's transit," Kirby said.
He said Tsai and "every other previous president of Taiwan has transited the United States, so there's nothing uncommon here. There's nothing atypical about it and there's no reason for the Chinese to overreact."
Tsai separately met with Hakeem Jeffries, the top Democrat in the House of Representatives, on Thursday last week and had breakfast with Republican US senators Dan Sullivan and Joni Ernst, and Democratic US Senator Mark Kelly before leaving New York the next day for Central America, Chang said.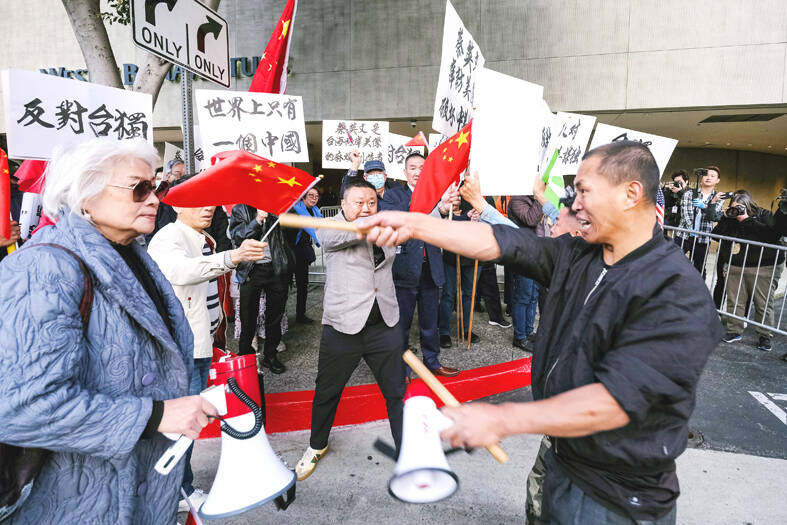 A supporter of Taiwan, right, confronts protesters opposed to Taiwanese independence outside a hotel where President Tsai Ing-wen was expected to arrive in Los Angeles on Tuesday.
Photo: AP
Tsai expressed her thanks to US President Joe Biden and members of the US Congress for their support of Taiwan, which she said has allowed Taiwan and the US to overcome multiple challenges together.
The US' support has also prompted many like-minded countries to pay attention to peace and stability in the Taiwan Strait and the Indo-Pacific region, Tsai said, adding that she hopes the two sides would continue to cooperate on security issues, Chang added.
Tsai said that Taiwan would continue to be a reliable economic and trade partner, and build resilient global supply chains with like-minded countries to help the global economy recover from the COVID-19 pandemic, he said.
Comments will be moderated. Keep comments relevant to the article. Remarks containing abusive and obscene language, personal attacks of any kind or promotion will be removed and the user banned. Final decision will be at the discretion of the Taipei Times.