US House passes Taiwan Assurance Implementation Act
The US House of Representatives on Wednesday passed a piece of legislation that would require the US Department of State to regularly review the guidelines for exchanges with Taiwan.
The Taiwan Assurance Implementation Act, introduced on Feb. 24 by US Representative Ann Wagner, was approved that day in an overwhelming 404-7 vote.
The bill, which amends the Taiwan Assurance Act of 2020, requires that the department periodically conduct reviews of its guidelines for engagement with Taiwan, and submit a report to the US Congress at least once every two years to strengthen the governing body's supervision of US-Taiwan relations.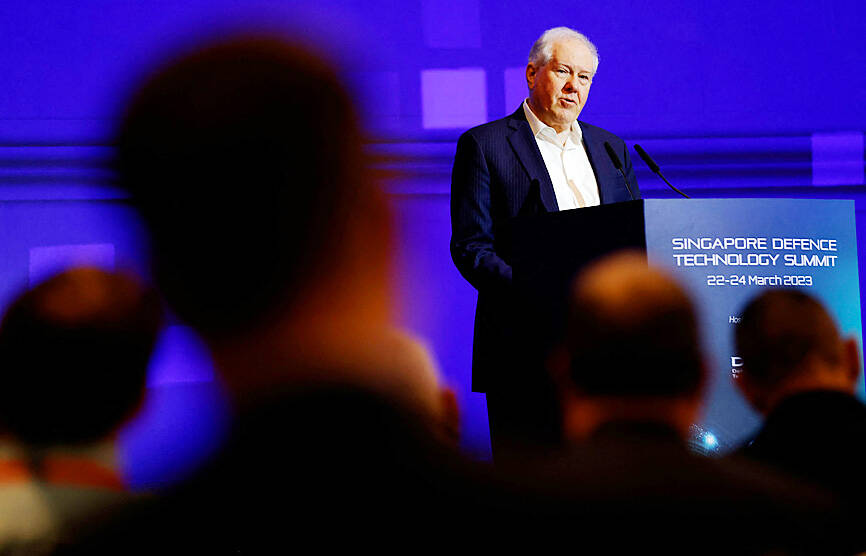 US Secretary of the Air Force Frank Kendall speaks at the Singapore Defence Technology Summit in Singapore yesterday.
Photo: REUTERS
It also asks that the US secretary of state identify opportunities to lift any remaining self-imposed limitations on US-Taiwan engagement and articulate a plan to do so.
The bill was introduced to "reinforce congressional oversight on US-Taiwan relations and ensure that changes in US policies toward Taiwan are aimed at deepening and enhancing this important relationship," said Wagner, who is also vice chair of the House Foreign Affairs Committee.
For decades, most senior US executive branch officials, including high-ranking military officers, were banned from visiting Taiwan to appease China, while Taiwan's top leadership could not travel to the US, she said in a statement issued by her office on Wednesday.
Meetings and correspondence between US and Taiwanese officials had to meet a long list of complicated and arbitrary requirements, such as holding meetings at hotels rather than in official federal buildings or asking Taiwanese officials not to wear any official uniforms or insignia, Wagner said.
Former US secretary of state Mike Pompeo declared those guidelines null and void in January 2021, but many of the restrictions have since been put back in place by US President Joe Biden's administration, she said.
Biden's bureaucratic red tape harms that stance, undermining the US' ability to coordinate more closely with Taiwan, she said.
With House approval, the act would also need to be passed by the US Senate before it can be handed to Biden to sign into law.
Separately, a senior US official yesterday said that the US does not see an imminent threat of China invading Taiwan, but it is ready to defend it.
"I don't certainly see any imminent threat. Hopefully that is something that would never materialize," US Secretary of the Air Force Frank Kendall said on the sidelines of a defense technology conference in Singapore.
"Anyone who contemplates an act of aggression that would involve the United States is making a very serious mistake," he said.
China has done "a number of things that are fairly aggressive," including militarizing the South China Sea, Kendall said.
He also called the presence of a suspected Chinese surveillance balloon in US airspace last month an "act of aggression," but said it was "not a serious military threat" and unlikely to happen again.
Beijing denied the balloon was a government spy craft.
Kendall called on the two countries to work together, saying "we should be working to increase our cooperation, not decreasing [it]."
Additional reporting by Reuters
Comments will be moderated. Keep comments relevant to the article. Remarks containing abusive and obscene language, personal attacks of any kind or promotion will be removed and the user banned. Final decision will be at the discretion of the Taipei Times.