Taiwan secures Apache parts deal
Taiwan is to obtain maintenance parts for its AH-64E Apache attack helicopters, after the Republic of China Defense Mission to the US and the American Institute in Taiwan signed a NT$1.44 billion (US$47.1 million) deal that is to be in effect until Sept. 15, 2028.
Taiwan operates 29 Apaches.
The US is concerned that if China were to blockade Taiwan, it would be impossible to supply the nation with military equipment, natural gas, coal and other items, a military source said on condition of anonymity.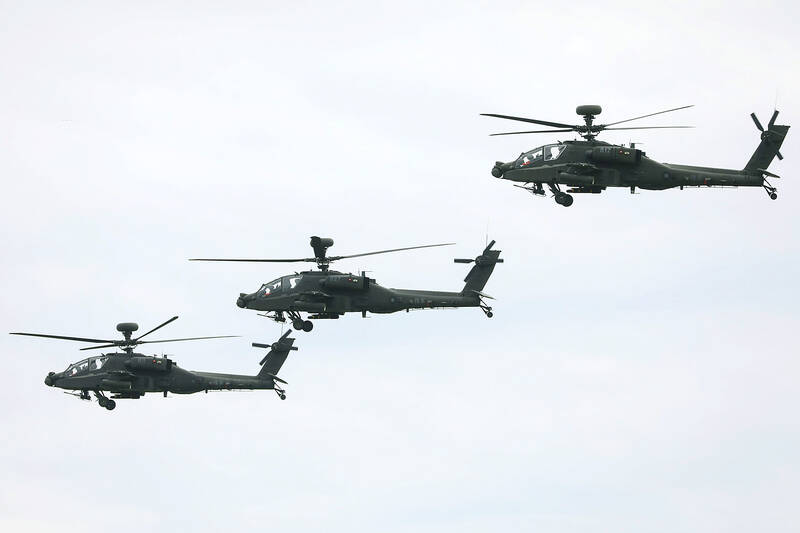 AH-64 Apache helicopters fly to location during the live-fire, anti-landing Han Kuang military exercise, which simulates an enemy invasion, in Taichung on July 16, 2020.
Photo: Reuters
The deal seeks to ensure stable supply of maintenance parts for the Apaches to keep them operational in a wartime scenario, the source said.
The deal came after the Control Yuan last month said that its members had visited the Army Aviation and Special Forces Command's 601st Brigade.
They were briefed on the capabilities of the military's helicopters, including Apaches and UH-60M Black Hawks, and its plans to boost the retention of pilots and communication specialists.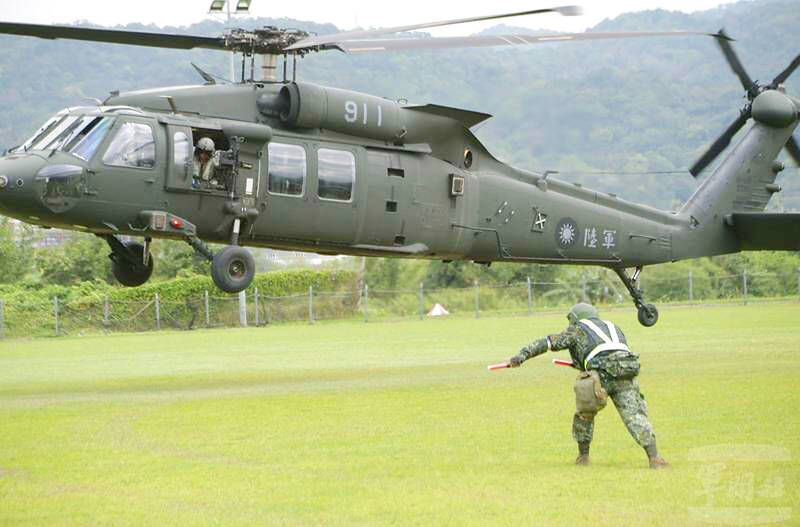 A UH-60M Black Hawk helicopter is pictured in an undated photograph.
Photo courtesy of the Ministry of the Interior
During the briefing, Control Yuan member Lin Wen-cheng (林文程) focused on whether Boeing Co and Sikorsky Aircraft Corp are planning to authorize Taiwan-based repair facilities for Apaches and Black Hawks, as well as flight training regimens and the supply of replacement parts for several helicopter models, it said in a news release.
Control Yuan member Pu Chung-cheng (浦忠成) focused on the military's plans to obtain more Apaches, as well as the wages the army's fixed-wing aircraft pilots receive in comparison with their peers in the air force.
Pu also inquired about the benefits soldiers at the command receive, as well as promotion opportunities and retirement plans.
Control Yuan member Lai Ting-ming (賴鼎銘) focused on the Apache fleet's munition reserves.
The news release did not comment on the military command's answers to the members' questions.
Comments will be moderated. Keep comments relevant to the article. Remarks containing abusive and obscene language, personal attacks of any kind or promotion will be removed and the user banned. Final decision will be at the discretion of the Taipei Times.