Russian jet downed US drone in Black Sea: US military
A Russian fighter jet on Tuesday dumped fuel on a US drone over the Black Sea and then collided with it, causing the drone to crash, the US military said, calling the maneuver "reckless."
The US European Command said that two Russian Su-27 fighters intercepted the MQ-9 Reaper over international waters and one clipped its propeller.
"Several times before the collision, the Su-27s dumped fuel on and flew in front of the MQ-9 in a reckless, environmentally unsound and unprofessional manner," it said.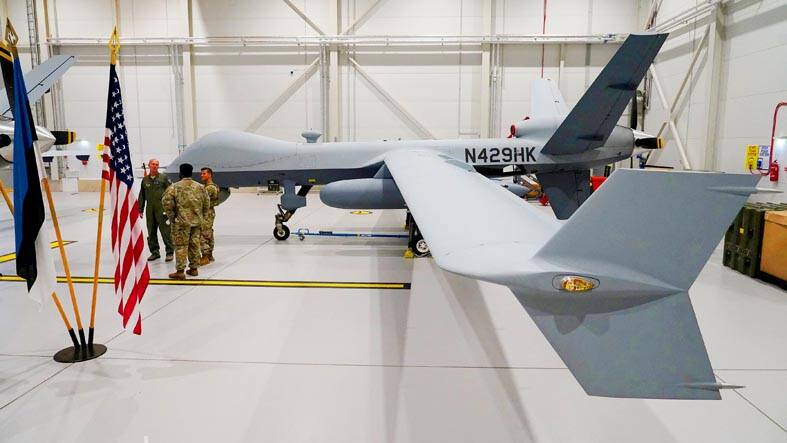 A US Air Force MQ-9 Reaper drone is pictured in a hanger at Amari Air Base in Estonia on July 1, 2020.
Photo: Reuters
Moscow denied causing the crash of the drone, which the Pentagon said was on a routine intelligence, surveillance and reconnaissance mission.
"As a result of a sharp maneuver ... the MQ-9 unmanned aerial vehicle [UAV] entered an uncontrolled flight with loss of altitude and collided with the surface of the water," the Russian Ministry of Defense said, adding that the two Russian jets had no contact with the US aircraft and did not use their weapons.
The US Department of State said that it had summoned Russian Ambassador to the US Anatoly Antonov to protest.
"We assume that the United States will refrain from further speculation in the media and stop flights near Russian borders," Antonov wrote on Telegram later. "We consider any action with the use of US weaponry as openly hostile."
"Obviously we refute the Russians' denial," US National Security Council spokesman John Kirby said, adding that the US is trying to prevent the fallen drone from getting into the wrong hands.
Meanwhile, Kyiv yesterday accused Russian President Vladimir Putin of trying to widen the conflict in Ukraine.
"The incident with the American MQ-9 Reaper UAV — provoked by Russia over the Black Sea — is Putin's way of signaling his readiness to expand the conflict to involve other parties," Ukrainian National Security and Defense Council Secretary Oleksiy Danilov wrote on social media. "The purpose of this all-in tactic is to always be raising the stakes."
Comments will be moderated. Keep comments relevant to the article. Remarks containing abusive and obscene language, personal attacks of any kind or promotion will be removed and the user banned. Final decision will be at the discretion of the Taipei Times.