Beijing beefs up unification drive: report
UNITED FRONT: Business leaders and grassroots organizations in Taiwan are being engaged in response to what Beijing calls 'foreign interference,' a MAC report says
Beijing is seeking to discuss unification with Taiwanese businesses and other institutions "through a variety of channels," the latest Mainland Affairs Council (MAC) report on China says.
In a written report to the Legislative Yuan that MAC Minister Chiu Tai-san (邱太三) is expected to deliver in the legislature today, the council says that China is increasingly using political, military and economic coercion against Taiwan, and employing an alternating hard-soft strategy in its "united front" efforts.
The report suggests that Beijing has changed its policies on Taiwan in response to the regional situation and Sino-US relations.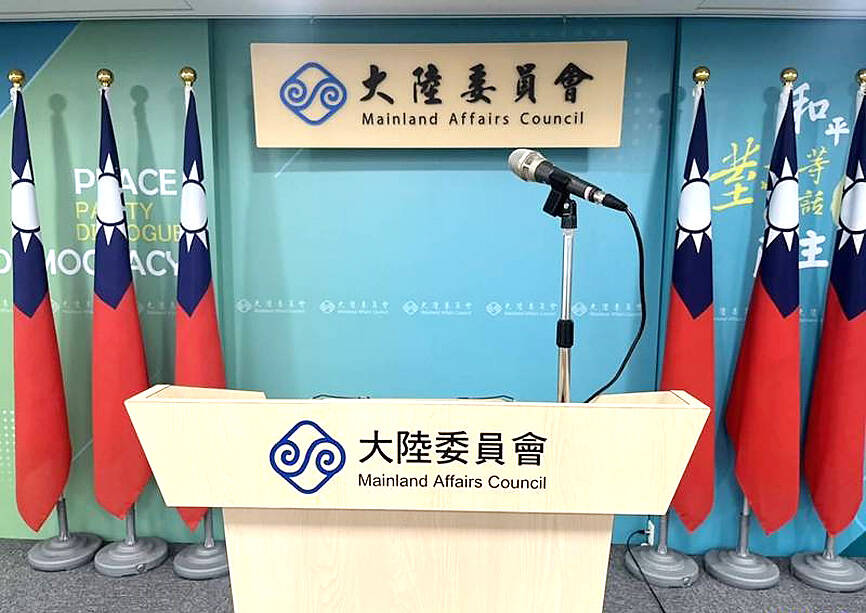 A podium is pictured at the Mainland Affairs Council in Taipei in an undated photograph.
Taipei Times file photo
"The authorities in Beijing have increased efforts to counter 'secession' and what they see as interference by foreign forces, and are looking to bolster exchanges with Taiwan aimed at fostering unification," the report says.
"At the same time, China is trying to counter growing recognition of Taiwan's interests in the international community, and hinder support for Taiwan," it says.
As part of the Chinese Communist Party's enhanced policy on Taiwan — made clear during its 20th National Congress in October last year, and at last week's 14th National Committee of the Chinese People's Political Consultative Conference and the National People's Congress — it has "stepped up efforts to work with Taiwan, frequently inviting exchanges with people from Taiwan's grassroots, local leadership and business community, and promoted resumption of cross-strait exchanges," the report says.
China's Taiwan Affairs Office has been aggressively promoting a "cross-strait economic and trade united front," it adds.
"However, China's economic outlook for this year is still not good, despite international organizations raising their outlook for China's economic growth," it says.
The report says the factors affecting China's economy include continued depression of the real-estate market, an expansion of local fiscal deficits, the shrinking of China's working population and growing unemployment.
"China's rebound this year will be significantly weaker than in 2021. Structurally low growth might be the new normal for China's economy," it says.
Statistics show that cross-strait trade last year, including with Hong Kong, amounted to US$271.39 billion, a decrease of 0.6 percent from the previous year, it says.
The report highlights that the proportion of Taiwanese exports to China dropped from 43.9 percent in 2020 to 38.8 percent last year.
"Beijing should properly acknowledge and respect the sovereignty of the Republic of China, as well as the democracy and freedom that Taiwanese value," the report says.
"Beijing should aim to improve cross-strait relations pragmatically, replacing military coercion and economic pressure on Taiwan with dialogue based on rationality, equality and mutual respect," it says.
Comments will be moderated. Keep comments relevant to the article. Remarks containing abusive and obscene language, personal attacks of any kind or promotion will be removed and the user banned. Final decision will be at the discretion of the Taipei Times.