Tsai, McCarthy to meet in US: report
CHANGE OF PLACE: Because of security concerns, the president convinced the House speaker to meet in meet in California instead of Taiwan, a 'Financial Times' report said
President Tsai Ing-wen (蔡英文) might meet US House of Representatives Speaker Kevin McCarthy in California, a Financial Times report said on Monday.
The government declined to comment on the report.
The report came amid widespread speculation that McCarthy would visit Taiwan, which he last summer said he hoped to do if he were elected House speaker.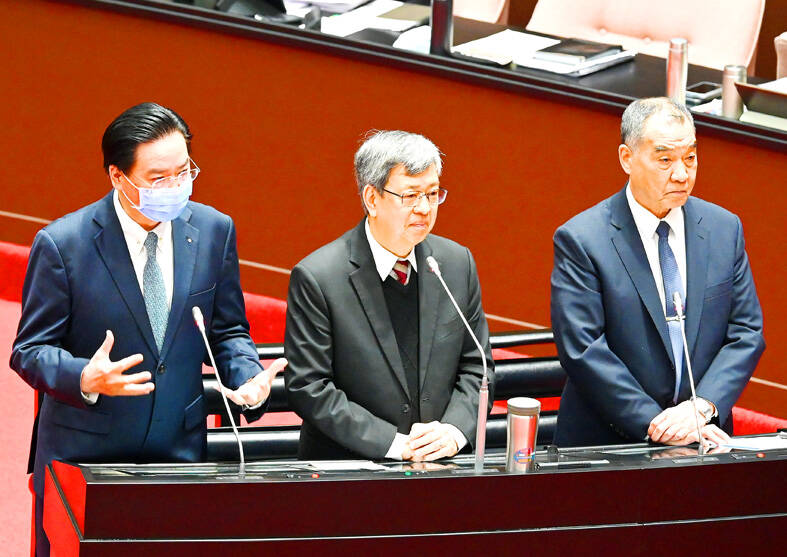 From left, Minister of Foreign Affairs Joseph Wu, Premier Chen Chien-jen and Minister of National Defense Chiu Kuo-cheng attend a question-and-answer session at the legislature in Taipei yesterday.
Photo: Wang Yi-sung, Taipei Times
Due to security concerns, the president "has convinced US House Speaker Kevin McCarthy to meet in California rather than Taipei," the Financial Times said.
Tsai would make stopovers in California and New York on a trip to Guatemala and Belize early next month, the report cited people familiar with the situation as saying.
Tsai has also decided to accept an invitation to speak at the Reagan Library in southern California, it said.
The president's team suggested the stopover after McCarthy said that Taiwan's concerns about Beijing's possible aggressive response were "reasonable," the report said.
Presidential Office spokeswoman Kolas Yotaka yesterday said the office "has no comment" on the report, adding that any details of a trip by the president would be announced according to procedure.
Minister of Foreign Affairs Joseph Wu (吳釗燮) told a plenary session at the Legislative Yuan in Taipei that it was not time to make a public announcement, as no definite plans have been made.
The ministry would organize the best trip for the president if such a visit is to be realized as "head of state diplomacy" is an important part of the ministry's work, he said.
Taiwan People's Party Legislator Chiu Chen-yuan (邱臣遠) asked at the session whether the government has prepared for possible threats to national security from China, following its increased military maneuvers after then-House speaker Nancy Pelosi's visit to Taiwan in August last year.
Relations between Taiwan and the US are "rock solid," Premier Chen Chien-jen (陳建仁) said, adding that national security and economic agencies have a good grip on the cross-strait situation and would prepare accordingly.
Minister of National Defense Chiu Kuo-cheng (邱國正) on Monday warned that Beijing might use a visit by McCarthy to Taiwan as a pretext to break Taiwan's territorial sea baseline of 24 nautical miles (44.4km) and get close to its territorial space.
Asked about the report that Tsai would visit the US, Chiu yesterday told reporters that he had not asked the president about the reported trip, but Beijing would always find a reason to attack.
The armed forces "will not provoke a war," but Beijing's continued provocations would not be tolerated, as "it is the armed forces' mission to protect the country," he said.
He also reiterated comments made earlier on Monday that the military would fire at Chinese People's Liberation Army forces, including drones and aircraft, if they enter the nation's territorial space.
Although the military has always refrained from launching a "first strike" to avoid giving China an excuse to invade Taiwan, Chiu said that does not mean that the military would back down from defending the nation's 12-nautical-mile line.
Over the past few years, China has changed the "status quo" by flying drones, aircraft and balloons near the nation's airspace, he said.
White House press secretary Karine Jean-Pierre and US Department of State spokesman Ned Price did not confirm the reported trip on Monday, saying that Taiwan has not made an announcement.
Additional reporting by CNA
Comments will be moderated. Keep comments relevant to the article. Remarks containing abusive and obscene language, personal attacks of any kind or promotion will be removed and the user banned. Final decision will be at the discretion of the Taipei Times.