Taiwan plans more US military exchanges: Tsai
KHANNA'S VISIT: Amid work to confront global challenges, Taiwan and the US should also build more resilient industrial chains, she told a US delegation
Taiwan plans to boost military exchanges with the US to curb authoritarian expansionism, President Tsai Ing-wen (蔡英文) said yesterday after meeting with visiting US lawmakers.
The five-day US congressional visit comes after a top US defense official reportedly made a stopover in Taiwan.
"Taiwan and the United States continue to bolster military exchanges," Tsai said after meeting with the delegation at the Presidential Office Building in Taipei. "Going forward, Taiwan will cooperate even more actively with the United States and other democratic partners to confront such global challenges as authoritarian expansionism and climate change."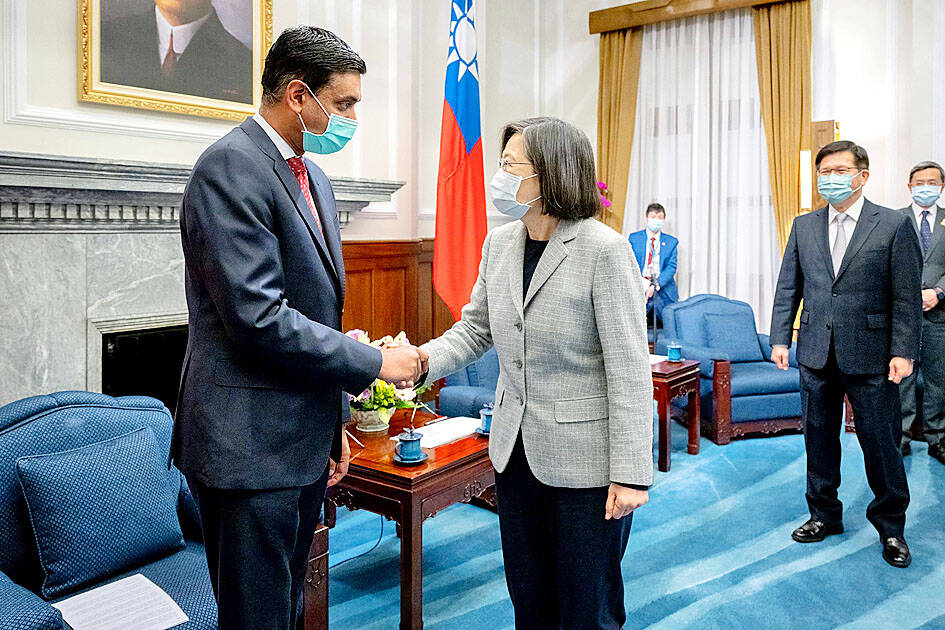 President Tsai Ing-wen, right, shakes hands with US Representative Ro Khanna at the Presidential Office in Taipei yesterday.
Photo: AFP / Taiwan Presidential Office
Tsai did not provide further details on what the future exchanges might entail.
It is time "to explore even more opportunities for cooperation" between the US and Taiwan, Tsai said.
"Together we can continue to safeguard the values of democracy and freedom," she added.
Taiwan and the US should "leverage their respective strengths and together build more resilient technology industrial chains," Tsai said, adding that the two countries have collaborated on semiconductors, 5G communications and renewable energy sources under bilateral science and technology initiatives.
US Representative Ro Khanna, a member of the newly created US House of Representatives committee on strategic competition with the Chinese Communist Party, said he was leading the bipartisan delegation's visit to expand "the partnership on military and defense," and to shore up ties with the nation's world-leading semiconductor industry.
Established last month, the select committee is tasked with investigating issues related to US economic and security competition with China and making policy recommendations.
"We are here to affirm the shared values between the United States and Taiwan, a commitment to democracy, a commitment to freedom," Khanna said yesterday.
He "particularly appreciated" a meeting on Monday with Taiwan Semiconductor Manufacturing Co (台積電) founder Morris Chang (張忠謀), Khanna said.
Also in the delegation, which arrived in Taiwan on Sunday for a five-day visit, are US representatives Jake Auchincloss — a member of the select committee — Jonathan Jackson and Tony Gonzales.
Beijing, which claims Taiwan as part of its territory and has vowed to seize it one day, opposes any official exchanges with the democracy and has reacted with anger to a flurry of trips to the island by US politicians in recent years.
Chinese Ministry of Foreign Affairs spokesman Wang Wenbin (汪文斌) yesterday accused Taiwanese leaders of "provocation," saying that "any futile separatist conspiracy or scheme relying on foreign forces to undermine cross-strait relations will only backfire and never succeed."
Taiwanese authorities "cannot change the inevitable broader trend toward Chinese unification," Wang told a regular news conference.
Additional reporting by CNA
Comments will be moderated. Keep comments relevant to the article. Remarks containing abusive and obscene language, personal attacks of any kind or promotion will be removed and the user banned. Final decision will be at the discretion of the Taipei Times.