Taiwanese father, daughter win Grammy design award
'DREAMS COME TRUE': It was Xiao Qing-yang's seventh nomination since 2005 and the second straight year that Taiwanese designers won for best recording package
A Taiwanese father and daughter on Sunday won the Best Recording Package design award at the 65th Grammy Awards at the Crypto.com Arena in Los Angeles.
Xiao Qing-yang (蕭青陽) and his daughter Hsiao Chun-tien (蕭君恬) won the honor for their work on Beginningless Beginning, the soundtrack produced by the Tamsui-Kavalan Chinese Orchestra (淡蘭古道國樂團) for the short film Tamsui-Kavalan Trails Trilogy (淡蘭古道三部曲).
Xiao, 56, gave his acceptance speech in Mandarin, expressing gratitude to his parents, ancestors, wife and all the people who walk the Tamsui-Kavalan trails.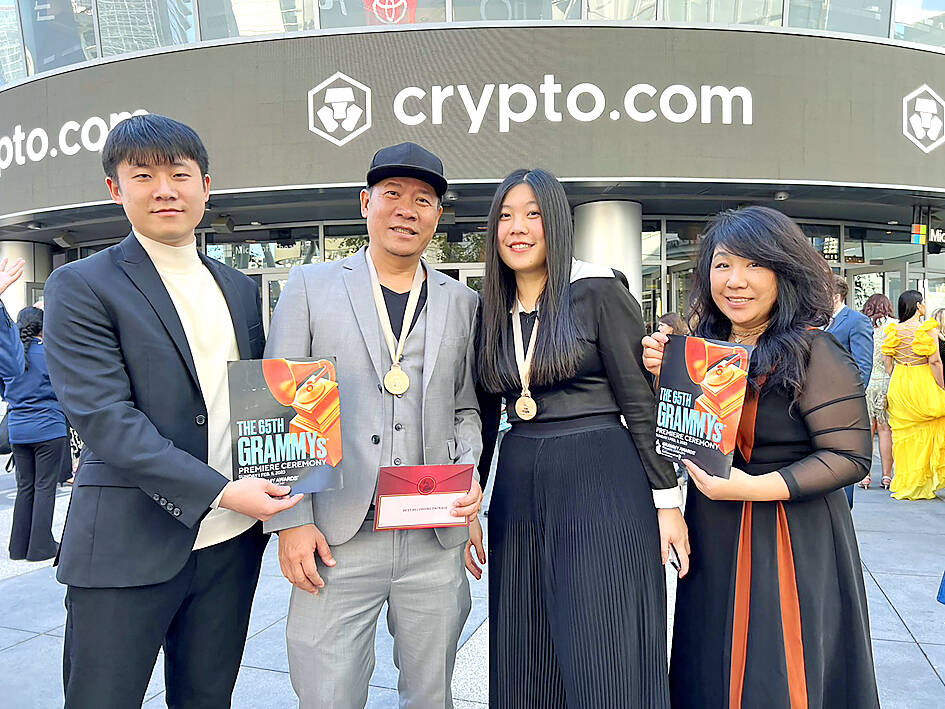 Xiao Qing-yang, second left, and his daughter Hsiao Chun-tien, second right, pose for a photograph outside the Crypto.com Arena with their medals and their family after winning the Best Recording Package award at the Grammys in Los Angeles on Sunday.
Photo: CNA
It was Xiao's seventh Grammy Awards nomination since 2005, and the first with his daughter.
Sunday's win meant "dreams come true" after Xiao waited 18 years to win after his first nomination, Hsiao said in her acceptance speech in English.
This is the second consecutive year that Taiwanese designers have won the prize for Best Recording Package at the Grammy Awards.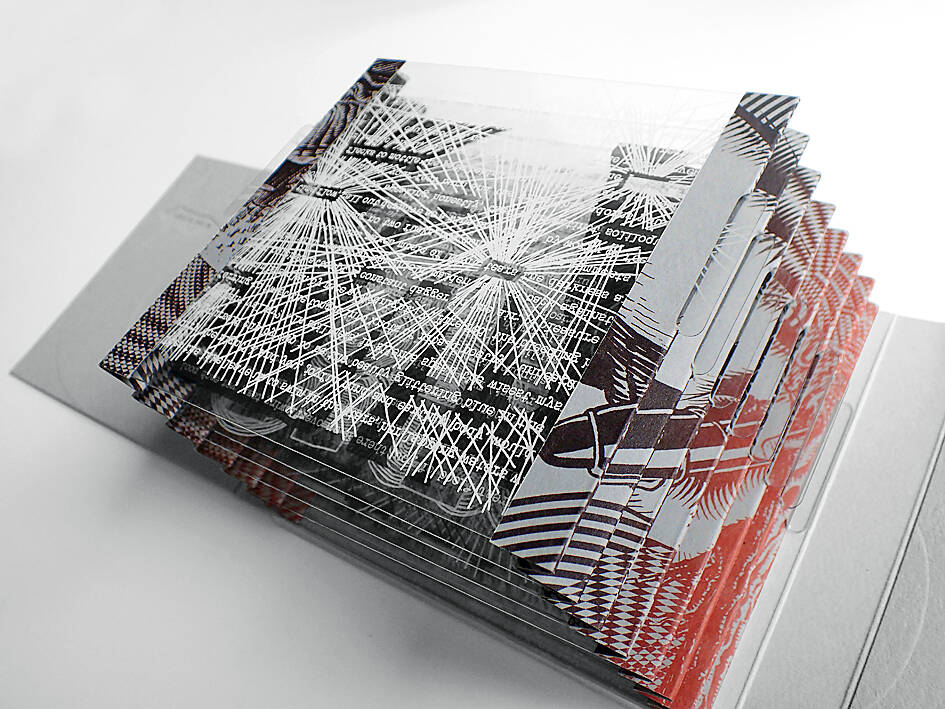 The cover design of the album "Beginningless Beginning," created by Taiwanese father-and-daughter duo Xiao Qing-yang and Hsiao Chun-tien, based on an abstract concept that conveys Taiwan's centennial-old trails and operas, is pictured in an undated photograph.
Photo courtesy of Xiao Qing-yang
Last year, Li Jheng-han (李政瀚) and Yu Wei (于薇) won the award for their cover for the album Pakelang (八歌浪) at the 64th Grammy Awards in Las Vegas. It was the first Grammy ever won by Taiwanese nominees.
The package design for Beginningless Beginning is based on an abstract concept that conveys Taiwan's ancient trails and operas, Xiao said.
He said that when he was first nominated for a grammy, his daughter was still a young child.
Going to the Grammys this time was different, as it symbolized the passing of an art form from one generation to another, he said.
Hsiao, who studies at an arts school in London, said that unlike the six previous times she accompanied her father to the ceremony, she was there as a designer this time.
The experience of working with her father was enjoyable, and they worked together like friends, she said.
The pair were competing against four other nominees, including Taiwanese illustrator Ming Liu, whose full name is Liu Ming-yen (劉名晏).
Liu, who is also known by his pseudonym WHOSMiNG, was nominated for his work on Telos, an album by Taiwanese singer Fann (芳怡). The album design resembles a peach gift package.
Comments will be moderated. Keep comments relevant to the article. Remarks containing abusive and obscene language, personal attacks of any kind or promotion will be removed and the user banned. Final decision will be at the discretion of the Taipei Times.