China lifts kaoliang ban after meeting
The Mainland Affairs Council (MAC) yesterday said it hopes Beijing will stop imposing nontariff trade barriers under the pretext of food safety, after the Kinmen County Government announced that China lifted its import ban on kaoliang liquor.
The Chinese General Administration of Customs issued a customs registration code for Kinmen Kaoliang Liquor Inc (KKL, 金門酒廠), enabling the company to export its products to China from Saturday, the county said.
The company received the code after Kinmen County Commissioner Chen Fu-hai (陳福海) and county officials traveled to Xiamen, China, on Saturday to meet with Taiwan Affairs Office (TAO) Director Sung Tao (宋濤), it said.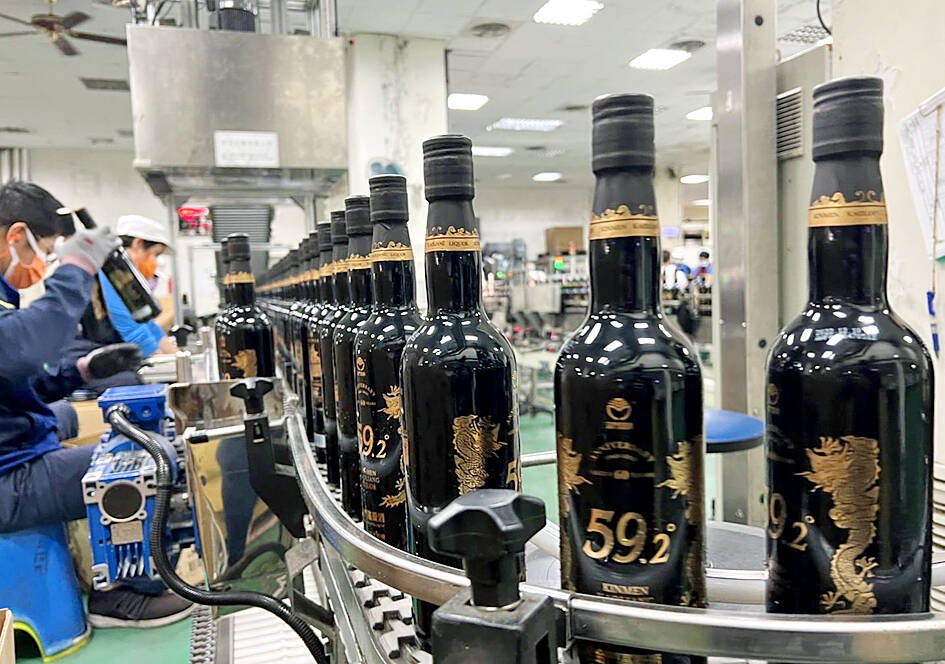 Workers inspect bottles of Kinmen Kaoliang Liquor at the company's plant in Kinmen County on Dec. 10 last year. Warning: Excessive consumption of alcohol can damage your health.
Photo: Wu Cheng-Ting, Taipei Times
Chinese customs halted imports of beer and distilled products from 11 of 28 Taiwanese suppliers, starting on Dec. 9 last year, including KKL, Taihu Brewing (台虎精釀), King Car Food Industrial Co (金車企業), Legend Brewery Co (傳奇酒業), Win Shan International Co (雲山酒廠) and state-owned Taiwan Tobacco and Liquor Corp (台灣菸酒公司).
In addition, shipments of 123 of 354 beverage items registered by Taiwanese exporters were also suspended.
The MAC said it viewed the Kinmen announcement positively, adding that it hopes China would stop imposing such barriers to trade.
After last month's suspensions, the government, following WTO regulations and bilateral agreements, asked China to remove the nontariff trade barriers to protect the rights and interests of Taiwanese exporters, the MAC said.
Now that Chinese customs officials have approved KKL's registration and resumed imports, hopefully normal trade across the Taiwan Strait could be restored, it said.
Chinese customs authorities imposed a ban on imports of groupers from Taiwan in June, which was later expanded to include products from Taiwanese food companies.
At the time, TAO spokeswoman Zhu Fenglian (朱鳳蓮) said that some Taiwanese exporters could not receive approval for their goods because they failed to provide complete information under a new registration system.
Zhu said the registration system was introduced in April 2021 and took effect on Jan. 1 last year.
However, KKL spokesman Chen Qi-zhan (陳啟展) said at the time that his company had secured a qualification code from Chinese customs as early as Dec. 28 last year, which was supposed to be valid until Dec. 28, 2026.
TAO spokesman Ma Xiaoguang (馬曉光) yesterday said in a statement that 63 Taiwanese exporters, including KKL, recently provided the information needed to update their registration under the new system.
Additional reporting by Lu Yi-hsuan
Comments will be moderated. Keep comments relevant to the article. Remarks containing abusive and obscene language, personal attacks of any kind or promotion will be removed and the user banned. Final decision will be at the discretion of the Taipei Times.