Amendments to immigration law would increase penalties for those who overstay
The Executive Yuan yesterday proposed changes to immigration law to attract professionals and keep families together, while also raising penalties for people who overstay their visas.
The bill, which amends 52 of the 97 articles in the Immigration Act (入出國及移民法), has been sent to the legislature for deliberation.
Premier Su Tseng-chang (蘇貞昌) said that the amendments would make it easier for the spouses and children of professionals to obtain residence, as Taiwan hopes to attract more international talent.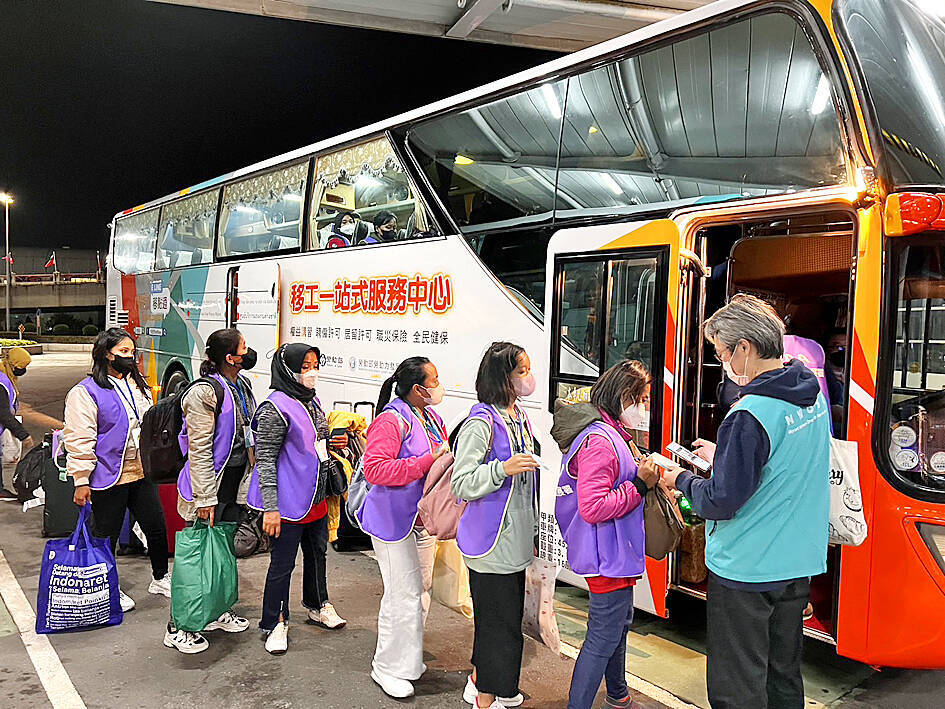 Newly arrived migrant domestic helpers and caregivers board a bus provided by the Ministry of Labor at Taiwan Taoyuan International Airport in an undated photograph.
Photo courtesy of the Ministry of Labor
On the other hand, more foreigners have been overstaying their visas, potentially threatening national security and public order, he said.
The changes enhance enforcement, and add penalties and raise fines for immigration-related crimes, he added.
To attract more desired professionals, the amendments extend permanent residency rights to the spouses, underage children and disabled children of certain professionals.
Eligible professionals include those who have made "special contributions" to Taiwan, hold senior-level positions, have won an award in a professional field or have investment-based residency.
To simplify application procedures, professionals who enter Taiwan visa-free or on a visitor visa would no longer need to apply for a residence visa with the Ministry of Foreign Affairs.
Instead, the professionals, as well as their spouses and children, can apply for an Alien Resident Certificate (ARC) directly with the National Immigration Agency.
The new rule would apply to consultants at academic institutions, university lecturers and other "white-collar" professionals as defined in the Act for the Recruitment and Employment of Foreign Professionals (外國專業人才延攬及僱用法).
The deadline to apply for an ARC after being issued a residence visa would be extended to 30 days from 15 days.
To make it easier for families to stay together, legally residing spouses who are also the de facto caregiver of their underage children or have visitation rights would be able to apply for residency after entering the nation on a visitor visa.
Under current rules, a divorcee must obtain legal custody of their biological children to extend their residency.
The amendments seek to extend residency to anyone who divorces after experiencing domestic violence.
Under current rules, only those who also have underage children can keep their residency.
People who overstay their visas could face fines of NT$30,000 to NT$150,000 (US$984.96 to US$4,925), up from between NT$2,000 and NT$10,000, according to the changes.
The amendments also increase the re-entry ban for offenders from three years to 10 years.
Those found guilty of harboring or hiding a person overstaying their visa could be fined NT$60,000 to NT$300,000, while those who help a foreign national engage in activities outside the scope of their visa could be fined NT$200,000 to NT$1 million.
Those who help people enter the country illegally could face one to seven years in prison or a fine of up to NT$1 million.
People subject to a travel ban found to be traveling using fraudulent documents could face up to three years in prison or a fine of up to NT$90,000.
For Taiwanese living abroad who have no household registration in Taiwan, the amendments would remove the requirement to apply for an entry permit, and allow them to apply for residency or citizenship after residing in Taiwan for at least 183 days per year over five years.
Current rules require such people to stay in Taiwan for at least 270 days per year.
The age limit to apply for permanent residency would also be removed for the children of Taiwanese nationals born abroad who have a Taiwanese passport.
Additional reporting by CNA
Comments will be moderated. Keep comments relevant to the article. Remarks containing abusive and obscene language, personal attacks of any kind or promotion will be removed and the user banned. Final decision will be at the discretion of the Taipei Times.