TSMC to invest US$60bn in a Tainan fab
COMMITMENT: The company expects its 3-nanometer chips to help the creation of end products worth US$1.5 trillion over five years, including supercomputers
Taiwan Semiconductor Manufacturing Co (TSMC, 台積電) yesterday raised its investment on an advanced Tainan factory to a total of NT$1.86 trillion (US$60.5 billion) to boost advanced technologies capacity including 3-nanometer, after its plans to produce chips in the US triggered concerns at home over technology outflow and talent drain.
That represented a significant increase from the NT$700 billion the chipmaker announced in 2018 on the Tainan "giga-fab," dubbed Fab 18, to produce 5-nanometer chips, and establish a research and development (R&D) team. The company at the time said that it would reserve half of the facility's space for the production of 3-nanometer chips.
TSMC, the world's biggest contract chipmaker, yesterday launched the eighth phase of construction at Fab 18 to mass produce 3-nanometer chips, the most advanced chips available.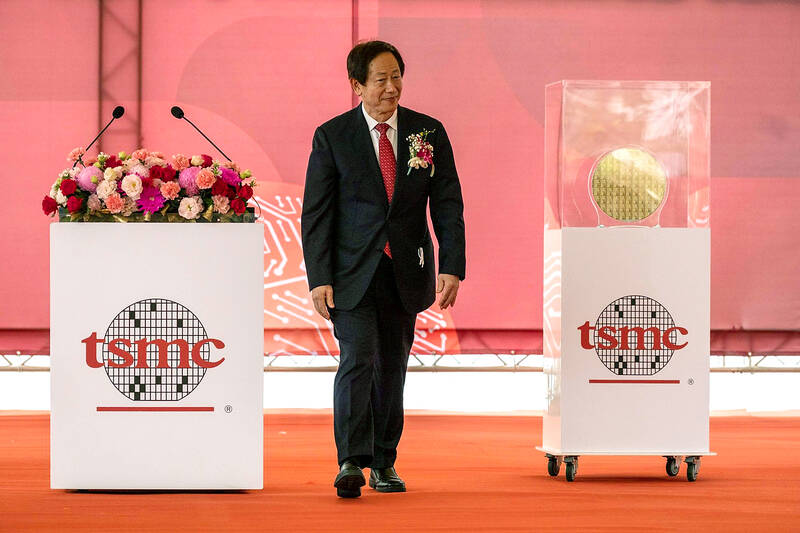 Taiwan Semiconductor Manufacturing Co chairman Mark Liu speaks during a ceremony at its facility in Tainan yesterday to mark the beginning of mass production of 3-nanometer chips.
Photo: Reuters
TSMC began making 5-nanometer chips at the fab in 2020 and the commencement of 3-nanometer chip production follows Moore's Law, which postulates that the number of transistors on computer chips would double every two years, it said.
"Powered by the megatrends of 5G and high-performance computing, TSMC's 3-nanometer technology is experiencing strong market demand," TSMC chairman Mark Liu (劉德音) told a ceremony in Tainan marking the beginning of mass production of 3-nanometer chips and capacity expansion.
The moves show TSMC's strength in the development of advanced technology and capacity expansion to satisfy customer demand, as well as its preparations for the next wave of growth in the semiconductor industry, Liu said.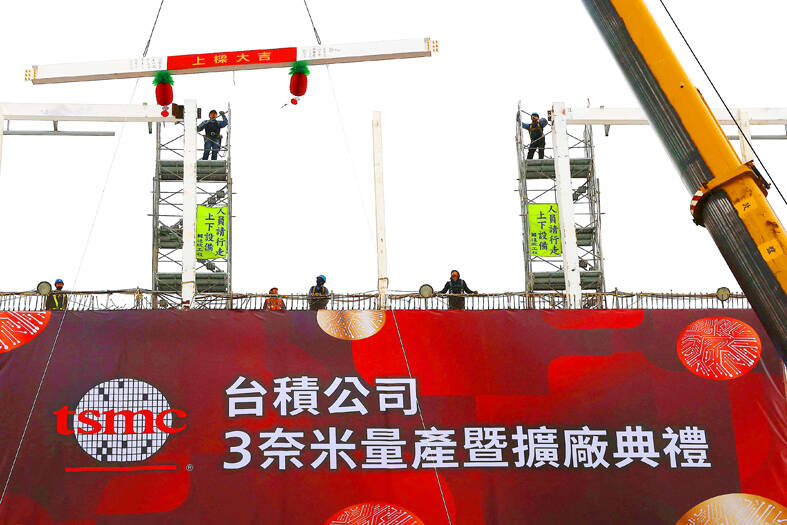 Construction workers place a beam at the Taiwan Semiconductor Manufacturing Co fab in Tainan during a ceremony marking the beginning of 3-nanometer chip production yesterday.
Photo: Ann Wang, Reuters
TSMC is also building 3-nanometer chip capacity in Arizona. The company earlier this month said that it plans to invest US$40 billion to make 3-nanometer and 4-nanometer chips at its Arizona facilities, which are under construction.
Chips made using 3-nanometer technology would power supercomputers, cloud-based data centers, high-speed Internet-connected devices, mobile devices and augmented-reality devices, as well as virtual-reality gadgets.
Apple Inc, Nvidia Inc and Advanced Micro Devices Inc are usually the first adopters of TSMC's most advanced chips.
TSMC estimates that revenue from 3-nanometer chips in the first year of mass production would be higher than the income generated by 5-nanometer chips in the first year of their mass production in 2020.
The chipmaker expects its 3-nanometer technology to create end products with a market value of US$1.5 trillion within five years.
TSMC would start plans to build up capacity in Hsinchu and Kaohsiung next year, Liu said.
The company said that it is also making preparations for 2-nanometer fabs, which would be at the Hsinchu Science Park (新竹科學園區) and the Central Taiwan Science Park (中部科學園區), with a total of six phases proceeding as planned.
TSMC said that it plans to launch a global R&D center at the Hsinchu science park in the second quarter of next year.
The center would be staffed by 8,000 R&D personnel, it said.
"TSMC is maintaining its technology leadership while investing significantly in Taiwan, continuing to invest and prosper with the environment. This ceremony demonstrates that we are taking concrete action to develop advanced technology and expand capacity in Taiwan," Liu said.
Comments will be moderated. Keep comments relevant to the article. Remarks containing abusive and obscene language, personal attacks of any kind or promotion will be removed and the user banned. Final decision will be at the discretion of the Taipei Times.