ByteDance Taiwan could have China links: MAC
INVESTIGATION URGED: Taipei's lack of action contradicts its verbal commitment to reduce the influence of Chinese technology firms in Taiwan, a DPP lawmaker said
Authorities should investigate whether ByteDance Taiwan is affiliated with Beijing-based ByteDance Ltd (字節跳動), which would show whether they are upholding the Act Governing Relations Between the People of the Taiwan Area and the Mainland Area (臺灣地區與大陸地區人民關係條例), the Mainland Affairs Council (MAC) said yesterday.
Article 73 of the act states that China-based social media software companies — which includes TikTok and its Chinese version, Douyin (抖音) — are prohibited from establishing branch offices in Taiwan, the council said on Thursday.
Tiktoktaiwan Co Ltd (昇洋國際生技), registered in 2019, on Nov. 2 changed its registered name to ByteDance Taiwan (字節跳動台灣), Ministry of Economic Affairs' records show.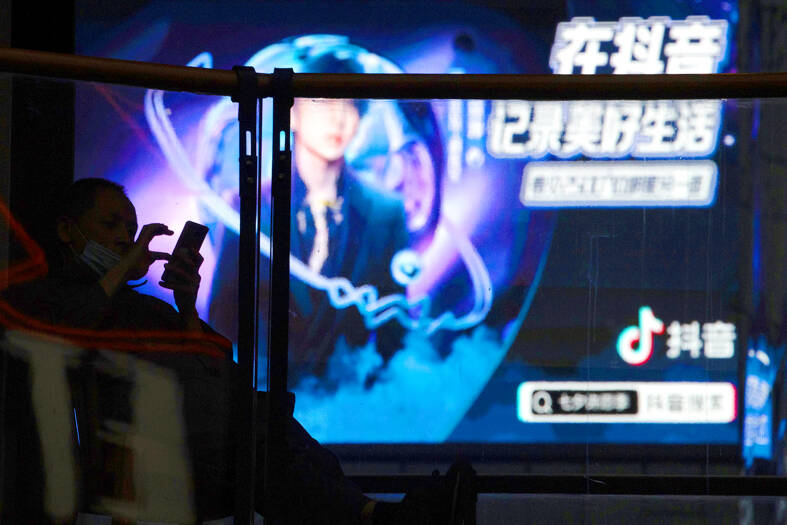 A man uses a smartphone in front of an advertisement for Douyin, the Chinese sister app of TikTok, at a mall in Beijing on Aug. 30, 2020.
Photo: AP
The government's lack of action contradicts its verbal commitment to reduce the influence of Chinese technology firms in Taiwan, Democratic Progressive Party (DPP) Legislator Chiu Chi-wei (邱志偉) said.
Chiu cited the example of an investigation into China-based streaming media service iQiyi (愛奇藝) that took two years before the Taiwanese representative terminated the contract.
TikTok poses a greater information and national security risk than iQiyi, Chiu said, pushing for an urgent government probe.
Taiwan Thinktank member Tung Li-wen (董立文) said the government should not allow software that poses a "great risk" to Taiwan, and phase out such software throughout Taiwan.
Tung said that enacting new legislation might require a long and complex process, but Taipei can use existing laws, such as the Consumer Protection Act (消費者保護法), or the Criminal Code, to begin controlling what content a platform delivers.
Association of Chinese Elite Leadership Secretary-General Wang Chih-sheng (王智盛) said TikTok's security risk is well known, citing Indiana Attorney General Todd Rokita's lawsuit against TikTok for misleading consumers about its age-appropriateness and its protections for shielding US user data from access by the Chinese government.
The US Senate passed a bill on Wednesday banning federal employees from using TikTok on government devices, and Taiwan should implement similar measures, Wang said.
Even if Taiwan cannot duplicate every restriction the US has enacted against TikTok, Taipei should be able to use creative methods to "take the fight head-on" with the company, he said.
Such efforts would provide examples for the international community to follow, he added.
The most pressing issue to investigate is how the company managed to enter Taiwan despite regulations, Wang said.
Comments will be moderated. Keep comments relevant to the article. Remarks containing abusive and obscene language, personal attacks of any kind or promotion will be removed and the user banned. Final decision will be at the discretion of the Taipei Times.