Taiwan has right to independence: Iranian newspaper
An Iranian newspaper on Saturday said that Taiwan has a "legal right" to independence, in an apparent reaction to China siding with the United Arab Emirates (UAE) in a diplomatic row over three islands in the Strait of Hormuz that Iran also claims.
The Arman Daily's front page story, titled "Taiwan Independence: A Legal Right," said Beijing would have to accept Taiwan's independence despite attempts to suppress it by force.
The article gained international attention after Iranian commentator Maysam Bizaer posted about it on Twitter.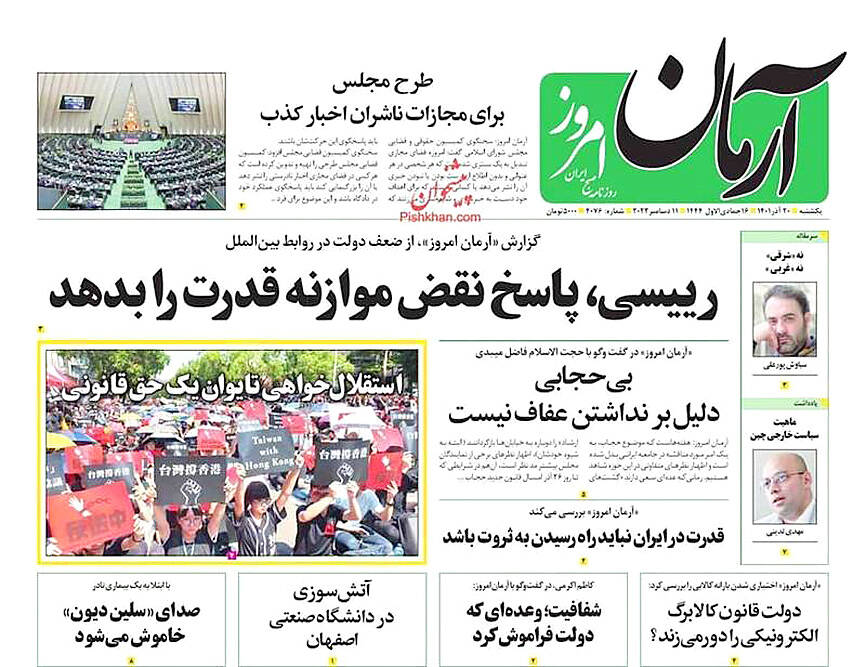 The front page of the Arman Daily with a story titled "Taiwan Independence: A Legal Right" is pictured in a screen grab from Saturday.
Photo: screen grab from the Arman Daily Web site
It came after a joint statement of the 2022 China-Arab States Summit said that participants "affirmed their support for all peaceful efforts, including the initiative and endeavors of the United Arab Emirates ... to reach a peaceful solution to the issue of the three islands; Greater Tunb, Lesser Tunb, and Abu Musa, through bilateral negotiations in accordance with the rules of international law, and to resolve this issue in accordance with international legitimacy."
The then-Imperial Iranian Navy seized the islands in November 1971 after the British Royal Navy stopped patrolling near them, sparking a decades-long territorial dispute between Iran and the UAE.
In Iran, the joint statement was widely perceived as a slight, drawing a diplomatic protest from Tehran and condemnations in the Iranian press.
Bizaer's Twitter post cited several headlines in Iranian newspapers, including "China Against Iran," "What's China's Plans for Middle East," "The Chinese Shock" and "China's Not-So-Friendly Message for Iran."
Taiwanese online commentator Emmy Hu (胡采蘋) on Tuesday shared Bizaer's tweet on Facebook, saying: "Something must have happened for us to win prizes while lying down."
"All of this is because the Arabs laid claim to three of Iran's islands and then China backed this claim by playing dumb to ingratiate itself with the Saudis, pissing off Iran," she said, apparently confusing the UAE with Saudi Arabia.
"Kudos to Daddy Xi for making the world more and more pro Taiwanese independence," she wrote, referring to Chinese President Xi Jinping (習近平).
Tehran viewed Beijing's joint statement with the Arab states as "a betrayal," Hu wrote in her post, which received 3,500 mostly positive responses from Facebook users.
"The boat of [Sino-Iranian] friendship sure capsized quick," one comment read.
Meanwhile, Beijing on Tuesday sent Chinese Vice Premier Hu Chunhua (胡春華), who was recently removed from the top echelons of power, to meet Iranian President Ebrahim Raisi in a sign that Beijing is keeping its distance from the Middle Eastern nation as it deals with widespread unrest.
Hu told Iranian officials that China "will not waver in its determination to develop their comprehensive strategic partnership," the official Xinhua news agency reported.
"China firmly supports Iran in opposing external interference and safeguarding its sovereignty, territorial integrity and national dignity," it cited Hu as saying.
Additional reporting by Bloomberg
Comments will be moderated. Keep comments relevant to the article. Remarks containing abusive and obscene language, personal attacks of any kind or promotion will be removed and the user banned. Final decision will be at the discretion of the Taipei Times.