US support for Taiwan bipartisan: Hurd
PRESIDENTIAL OFFICE MEETING: The statement by the former US representative came as Congress is poised to back US$10 billion to bolster Taiwan's self-defense capabilities
Former US representative Will Hurd yesterday said visiting Taiwan has made him realize that China's "one country, two systems" framework is not a feasible solution for Taiwan.
Hurd, who is visiting Taiwan with an international delegation, made the remarks when meeting with President Tsai Ing-wen (蔡英文) at the Presidential Office in Taipei.
There is bipartisan support for Taiwan in Washington, with Republicans and Democrats agreeing that only the 23.5 million Taiwanese can decide the nation's future, said Hurd, a trustee at the Washington-based German Marshall Fund think tank.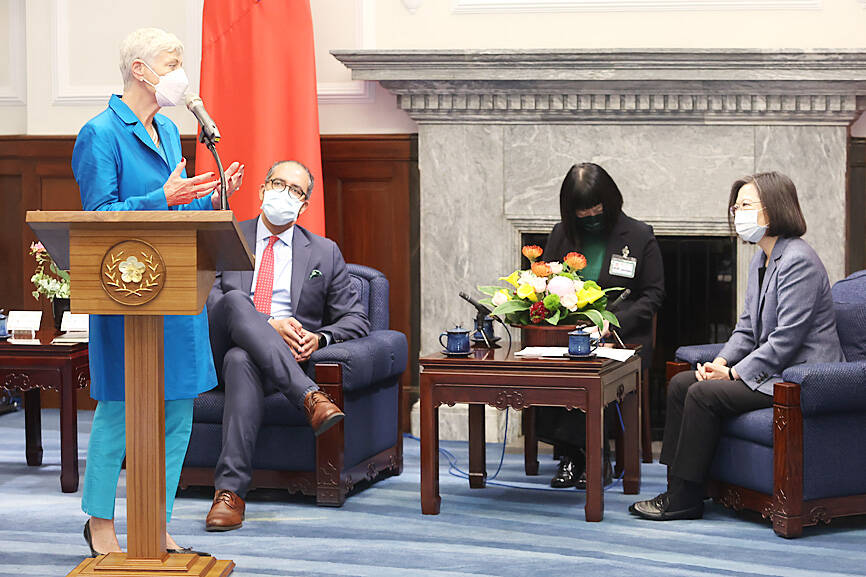 Former German lawmaker Marieluise Beck, left, speaks as former US representative Will Hurd, second left, and President Tsai Ing-wen, right, look on at the Presidential Office in Taipei yesterday. Beck and Hurd are members of an international delegation to Taiwan.
Photo: CNA
Former German lawmaker Marieluise Beck said that the Russian invasion of Ukraine has changed mindsets in Europe, and has underscored the difficult challenge of maintaining freedom.
All democracies must make daily efforts to address that challenge, she said.
The purpose of the delegation's visit is to respond to the threat of a similar invasion of Taiwan before it could occur, Beck said, adding that she hoped to hear Taiwan's views on the future, as well as to learn how the international community can help the nation.
Tsai said the expansion of authoritarianism poses serious challenges to democracy globally, adding that democracies must bolster their alliances to jointly defend their shared values.
Taiwan would continue to bolster its self-defense capabilities, Tsai said, adding that she hopes the nation can cooperate with more democratic countries on ensuring peace and prosperity in the Indo-Pacific region.
Taiwan, the US and Europe should also bolster economic cooperation to create safer and more resilient supply chains, she added.
In related news, US lawmakers are poised to back as much as US$10 billion to bolster Taiwan's defenses against growing threats from China as part of a compromise annual defense authorization bill, Bloomberg reporter Roxana Tiron wrote on Twitter on Wednesday.
Voice of America and US-based Web site Politico have in the past few months reported that the US Senate, the US House of Representatives Armed Services Committee and other committees have been negotiating the contents of the Fiscal Year 2023 National Defense Authorization Act.
A version of the bill that reflects cross-party compromises might be announced as soon as this week, and be voted on in the House and then the Senate next week.
Additional reporting by Reuters
Comments will be moderated. Keep comments relevant to the article. Remarks containing abusive and obscene language, personal attacks of any kind or promotion will be removed and the user banned. Final decision will be at the discretion of the Taipei Times.