2022 ELECTIONS: DPP routed across the board
BLUE WAVE: The KMT's Chiang Wan-an defeated the DPP's Chen Shih-chung and is to become Taipei mayor, while President Tsai Ing-wen stepped down as DPP chairperson after many of the party's candidates, handpicked by the leadership, performed poorly
The Chinese Nationalist Party (KMT) yesterday flipped key mayoral seats in Taipei, Taoyuan and Keelung, and won control of 13 out of 22 cities and counties in the nine-in-one local elections.
President Tsai Ing-wen (蔡英文) last night resigned as Democratic Progressive Party (DPP) chairperson over a poor showing by the party's candidates, who were handpicked by the DPP leadership rather than chosen through primaries.
The Taiwan People's Party (TPP) won its first high-profile race with Hsinchu mayoral candidate Ann Kao (高虹安) defeating Shen Hui-hung (沈慧虹) of the DPP with 45.02 percent of the vote to Shen's 35.68 percent.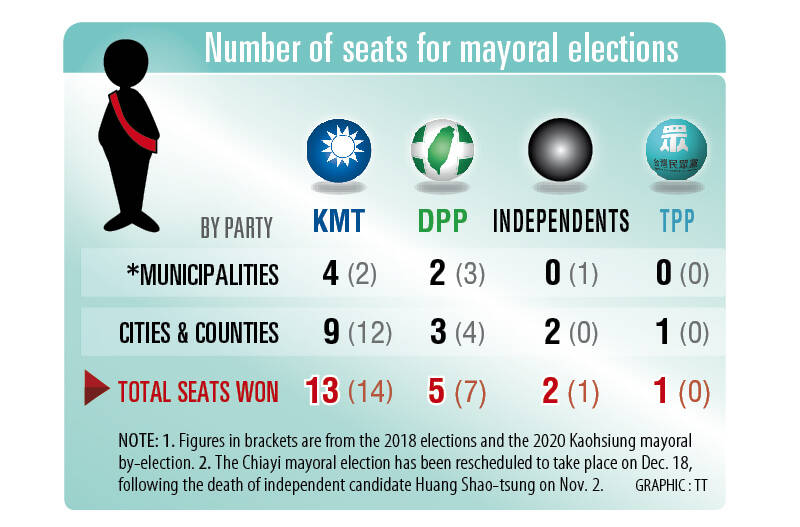 Voters were choosing more than 11,000 local government positions, including the top posts in 21 of the nation's 22 cities and counties.
The Chiayi mayoral election was postponed to Dec. 18 after a candidate passed away on Nov. 2.
The KMT posted a strong showing.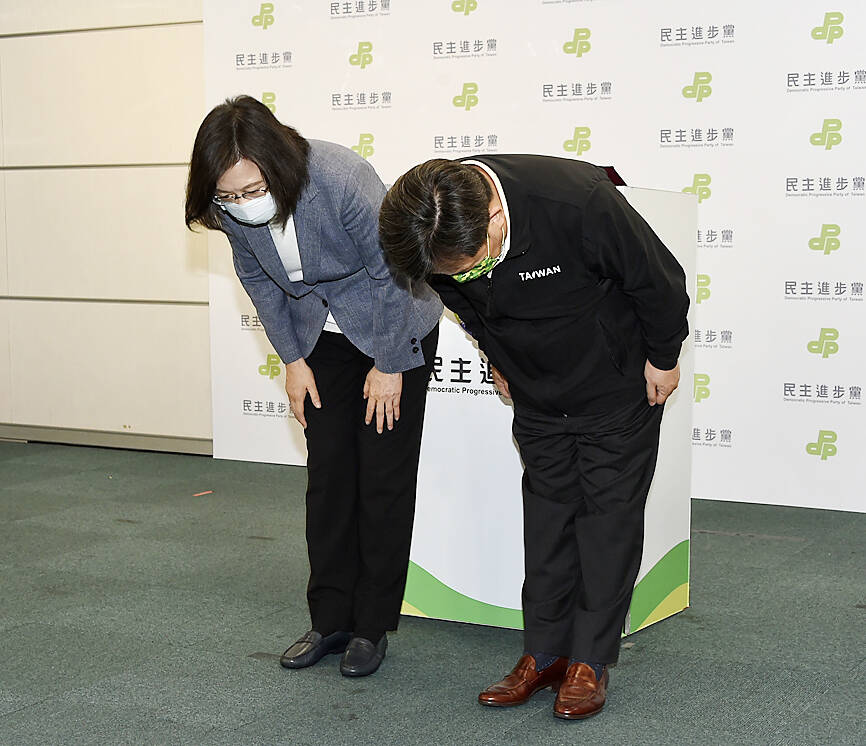 President Tsai Ing-wen, left, and Democratic Progressive Party (DPP) Secretary-General Lin Hsi-yao bow as Tsai announces her resignation as DPP chairperson to take responsibility for the party's performance in the local elections in Taipei yesterday.
Photo: Ann Wang, Reuters
Although the KMT is to govern only 13 cities and counties, compared with the 14 it currently holds, it is expected to win in Chiayi City next month, while the offices it lost are in smaller constituencies, in Miaoli, Kinmen and Penghu counties.
Its incumbent mayoral candidate in New Taipei City, Hou You-yi (侯友宜), won by a decisive 27.8 percentage points, boosting his chances for a likely run at the presidency in 2024.
KMT Chairman Eric Chu (朱立倫) at party headquarters in Taipei last night declared victory "for Taiwan's democracy."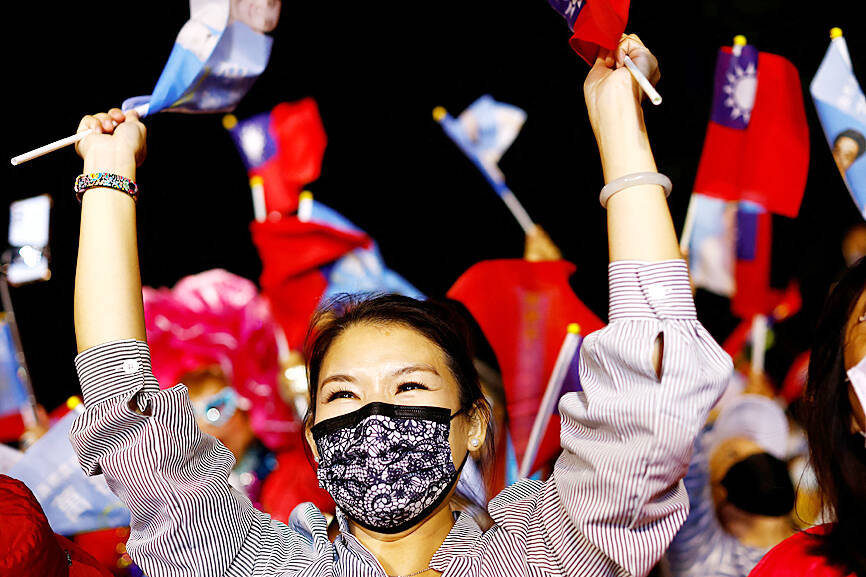 A Chinese Nationalist Party (KMT) supporter cheers at a rally in Taipei yesterday.
Photo: Carlos Garcia Rawlins, REUTERS
Tsai should "go back to being president," he said.
"Only through selflessness will the KMT have a chance of winning" in the 2024 presidential election, Chu said.
Speaking at DPP headquarters in Taipei, Tsai said she "humbly accepts" the results, which fell short of expectations.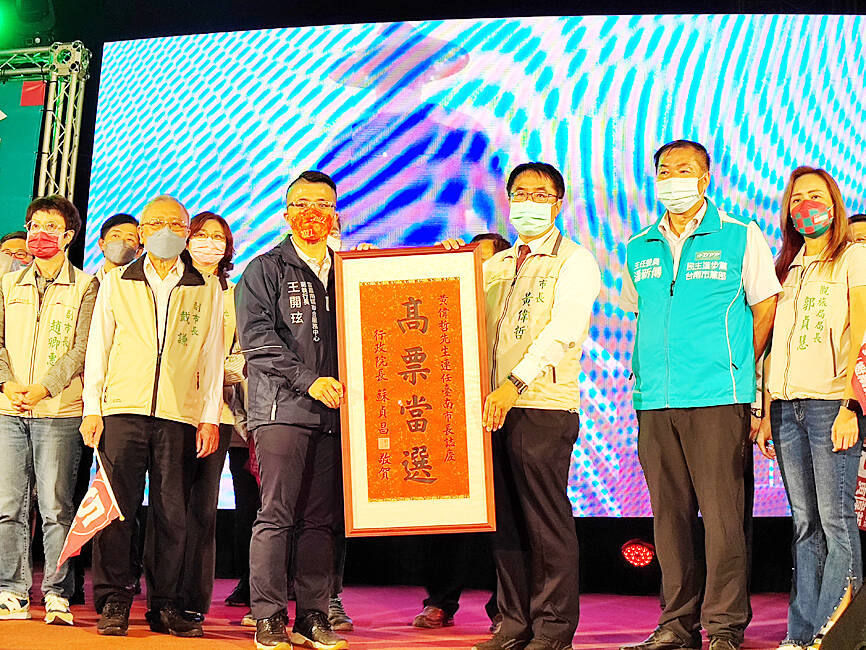 Incumbent Tainan Mayor Huang Wei-che of the Democratic Progressive Party, third right, accepts a congratulatory plaque from supporters in Tainan yesterday.
Photo: Wu Chun-feng, Taipei Times
"Although the central government has worked hard, in the face of such results, we have many areas that require deep introspection," she said.
Tsai also said that Premier Su Tseng-chang (蘇貞昌) had verbally offered to resign, but she did not accept his resignation.
As the ruling party, the DPP cannot stop and despair as challenges could continue to come, but should maintain stability for the sake of the nation, Tsai said.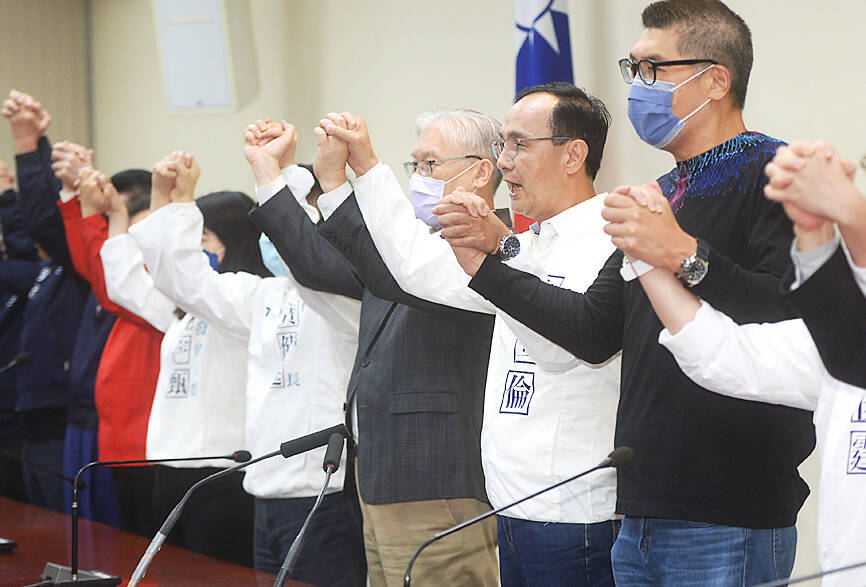 Chinese Nationalist Party (KMT) Chairman Eric Chu, second right, leads party officials in Taipei yesterday in thanking party supporters for the major win.
Photo: Lin Cheng-kun, Taipei Times
"We don't have time to be sad," she said. "When we fall, we get up again, lift our heads and look to the future."
The DPP had a tough evening after losing three of the seven cities and counties it currently holds, although it flipped Penghu County to end the day with a total of five municipalities.
It was hoping to improve on its poor performance in the previous nine-in-one elections in 2018, when it secured only six of the top-ticket seats and lost seven to the KMT.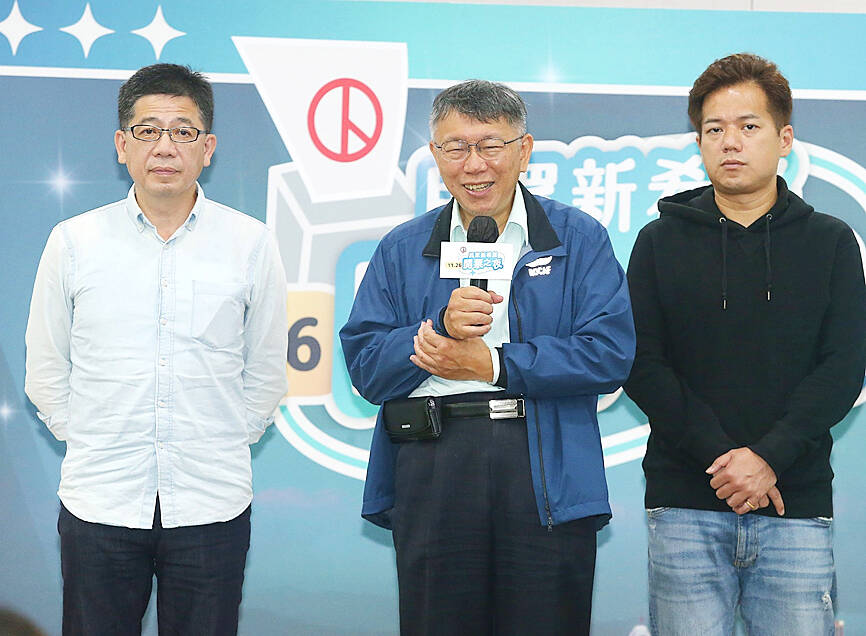 Taipei Mayor and Taiwan People's Party chairman Ko Wen-je, center, speaks at a post-election news conference in Taipei last night.
Photo: CNA
While the three DPP incumbents seeking re-election in Kaohsiung, Tainan and Chiayi County retained their positions, the party is to lose the mayoral offices in Taoyuan and Keelung to the KMT, where the outgoing DPP mayors have reached the end of their term limits.
The DPP had high hopes of eking out a victory in Taipei, a traditional KMT stronghold.
However, its candidate — Chen Shih-chung (陳時中), who led the nation's COVID-19 response as minister of health and welfare for the first two-and-a-half years of the pandemic — trailed Chiang Wan-an (蔣萬安) of the KMT by 10.36 percentage points.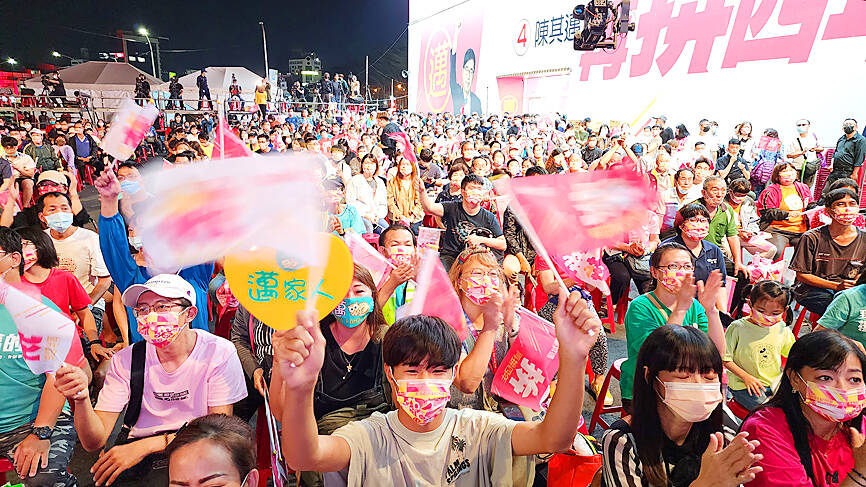 Supporters of incumbent Kaohsiung Mayor Chen Chi-mai of the Democratic Progressive Party cheer in front of Chen's campaign office in the city yesterday.
Photo: CNA
The DPP also conceded the Hsinchu mayorship to the TPP, which has been led by an interim mayor since July when former DPP mayor Lin Chih-chien (林智堅) stepped down to run for Taoyuan mayor.
The race in Tainan was tighter than anticipated, with incumbent DPP Mayor Huang Wei-che (黃偉哲) only winning by 5.17 percentage points over KMT candidate Hsieh Lung-chieh (謝龍介).
A double-digit percantage margin was expected.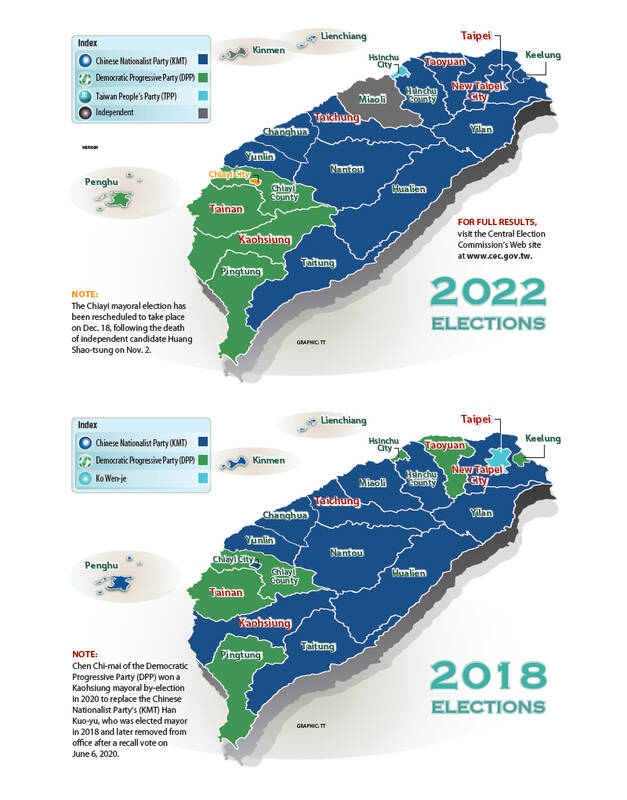 Kaohsiung Mayor Chen Chi-mai (陳其邁) of the DPP won re-election decisively with a margin of 17.94 percentage points over KMT candidate Ko Chih-en (柯志恩).
The TPP — which for the first time participated in the local elections after Taipei Mayor Ko Wen-je (柯文哲) founded the party in 2019 — celebrated Kao's victory in Hsinchu after a contentious campaign.
Although she did not win, independent Taipei mayoral candidate Vivian Huang (黃珊珊), who was backed by the TPP, drew 25.14 percent of the vote.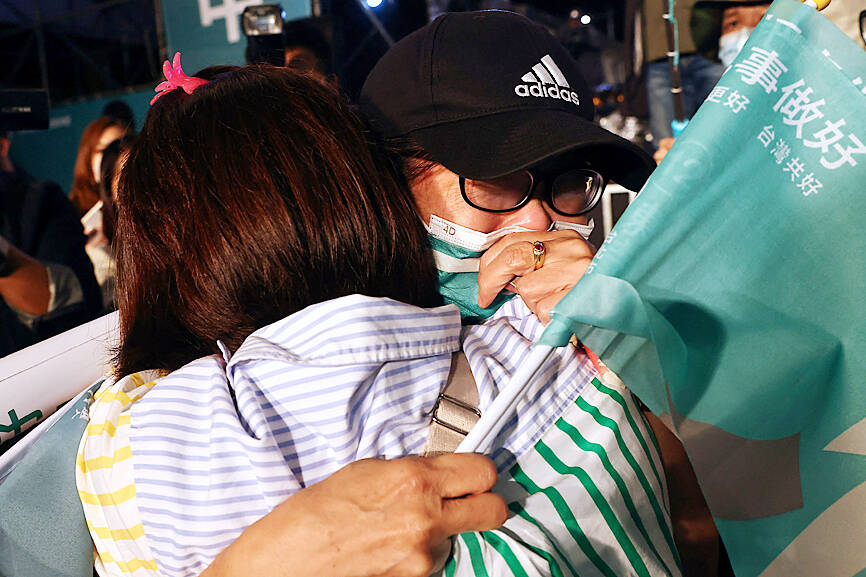 Supporters of Democratic Progressive Party Taipei mayoral candidate Chen Shih-chung console each other at a post-election event in Taipei after Chen conceded his election loss yesterday.
Photo: Ann Wang, REUTERS
Although Kao was smeared during the campaign, she became "more courageous along the way" to victory in Hsinchu, Ko told reporters last night.
This election has taught the TPP that it must revere the public's opinion, he said, adding that wins by 14 city and county counselors and close losses by eight show that there is "still a ways to go" for its candidates.
"The people hope for a new force in politics," he said, adding that the party would continue to work hard after a it reorganizes itself.
Asked whether he would run for president in 2024, Ko said that he has already received a request from National Taiwan University to report back to his former job on Dec. 25.
Comments will be moderated. Keep comments relevant to the article. Remarks containing abusive and obscene language, personal attacks of any kind or promotion will be removed and the user banned. Final decision will be at the discretion of the Taipei Times.