US, China heads of defense meet, discuss Taiwan
MENDING TIES? One Chinese statement said the talks were a way to get back to 'healthy and stable development,' but another blamed the US for their situation
The US' and China's top defense officials yesterday held talks on the sidelines of a regional meeting in Cambodia to discuss strained bilateral relations, and regional and global security issues.
It was the second face-to-face meeting in six months between US Secretary of Defense Lloyd Austin and Chinese Minister of National Defense General Wei Fenghe (魏鳳和).
Pentagon Press Secretary Brigadier General Pat Ryder said that Austin assured Wei of US President Joe Biden's commitment to the "one China" policy.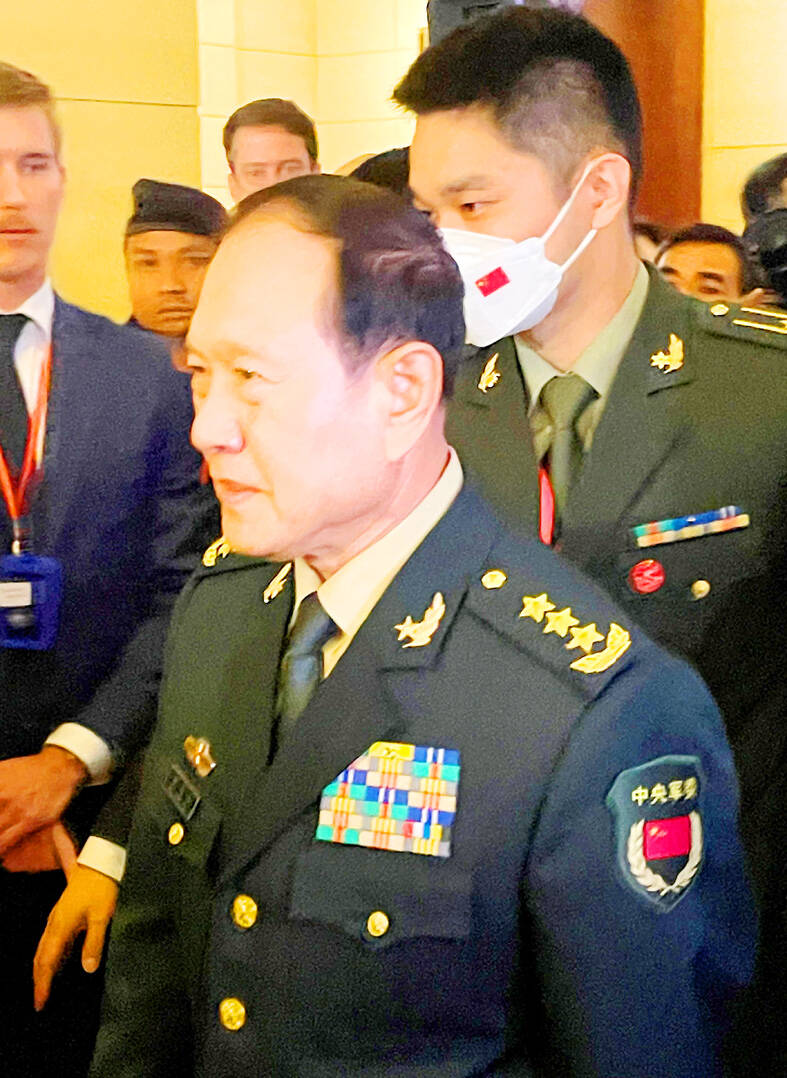 Chinese Minister of National Defense General Wei Fenghe arrives at a meeting at an APEC summit in Siem Reap, Cambodia, yesterday.
Photo: AFP
Austin "underscored his opposition to unilateral changes to the status quo" in the Taiwan Strait and called on China to refrain from destabilizing actions toward Taiwan, Ryder said in a statement.
He also urged continuing talks on "reducing strategic risk, improving crisis communications, and enhancing operational safety," noting concerns about "dangerous behavior" by Chinese military aircraft "that increases the risk of an accident," Ryder said.
At a news conference, Chinese defense ministry spokesman Senior Colonel Tan Kefei (譚克非) described the talks "as a concrete measure to implement the important consensus reached between [Chinese President] Xi [Jinping, 習近平] and Biden."
The meeting was "of great significance" for bringing China-US relations "back to the track of healthy and stable development," Tan said.
However, a statement issued by the ministry quoted Wei as saying: "The responsibility for the current situation facing China-US relations is on the US side, not on the Chinese side."
Wei said the issue of Taiwan was a "red line" over which China would brook no foreign interference.
China's military "has the backbone, the determination, the confidence and the ability to resolutely safeguard the unity of the motherland," Wei said.
The ministry's statement said that the two officials also exchanged views on the South China Sea, Ukraine and the Korean Peninsula, without giving details.
The US statement said that Austin discussed Russia's war in Ukraine, and noted that Washington and Beijing "oppose the use of nuclear weapons or threats to use them."
The meeting came just over a week after a meeting in Indonesia between Biden and Xi, which was widely seen as an effort to ease tensions between the two superpowers over trade and China's actions in the Taiwan Strait.
Austin and Wei were in Siem Reap, Cambodia, attending a meeting of APEC and other defense ministers.
Comments will be moderated. Keep comments relevant to the article. Remarks containing abusive and obscene language, personal attacks of any kind or promotion will be removed and the user banned. Final decision will be at the discretion of the Taipei Times.