Attack on Taiwan would be a mistake: US general
'VERY DIFFICULT': China's military has not seen combat since 1979, Mark Milley said, adding that Taiwan's rugged geography poses a challenge to any would-be invader
An attack on Taiwan by the Chinese military would be a political and strategic mistake, Chairman of the US Joint Chiefs of Staff General Mark Milley said on Wednesday.
"Most of Taiwan is a mountainous island. So it's a very, very difficult military objective, a very difficult military operation to execute," Milley told a joint Pentagon news briefing with US Secretary of Defense Lloyd Austin following a meeting on the latest developments in Ukraine.
The top US general had been asked if he was concerned that Chinese President Xi Jinping (習近平) might make an ill-advised or ill-informed attempt to take Taiwan by force now that he has consolidated his power over the Chinese Communist Party.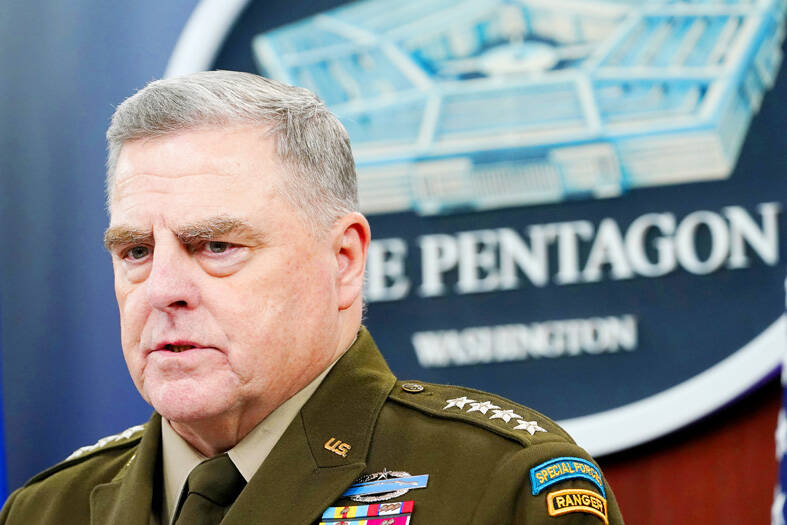 US Joint Chiefs of Staff General Mark Milley speaks at a briefing at the Pentagon in Washington on Wednesday.
Photo: AP
Milley said he believed Xi would make decisions based on what he thinks is in China's national interest.
"I think he evaluates things on cost, benefit and risk, and I think that he would conclude that an attack on Taiwan in the near future would be an excessive amount of risk, and it would end in a strategic debacle for the Chinese military," he said.
That would stall China's push toward becoming the world's top economic and military power, Milley said.
Milley said the US was watching the situation closely and that "one of the keys now is to make sure that Taiwan can defend itself, and there are a lot of lessons learned coming out of the Ukrainian war."
He said that China's military had not seen combat since fighting the Vietnamese in 1979, adding that it would be a dangerous game to cross the Taiwan Strait and invade Taiwan proper.
Milley said he believed it could be some time before China would be capable of a military operation to take Taiwan.
"I think it would be unwise. It would be a political mistake, a geopolitical mistake, a strategic mistake similar to what the strategic mistake is that [Russian President Vladimir] Putin has made in Ukraine," Milley added.
Milley did not say any attack on Taiwan was imminent, but he said he believes that Xi, who just won a historic third term as the country's leader and has declared uniting Taiwan with China a high priority, is a "rational actor."
He said that while the Chinese People's Liberation Army could easily open an assault on Taiwan with bombs and missiles, physically capturing the mountainous, heavily populated island would be a "very difficult military task."
Milley's comments echoed his past remarks that while China might want to be ready for an invasion by 2027, its military is not ready yet.
He said the US military remains the most lethal fighting force in the world and would stay that way "one, five years from now, 10 years from now and 50 years from now," despite China's ambitions.
In related news, tensions over Taiwan are expected to be on the agenda when US Vice President Kamala Harris meets Philippine President Ferdinand Marcos Jr next week, Manila's ambassador to Washington said yesterday.
"I'm sure they will touch on the Taiwan situation," Philippine Ambassador to the US Jose Manuel Romualdez told Reuters by telephone, adding that the Philippines wants to play a role in peaceful co-existence between the US and China.
"What happens in Taiwan, it will affect the entire ASEAN region. If there is a conflict that happens in Taiwan, nobody is going to be spared," Romualdez said. "The Philippines is part of this whole equation."
Additional reporting by AFP, Bloomberg and Reuters
Comments will be moderated. Keep comments relevant to the article. Remarks containing abusive and obscene language, personal attacks of any kind or promotion will be removed and the user banned. Final decision will be at the discretion of the Taipei Times.