Taipei slams Xi's speech on Taiwan
BELIEF IN FREEDOM: Xi said China would not renounce the use of force against Taiwan, resulting in a chorus of responses from political parties to the Presidential Office
Taiwan will not back down on its sovereignty or compromise on freedom and democracy, while its people clearly oppose Beijing's "one country, two systems" model for the nation, the Presidential Office said yesterday.
The statement came shortly after Chinese President Xi Jinping (習近平) said in a speech at the opening of the Chinese Communist Party's 20th National Congress in Beijing that it is up to Chinese to resolve the Taiwan issue and that China would never renounce the use of force against Taiwan.
China had always "respected, cared for and benefited" Taiwanese, and was committed to promoting economic and cultural exchanges across the Taiwan Strait, Xi said.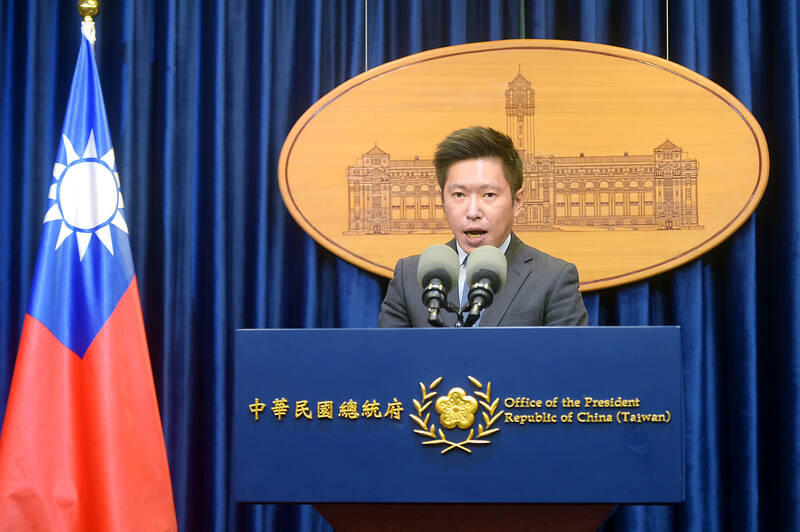 Presidential Office spokesman Xavier Chang speaks at the Presidential Office Building in Taipei in an undated photograph.
Photo: Chang Chia-ming, Taipei Times
"We insist on striving for the prospect of peaceful reunification with the greatest sincerity and best efforts, but we will never promise to give up the use of force and reserve the option to take all necessary measures," he said.
That option is aimed at "interference" by external forces and a "very small number" of Taiwan independence supporters rather than the majority of Taiwanese, Xi said.
"The historical wheels of national reunification and national rejuvenation are rolling forward, and the complete reunification of the motherland must be achieved," he said, to a long round of applause.
In Taipei, Presidential Office spokesman Xavier Chang (張惇涵) said that Taiwan is a sovereign, independent nation, and Taiwanese believe in democracy and freedom.
He quoted President Tsai Ing-wen (蔡英文) as saying in her Double Ten National Day speech on Monday last week that war between Taiwan and China is not an option, and that Taiwan is willing to work with Beijing to find a mutually acceptable path to peace in the Taiwan Strait "on the basis of reason, equality and mutual respect."
The Mainland Affairs Council (MAC) said that "Taiwan has never been a part of the People's Republic of China."
Taiwanese would not accept the "1992 consensus" defined by the "one China" principle or the "one country, two systems" formula, it said, adding that only the 23 million Taiwanese have the right to decide their country's future.
The so-called "1992 consensus," a term former MAC chairman Su Chi (蘇起) in 2006 admitted making up in 2000, refers to a tacit understanding between the Chinese Nationalist Party (KMT) and the Chinese government that both sides of the Strait acknowledge there is "one China," with each side having its own interpretation of what "China" means.
The Democratic Progressive Party said that it would make no compromises in "safeguarding the country's sovereignty and protecting freedom and democracy."
It called on Beijing to respect the democratic and free lifestyle of Taiwanese and to stop threatening them with military force.
"Only by respecting Taiwanese's insistence on democracy and freedom can both sides of the Taiwan Strait resume friendly interactions," it said.
"Safeguarding the Republic of China, protecting democracy and freedom, and maintaining cross-strait and regional peace are the three most important missions of the KMT," KMT Chairman Eric Chu (朱立倫) said, referring to Taiwan's official name.
The party adamantly opposes any intention to damage or hurt the Republic of China, he said, adding that public opinion in Taiwan clearly shows opposition to the concept of "one country, two systems."
Taipei Mayor Ko Wen-je (柯文哲), chairman of the Taiwan People's Party, said that from his experience commanding the annual Wanan military drill, he could tell that Taiwan is not prepared for war.
For a country to exist, it cannot solely rely on the goodwill of other nations, but has to rely on itself, he said.
Additional reporting by Su Chin-feng and Chen En-huei
Comments will be moderated. Keep comments relevant to the article. Remarks containing abusive and obscene language, personal attacks of any kind or promotion will be removed and the user banned. Final decision will be at the discretion of the Taipei Times.