Powerful typhoon prompts evacuations in Philippines
A powerful typhoon shifted and abruptly gained strength yesterday as it blew closer to the northeastern Philippines, prompting evacuations from high-risk villages and the capital, which could be sideswiped by the storm, officials said.
Typhoon Noru was swirling at sea about 115km east of Infanta town in Quezon Province, with sustained winds of 195kph and gusts of up to 240kph.
While barreling toward the archipelago, Noru changed track southward, pushed down by a high-pressure area to its north. It gained considerable strength, transforming from a storm with sustained winds of 85kph on Saturday into a super typhoon just 24 hours later in an "explosive intensification" at sea, Philippine Atmospheric, Geophysical and Astronomical Services Administration head Vicente Malano said.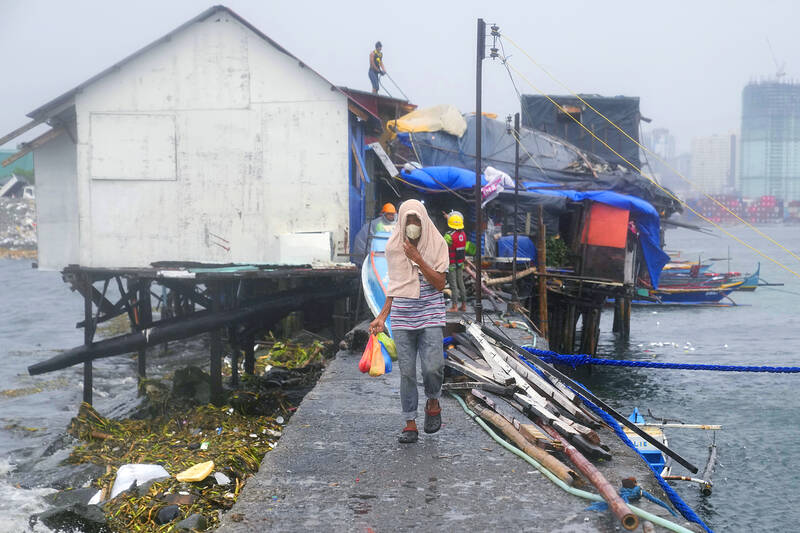 People in Manila yesterday prepare for the arrival of Typhoon Noru.
Photo: AP
The rapid intensification as it neared land was "unprecedented" storm behavior, weather forecaster Robb Gile said.
Thousands of villagers in Quezon Province were evacuated from the typhoon's path, as well as from mountainside villages that are prone to landslides and flash floods, and in coastal communities that could be hit by tidal surges as high as 3m.
"The combined effects of a storm surge and high waves breaking along the coast may cause life-threatening and damaging inundation or flooding," the weather agency warned.
In Manila's seaside district of Tondo, some residents left their homes with bags of belongings and hurriedly walked to a nearby evacuation center as the sky darkened and rains started to fall.
Provincial disaster management head Melchor Avenilla said law enforcers were under orders to forcibly move people who refuse to leave their homes.
"So far we've been able to do this by just appealing to people," Avenilla said.
The typhoon's eye could pass about 40km to 50km from metro Manila, "which is nearly a direct hit," Malano said.
Fishing boats and inter-island and cargo ferries were restricted to port as a precaution, the coast guard said.
Cargo trucks and more than 2,500 passengers were stranded. More than 30 flights at Manila's airport, mostly bound for domestic destinations, were canceled.
The typhoon was forecast to sweep through Luzon Island last night and into the South China Sea today. It is on track to hit Vietnam later in the week while maintaining its powerful winds.
Noru comes nine months after another super typhoon devastated swathes of the country, killing more than 400 people and leaving hundreds of thousands homeless.
Additional reporting by AFP
Comments will be moderated. Keep comments relevant to the article. Remarks containing abusive and obscene language, personal attacks of any kind or promotion will be removed and the user banned. Final decision will be at the discretion of the Taipei Times.