KMT defends Hsia's controversial visit to China as 'brave'
Chinese Nationalist Party (KMT) Chairman Eric Chu (朱立倫) yesterday defended a controversial trip to China by party Vice Chairman Andrew Hsia (夏立言) as "brave," even as Hsia faced protests upon his return to Taiwan.
The timing of Hsia's trip generated controversy, as the KMT delegation arrived in China on Aug. 10, six days after Beijing launched a high-pressure military and economic campaign against Taiwan following US House of Representatives Speaker Nancy Pelosi's visit to Taipei from Aug. 2 to 3.
Chu said that Hsia and other members of the delegation were "very brave and determined," and it was important to keep lines of communication open to prevent conflict.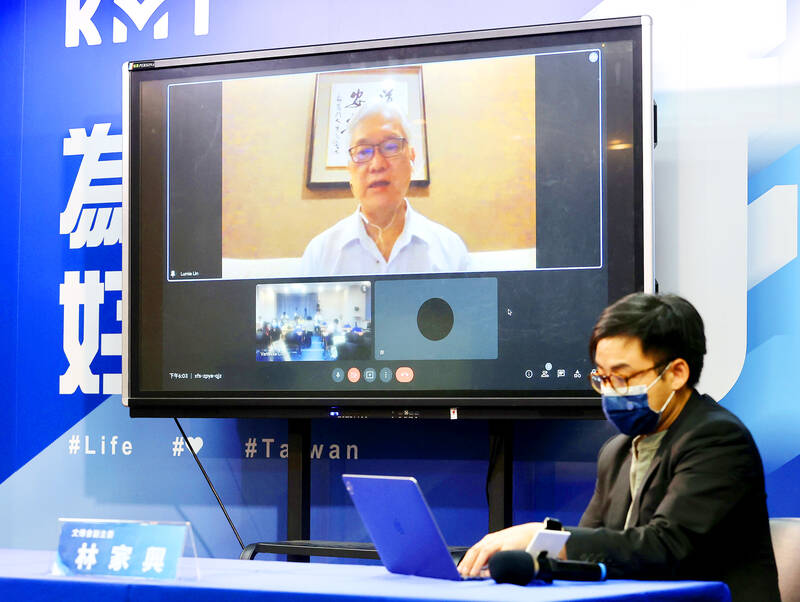 Chinese Nationalist Party (KMT) Vice Chairman Andrew Hsia, on the monitor, speaks during a virtual news conference held at the party's headquarters in Taipei on Saturday evening.
Photo: CNA
Members of Taiwan Statebuilding Party on Saturday led a protest at the Taiwan Taoyuan International Airport upon Hsia's arrival, holding signs saying that he was selling out Taiwan and demanding that Hsia and the members of his delegation be sent back to China.
During a virtual news conference held shortly after returning, Hsia said the trip across the Taiwan Strait was aimed at looking after the needs of Taiwanese living in China.
He said he used his meetings with Chinese officials to convey the concerns of the Taiwanese community in the country over Beijing's military drills around Taiwan.
He told his hosts that the military exercises were not helpful to peaceful development, and that the vast majority of Taiwanese were uneasy, worried and dissatisfied with the drills, he said.
The Mainland Affairs Council said that Hsia was playing politics ahead of November's local elections and that his visit played into Beijing's "united front" efforts.
Comments will be moderated. Keep comments relevant to the article. Remarks containing abusive and obscene language, personal attacks of any kind or promotion will be removed and the user banned. Final decision will be at the discretion of the Taipei Times.