Military to shoot down drones that ignore warnings
The Kinmen Defense Command yesterday said it would drive Chinese drones out of Kinmen County, and shoot them down if warnings are ignored.
The command made the announcement after video footage taken from a drone that circled above troops stationed in the county's Lieyu Township (烈嶼) circulated on Chinese microblogging site Sina Weibo (微博) on Saturday.
Troops had noticed the drone over the township on Saturday, and had determined it to be a civilian drone, the command said in a news release.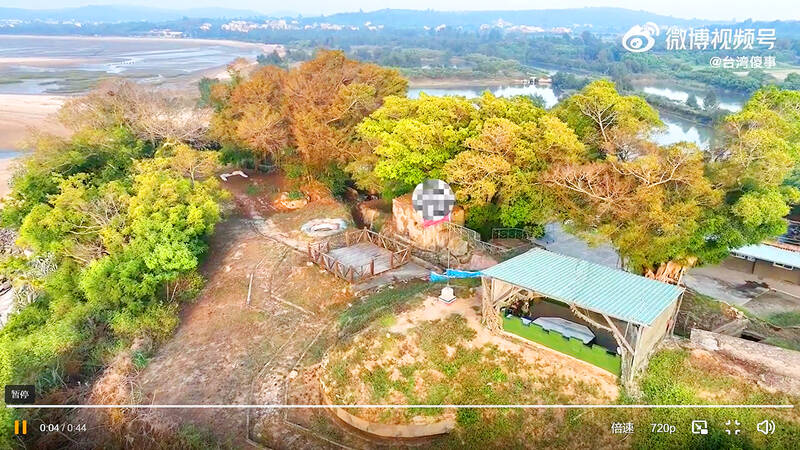 A screen grab from a clip posted on China's Sina Weibo on Saturday shows a Taiwanese national flag, which is blurred out. The video was allegedly taken by a civilian-operated drone from China over Kinmen County's Lieyu Township.
Photo: Still image taken from a video on Sina Weibo
In accordance with standard procedure, the troops fired a warning flare at the drone and went on high alert, it said.
The military aims to avoid escalating such situations, but would take countermeasures to prevent incursions into the country's airspace by drones and other airborne objects, the command said, adding that China has been making such incursions with increasing regularity over the past few weeks.
"These repeated provocations are a threat to Taiwan's national defense and aviation safety, and we will take necessary measures to stop them," the command said.
On Aug. 16, a separate video circulated on Sina Weibo showing Taiwanese troops throwing stones at a Chinese drone that entered airspace above Erdan Islet (二膽).
The incident was criticized by the Ministry of National Defense as a Chinese attempt at cognitive warfare and sparked public debate about how the military should respond to "gray-zone" tactics — defined as coercive actions carried out by seemingly non-state or nonmilitary actors.
The ministry on Wednesday last week said it had already drafted plans for a drone defense system, which it expects to deploy next year.
GEOSAT Aerospace & Technology Inc (經緯航太科技) chief executive officer Lo Cheng-fang (羅正方) yesterday said that the army should not hesitate to use counter-drone weapons if any are spotted in Taiwan's territorial airspace.
When faced by China's provocative gray-zone tactics, the worst thing Taiwan can do is nothing, because it would simply encourage Beijing to be more aggressive, he said.
Lu Li-shih (呂禮詩), a former navy lieutenant commander, said that the army should try to set up a virtual perimeter known as a geofence around a no-fly zone between the offshore counties and China to stop drones from entering.
Democratic Progressive Party Legislator Wang Ting-yu (王定宇) said that the ministry could work with domestic drone manufacturers to devise drone-defense solutions.
Speaking about an incident yesterday in which two Chinese fishers washed up alive in the county, Wang said that authorities should provide all necessary assistance in such cases, but exercise caution and thoroughly investigate whether other motives are at play.
Comments will be moderated. Keep comments relevant to the article. Remarks containing abusive and obscene language, personal attacks of any kind or promotion will be removed and the user banned. Final decision will be at the discretion of the Taipei Times.