Uruguay halted visa-free entry due to PRC pressure
Uruguay's decision to halt visa-free entry for Taiwanese from Wednesday was due to pressure from Beijing, a source said yesterday.
The announcement by Uruguay, which ended diplomatic ties with Taiwan in 1988, was unexpected, the source said.
Chinese General Administration of Customs Minister Ni Yue-feng (倪岳峰) on Monday visited Uruguay, where he reportedly met with Uruguayan Minister of Foreign Affairs Rodolfo Nin Novoa as the two nations celebrated the 30th anniversary of formal diplomatic ties, the source said.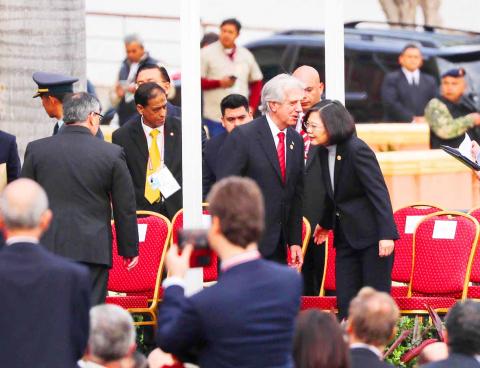 President Tsai Ing-wen, right, and Uruguayan President Tabare Vazquez exchange words during an inauguration ceremony in Asuncion, Paraguay on Aug. 15.
Photo: CNA
However, the Ministry of Foreign Affairs in Taipei yesterday cited technical issues for Uruguay's decision.
Uruguay halted the preferential treatment for Taiwanese because its online e-visa application system is still being developed, the ministry said.
Until further notice, Taiwanese would have to apply for a visa at the Uruguayan embassy in Japan, ministry spokesman Andrew Lee (李憲章) said.
The ministry said that it would continue to approach the Uruguayan government and strive to have the relevant procedures completed as soon as possible so that Taiwanese could again enjoy the convenience of visa-free entry into Uruguay.
Uruguay began offering visa-free entry for up to 90 days on Oct. 19, making it the 169th nation at the time to offer Taiwanese preferential visa treatment.
The ministry had previously said that visa-free access was granted due to steps taken by the Taipei Commercial and Cultural Office in Argentina, which also handles Uruguayan affairs.
Additional reporting by CNA
Comments will be moderated. Keep comments relevant to the article. Remarks containing abusive and obscene language, personal attacks of any kind or promotion will be removed and the user banned. Final decision will be at the discretion of the Taipei Times.