2018 ELECTIONS: Lai offers to resign as DPP routed
END OF AN ERA: President Tsai Ing-wen stepped down as DPP chairperson after early results, which showed the KMT winning in Kaohsiung after two decades of DPP rule
Premier William Lai (賴清德) offered his resignation and President Tsai Ing-wen stepped down as Democratic Progressive Party (DPP) chairperson after the party suffered a bruising defeat in yesterday's nine-in-one local elections, as the results showed the nation's political map shifting toward the Chinese Nationalist Party (KMT).
Later last night, Presidential Office Secretary-General Chen Chu (陳菊) also announced her resignation.
While official tallies from the Central Election Commission (CEC) were not available as of press time last night, some of the candidates had unilaterally declared victory or conceded defeat.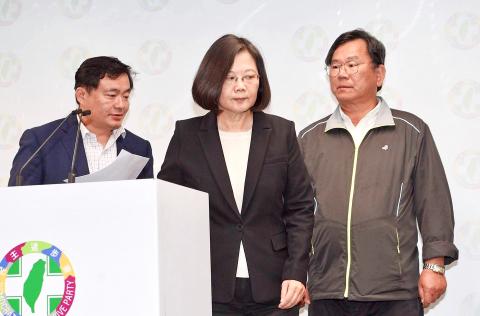 President Tsai Ing-wen, center, steps down from the podium after announcing her resignation as Democratic Progressive Party (DPP) chairperson as DPP Secretary-General Hung Yao-fu, left, and DPP Electoral Strategy Committee co-convener Chen Ming-wen look on at a news conference at the party's headquarters in Taipei yesterday.
Photo: Peter Lo, Taipei Times
Among them were Taichung Mayor Lin Chia-lung (林佳龍) of the DPP, who acknowledged losing to KMT Taichung mayoral candidate Lu Shiow-yen (盧秀燕), and KMT Kaohsiung mayoral candidate Han Kuo-yu (韓國瑜), who defeated his DPP rival, Chen Chi-mai (陳其邁), and ended the DPP's 20-year governance of southern Taiwan's largest city.
In the 2014 local elections, the DPP won 13 of the nation's 22 cities and counties, against the KMT's six.
Yesterday's electoral results saw the KMT winning a majority of city, county and municipal governments, while the DPP held six.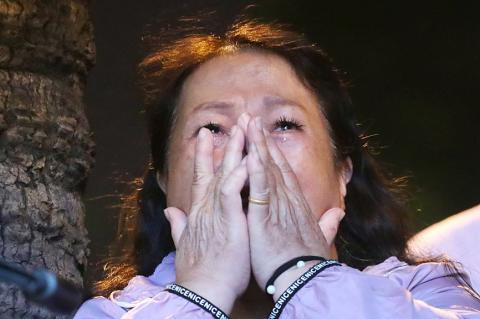 A supporter of Democratic Progressive Party Kaohsiung mayoral candidate Chen Chi-mai cries as the election results come in at Chen's election campaign headquarters in Kaohisung yesterday.
Photo: CNA
Before yesterday, the DPP held four of the six special municipalities — Taoyuan, Taichung, Tainan and Kaohsiung — but last night seemed to be left with only Taoyuan and Tainan.
KAOHSIUNG
Han yesterday became Kaohsiung's first KMT mayor in 20 years.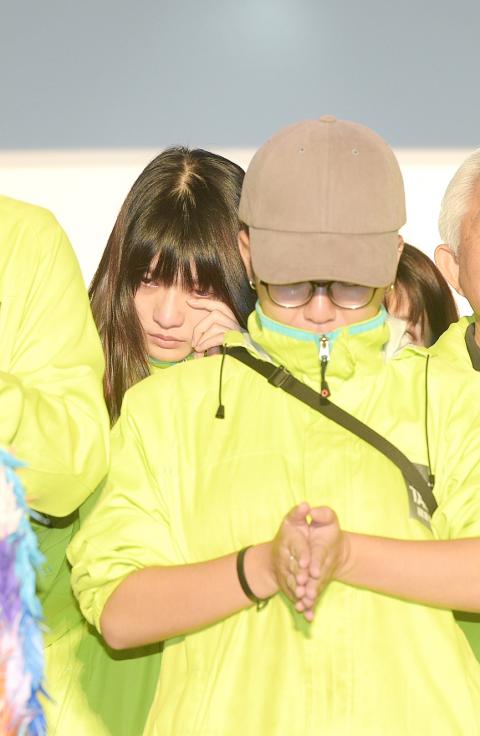 Volunteers for the Democratic Progressive Party's Taipei mayoral candidate Pasuya Yao's campaign team react as results come in for their candidate in Taipei yesterday.
Photo: Chang Chia-ming, Taipei Times
He had held onto a slim lead of less than 1 percentage point since the vote count started at 4pm, but he started to pull ahead after 7pm.
At about 8:50pm, Chen Chi-mai conceded defeat to Han, thanking his supporters for their trust in him and apologizing for failing them.
"Wherever my next job takes me, I will forever be proud of the people of Kaohsiung and the city... I have just made a telephone call to Han and congratulated him on his victory," Chen Chi-mai, who resigned as a lawmaker earlier this month to demonstrate his determination, said in his concession speech.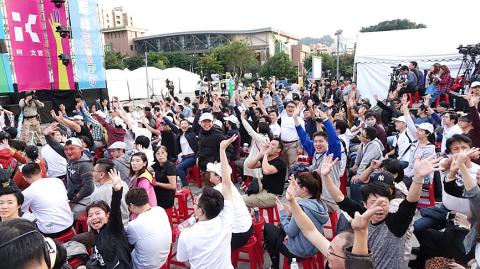 With voting over, supporters of Taipei Mayor Ko Wen-je flock to his campaign headquarters in Taipei yesterday.
Photo: Fang Pin-chao, Taipei Times
Chen Chi-mai said that despite his defeat, he hoped that Kaohsiung residents could put aside their political affiliation, unite and throw their joint support behind the new mayor.
Han delivered his victory speech in tears, saying his win went down in the nation's democratic history, as he won with little resources and without criticizing his opponent.
"As Chen [Chi-mai] pointed out in his concession speech, the city must adhere to its highest value, which is love and tolerance. Let us join hands and fight for the city's future regardless of whether we belong to the pan-green or pan-blue camp," Han said.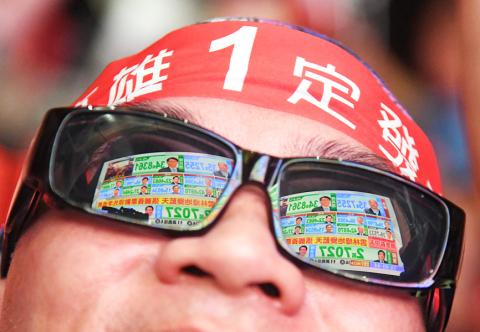 Election results showing that Chinese Nationalist Party (KMT) Kaohsiung mayoral candidate Han Kuo-yu leads the race are mirrored in the sunglasses of a supporter outside Han's campaign headquarters in Kaohsiung yesterday.
Photo: CNA
Losing Kaohsiung is expected to deal a severe blow to the DPP, especially in the 2020 legislative and presidential elections, given that the city is the nation's third-largest with 2.28 million voters.
In the 2014 local elections, the DPP's then-candidate, Chen Chu (陳菊), crushed her KMT rival, former Kaohsiung county commissioner Yang Chiu-hsing (楊秋興), by a landslide, receiving 993,300, or 68.08 percent of the vote.
Chen Chu had served one term as the commissioner of Kaohsiung county, which merged with then-Kaohsiung City and became a special municipality in 2010, before winning two re-elections as the city's mayor in 2010 and 2014.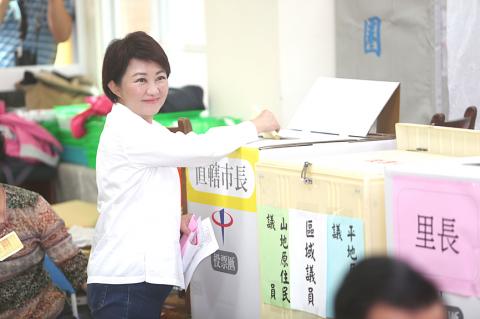 Chinese Nationalist Party (KMT) Taichung mayoral candidate Lu Shiow-yen casts her vote in Taichung yesterday.
Photo: Tsai Shu-yuan, Taipei Times
TAICHUNG
Voters who had gathered in front of Lin's campaign headquarters in Situn District (西屯) to watch on a large screen the unofficial vote count conducted by media outlets began to disperse at 6:30pm, many of them leaving in silence.
Lin took the stage at 7:45pm and conceded defeat.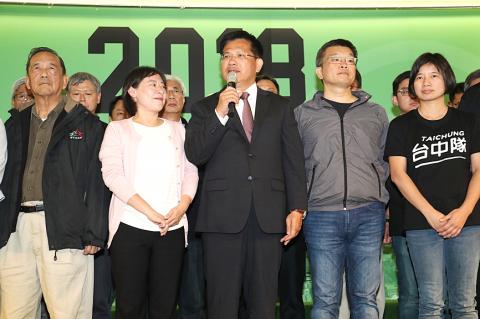 Taichung Mayor Lin Chia-lung, center, of the Democratic Progressive Party, concedes the election just before 8pm in Taichung yesterday.
Photo: CNA
He thanked his campaign team and supporters for giving him four years on which they can look back fondly, and called on his backers to support the mayor-elect.
"Saddened or regretful though we might feel, we must accept this outcome, for it is the decision made by Taiwanese on the democratic system and institutions we have long defended," he said.
In the city's Dali District (大里), a beaming Lu appeared on stage at his campaign headquarters to a crowd of cheering supporters, who shouted: "Greetings to the mayor."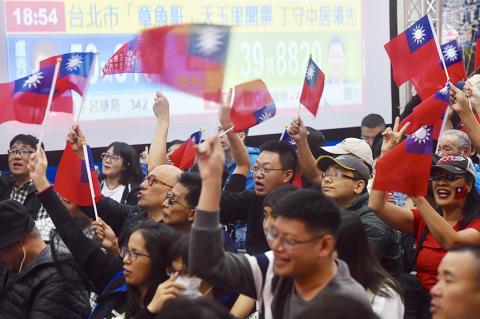 Supporters of Chinese Nationalist Party (KMT) Taipei mayoral candidate Ting Shou-chung watch the progress of the vote count in Taipei yesterday.
Photo: Chien Jung-fong, Taipei Times
After a hard-fought campaign, during which she had been viewed as the "underdog," the result represented a "Taichung miracle," she said.
Promising to assemble a non-partisan team, Lu said she telephoned Lin after his concession speech to express her regards and asked him to offer advice and assistance to her administration, which she said would be in the interest of Taichung residents.
In the previous Taichung mayoral election four years ago, Lin beat then-Taichung mayor Jason Hu (胡志強) of the KMT, who was seeking re-election, by about 210,000 votes, or a margin of 14 percentage points.
TAIPEI
Taipei Mayor Ko Wen-je (柯文哲), an independent seeking re-election, and KMT mayoral candidate Ting Shou-chung (丁守中) went back and forth in a seesaw battle.
A clear winner could not be identified as of 11:45pm last night.
As ballot counting began at 4pm, the number of votes for Ko and Ting increased at a similar pace from the outset, and the two candidates took turns leading by only hundreds of votes.
DPP candidate Pasuya Yao's (姚文智) votes fell behind Ko and Ting by more than 200,000 when half were counted at about 7pm.
"Thank you everyone. Go Taipei, go Taiwan" Yao said on Facebook at 7:06pm.
In 2014, with a voter turnout of 70.46 percent and about 1.51 million valid votes, Ko won in a landslide, receiving 57.16 percent of votes, while then-KMT candidate Sean Lien (連勝文) won 40.82 percent.
Ko had planned a news conference at 8pm, but pushed it back twice, with the latest announcement for 10pm.
Ting also pushed back plans to speak due to the unpredictability of the result.
Speaking at the KMT headquarters in Taipei, KMT Chairman Wu Den-yih (吳敦義) thanked Taiwanese for entrusting the KMT with 15 local governments, although the Taipei mayoral race was still undecided at the time.
Wu said even though the KMT was not able to provide its candidates with much resources, he was happy that most of them have delivered good results.
"After you assume office, remember to adhere to your principles and serve your nation and your local government. You must ensure integrity and efficiency in your administration," Wu told the party's victorious mayoral and commissioner candidates.
At press time last night, candidates who had announced victories included KMT Lienchiang County Commissioner Liu Tseng-ying (劉增應), KMT Yunlin County commissioner candidate Chang Li-shan (張麗善), KMT Taitung County commissioner candidate Rao Ching-ling (饒慶鈴), KMT Hualien county commissioner candidate Hsu Chen-wei (徐榛蔚), KMT Changhua county commissioner candidate Wang Hui-mei (王惠美), KMT Chiayi mayoral candidate Huang Min-hui (黃敏惠), and KMT Yilan county commissioner candidate Lin Zi-miao (林姿妙).
Additional reporting by staff writer
Comments will be moderated. Keep comments relevant to the article. Remarks containing abusive and obscene language, personal attacks of any kind or promotion will be removed and the user banned. Final decision will be at the discretion of the Taipei Times.