Three allies stay silent on Taiwan's UN participation
Three of the nation's diplomatic allies — Guatemala, Haiti and Honduras — have not expressed support for Taiwan at the 73rd UN General Assembly, raising concerns over their ties with Taipei.
In the week-long debate session in New York, 12 of Taiwan's 17 diplomatic allies have so far voiced support for the nation.
They are: Paraguay, the Marshall Islands, Eswatini, Kiribati, Nauru, Palau, Tuvalu, Saint Vincent and the Grenadines, the Solomon Islands, Saint Lucia, Saint Kitts and Nevis, and Belize.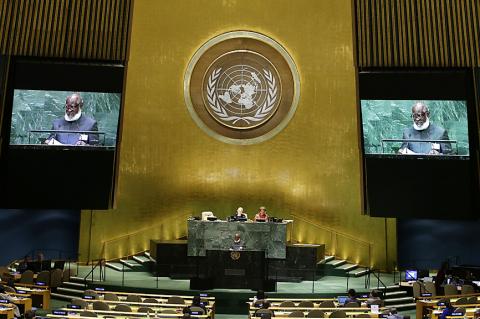 Belizean Minister of Foreign Affairs Wilfred Elrington addresses the 73rd session of the UN General Assembly in New York on Saturday.
Photo: AP
The Vatican and Nicaragua are scheduled to address the General Assembly today on its last day.
Belize on Saturday voiced support for Taiwan's bid to participate at the UN.
Belizean Minister of Foreign Affairs Wilfred Elrington reiterated his country's plea on behalf of the 23 million Taiwanese for a new approach to include the nation in the UN system.
Taiwan is the 22nd-largest economy in the world and a vibrant democracy that has fully embraced international norms and standards, Elrington said.
"Yet, despite global recognition of their successes and despite the readiness of UN member states to conduct business with this fast-growing economy, this institution has cut them off," he said. "It has gone so far as to refuse to recognize the legitimacy of Taiwanese passports and so literally cutting off even Taiwanese tourists from entering its premises as visitors."
UN Resolution 2758 of 1971 is being used as a political and humanitarian embargo against Taiwan, he added.
"No such embargo, indeed, has any place in this UN," Elrington said.
The resolution, passed on Oct. 25, 1971, at the 26th session of the UN General Assembly, recognizes the People's Republic of China as "the only legitimate representative of China to the United Nations."
After President Tsai Ing-wen (蔡英文) took office in May 2016, the Dominican Republic and El Salvador did not express support for Taiwan in two consecutive general assemblies.
Diplomatic ties between Taiwan and both countries were severed earlier this year.
Guatemala has not mentioned Taiwan at the UN General Debate or the WHO Executive Board for five years, raising concerns over its relationship with Taiwan.
Honduras has not addressed the UN General Assembly in two years, although last year it expressed support for Taiwan through letters to individual representatives.
However, Honduran President Juan Orlando Hernandez last week said in an interview with Reuters that China's growing diplomatic presence posed a "quandary" for the region, as well as "an opportunity for all," provided there are "clear rules."
Other countries would likely follow the lead of El Salvador and Panama soon, he said.
Panama in June last year switched diplomatic recognition from Taipei to Beijing.
Asked whether Honduras would switch allegiance to China, Hernandez said: "We're still with Taiwan. Each country follows the principle of self-determination, that it can make its own decisions."
"For the time being, we're betting on a commercial relationship with Taiwan, a window to enter the Asian market," he added.
Haiti, which had spoken on behalf of Taiwan in the assembly for the past four years, did not mention Taiwan in its address this year.
Ministry of Foreign Affairs spokesman Andrew Lee (李憲章) said the government respects its allies' decision to express support for the nation in ways and at occasions that they consider to be most appropriate.
Additional reporting by CNA
Comments will be moderated. Keep comments relevant to the article. Remarks containing abusive and obscene language, personal attacks of any kind or promotion will be removed and the user banned. Final decision will be at the discretion of the Taipei Times.