Provincial-level agencies to be defunded next year
Provincial-level agencies will no longer be funded from next year, Executive Yuan deputy spokesman Ting Yun-kung (丁允恭) confirmed yesterday, quoting Premier William Lai (賴清德).
The three agencies are the Fujian Provincial Government, the Taiwan Provincial Government and the Taiwan Provincial Consultative Council.
To better utilize the nation's resources and improve administrative effectiveness, funding for the three agencies is to be stopped, Lai was quoted as saying.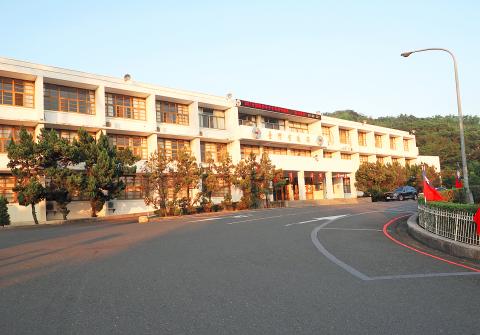 The Taiwan Provincial Government building in Nantou County's Jhongsing New Village is pictured on April 20.
Photo: Chen Fong-li, Taipei Times
The agencies' employees and tasks are to be reassigned to the National Development Council and several government ministries from Sunday, he said.
Although there would no longer be any provincial-level tasks next year, there would still be a Taiwan Provincial governor and a Taiwan Provincial Consultative Council chairperson, because the agencies are required by the Constitution and cannot be abolished, Executive Yuan spokesman Hsu Kuo-yung (徐國勇) said.
The Cabinet would assign the position of governor to a minister without portfolio, who would not receive an additional salary for the role, Hsu said, adding that the council would be responsible for maintaining the Taiwan Provincial Government's buildings.
Nantou County's Jhongsing New Village (中興新村) — where the Taiwan Provincial Government is based — is well-equipped with various facilities and convenient transportation, Lai said.
After the streamlining of the Taiwan Provincial Government, many people expressed the hope that the central government would reinvigorate the village, because it had not been put to good use, with some parts even left unused, Lai said.
The council is next month to establish an office tasked with reinvigorating the village, Lai said, adding that he has also asked the Directorate-General of Personnel Administration look at transferring Cabinet employees to the area.
The Executive Yuan's announcement reaffirmed remarks by Taiwan Provincial Governor Wu Tze-cheng (吳澤成) last month at a committee meeting at the Legislative Yuan.
While the Cabinet has not specified how much the government would save from cutting funding to the three agencies, New Power Party Legislator Freddy Lim (林昶佐) in March said it would save NT$300 million (US$9.81 million) per year, citing his own investigation.
Additional reporting by Sean Lin
Comments will be moderated. Keep comments relevant to the article. Remarks containing abusive and obscene language, personal attacks of any kind or promotion will be removed and the user banned. Final decision will be at the discretion of the Taipei Times.