Ministry casts light on Nauru asylum seekers
About 10 critically ill refugees and asylum seekers being held on Nauru have received medical treatment in Taiwan since a memorandum of understanding (MOU) signed in September last year between Taiwan and Australia took effect in January, Ministry of Foreign Affairs spokesman Andrew Lee (李憲章) said in Taipei yesterday.
The Guardian on May 14 reported that an Iranian refugee who had been flown to Taiwan for critical heart surgery and her 17-year-old son were on May 10 taken back to Nauru by Australian Border Force officers "against psychiatric advice."
Deputy Representative to the UK Cheng Shyang-yun (程祥雲) on May 18 wrote a letter to the newspaper saying that the refugees were not "forcibly returned" and that the patients had "completed their treatment prior to leaving Taiwan."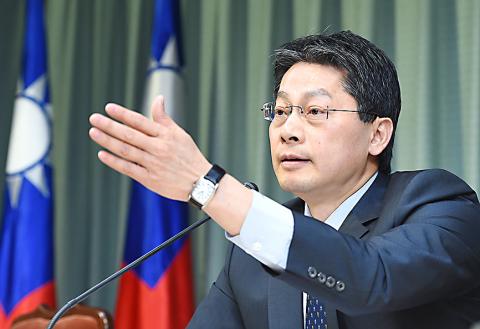 Ministry of Foreign Affairs spokesman Andrew Lee speaks at a news conference in Taipei on Jan. 24.
Photo: Liao Chen-huei, Taipei Times
"In consideration of Taiwan's high-quality medical facilities and long-standing medical cooperation with Nauru," an MOU was signed allowing refugees and asylum seekers who require urgent medical treatment to be transferred to Taiwan, Cheng said.
The ministry last month also denied the allegations.
It confirmed that an MOU had been signed, adding that Taiwan Adventist Hospital has been overseeing the medical transfers since January.
On Friday, in an online article titled "Send them to Taiwan: Turnbull government's secret refugee deal revealed," the Sydney Morning Herald reported that the Australian government signed "an undisclosed arrangement aimed at stopping [refugees on Nauru] from applying to stay in Australia after being treated in local hospitals."
"The [Australian] government has never announced the memorandum of understanding and refused to release it on Friday," it said.
"Australia is understood to have sought assistance from more countries for medical transfers. But Taiwan is the only one that has signed a deal with the Turnbull government," the paper added.
The Guardian on Saturday in an online article reported that asylum seekers who had been flown from Nauru to Taiwan have complained of language barriers.
It reported that the MOU was signed "in an effort to prevent people indefinitely detained on the island from applying for a medical transfer to Australia."
Lee yesterday reiterated the terms of the MOU and Taiwan's dedication to global health.
The WHO constitution clearly states that health is a basic human right, Lee said.
To respond to the WHO's concept of universal health coverage, Taiwan, in addition to defending its citizens' right to health, is devoted to boosting its contributions to global healthcare, he said.
Nauru is a diplomatic ally of Taiwan, Lee said, adding that medical cooperation with that country has been going on for years and has received praise.
The MOU clearly states that Taiwan and Australia should abide by international human rights standards, and ensure that those involved are treated with dignity and receive appropriate medical treatment, he added.
Comments will be moderated. Keep comments relevant to the article. Remarks containing abusive and obscene language, personal attacks of any kind or promotion will be removed and the user banned. Final decision will be at the discretion of the Taipei Times.