Fu Da-ren ends his life at facility in Switzerland
Former sports commentator Fu Da-ren (傅達仁) yesterday underwent voluntary euthanasia at a Dignitas facility in Switzerland after deciding to end his life in a manner of his own choosing.
Fu, 85, had been diagnosed with terminal pancreatic cancer and had been pushing for Taiwan to allow euthanasia since 2016, but had turned to other organizations after making no headway in this nation.
Since his petition was approved by Dignitas last year, he had delayed the procedure eight times, but last month he traveled to Switzerland resolved to go through with the procedure.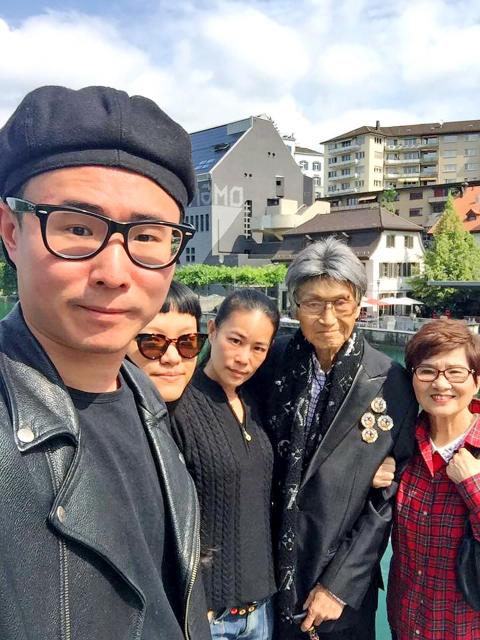 Veteran sports commentator Fu Da-ren, second right, is pictured with his family in Switzerland yesterday.
Photo: screen grab from Facebook
Fu said he "was dying with dignity," adding that his euthanasia would serve as a case study for the Taiwanese government and public so that they would treat the issue of euthanasia with the seriousness it deserves.
Just an hour before he entered the Dignitas facility, Fu updated his Facebook page, reminiscing about his life, as well as calling for the government to expedite the passage of a euthanasia act.
Fu was accompanied by his family members when the procedure was carried out.
Dignitas, which emphasizes the concept "to live with dignity, to die with dignity," has helped more than 2,000 people end their life over the past two decades.
As Switzerland has not legalized euthanasia, the entire process is overseen by Swiss police and the body examined by coroners to ensure that there has been no criminal behavior, Dignitas said.
The Ministry of Health and Welfare yesterday said that the concept of euthanasia, or assisted suicide, is a contravention of the Criminal Code.
There is no domestic consensus on euthanasia, but the Patient Right to Autonomy Act (病人自主權利法), which is to promulgated on Jan. 6 next year, would serve to test the waters on the issue, the ministry said.
Under the act, which has been touted as the first of its kind in Asia, patients with five clinical conditions who have made an advance decision could have physicians partially or fully terminate, withdraw or withhold life-sustaining treatment, artificial nutrition and hydration in accordance with their advance decision.
The statutory conditions for such patients are that they are either terminally ill, in an irreversible coma, in a permanent vegetative state, suffering from severe dementia or another condition that is determined to be unbearable or incurable.
Additional reporting by Wu Liang-yi and CNA
Comments will be moderated. Keep comments relevant to the article. Remarks containing abusive and obscene language, personal attacks of any kind or promotion will be removed and the user banned. Final decision will be at the discretion of the Taipei Times.