Name rectification petition gathers 4,488 signatures
'FIRST YEAR OF SPORTS': The electoral commission is to review the petition, and if approved, the group must collect at least 280,000 signatures to launch a referendum
Pro-independence groups yesterday submitted a referendum petition to the Central Election Commission to change the nation's name from "Chinese Taipei" to "Taiwan" at the 2020 Tokyo Olympics.
The name rectification campaign was led by pro-independence advocates, as well as former athletes and sports officials, including track and field Olympic medalist Chi Cheng (紀政) and former Sports Administration director-general Yang Chung-ho (楊忠和).
A total of 4,488 signatures were submitted to the commission.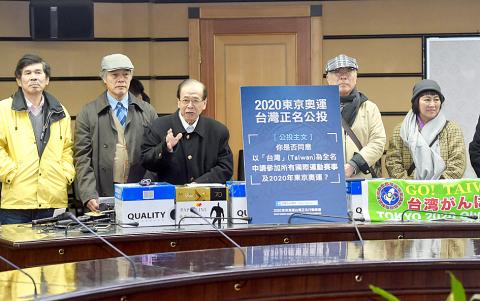 Name rectification advocates, including Olympic medalist Chi Cheng yesterday hold a news conference in Taipei before submitting a referendum petition to change the name of national sports teams to "Taiwan."
Photo: Huang Yao-cheng, Taipei Times
The groups last month renewed their referendum drive and collected thousands of signatures within a few weeks following the passage in December last year of amendments to the Referendum Act (公民投票法), which lowered the legal voting age and slashed thresholds for initiating, seconding and passing referendums.
Independence advocates have promoted the campaign for more than a year following an initiative led by the Tokyo-based Taiwan 2020 Campaign Council, which collected signatures from Japanese citizens to petition the government to allow Taiwan's national team to join the Tokyo Olympics under the name "Taiwan."
The referendum drive is hoped to make this year "the first year of Taiwanese sports" by allowing the nation's athletes to join international competitions under an appropriate name, Lee Teng-hui Association for Democracy standing director Chang Tsan-hung (張燦鍙) said.
"Name rectification is in line with the Olympic spirit. Taiwanese athletes after World War II participated in the Olympics under the name Taiwan, so the referendum proposal is legitimate in both theory and practice," Chang said.
Chang also criticized the commission for the delay in launching an electronic signature collection mechanism, the lack of which has inconvenienced Taiwanese who wish to exercise their rights.
Yang displayed a petition signed by Chi, who at a news conference on Jan. 15 endorsed the name change initiative and called on the International Olympic Committee (IOC) to allow the Taiwanese delegation to participate in the Games under the name "Taiwan."
Taiwan has competed in the Olympics several times using other names, including "Formosa" at the 1956 Melbourne Olympics; "Taiwan" in 1960, 1964 and 1968; and the "Republic of China" in the 1972 Munich Games, Yang said.
The IOC asked Taiwan to participate in 1976 under the name "Taiwan," but the Chinese Nationalist Party (KMT) government decided to boycott the Games.
The name "Chinese Taipei" has been adopted since the 1984 Winter Olympics in Sarajevo.
The commission is to verify the petition and referendum topic, and if approval is given, campaigners must collect more than 280,000 signatures to officially launch a referendum.
Comments will be moderated. Keep comments relevant to the article. Remarks containing abusive and obscene language, personal attacks of any kind or promotion will be removed and the user banned. Final decision will be at the discretion of the Taipei Times.