Tainan prosecutors not charging cram-school teacher
The Tainan District Prosecutors' Office yesterday decided against charging cram-school teacher Chen Kuo-hsing (陳國星) with rape because of insufficient evidence.
The parents of deceased writer Lin Yi-han (林奕含) had said they believe Lin's mental illness and death by suicide on April 27 was the result of sexual abuse by Chen years earlier.
They said that Lin's sole published novel, Fang Ssu-chi's First Love Paradise (房思琪的初戀樂園), a story of a young girl who was raped by her teacher, was drawn from her own experience.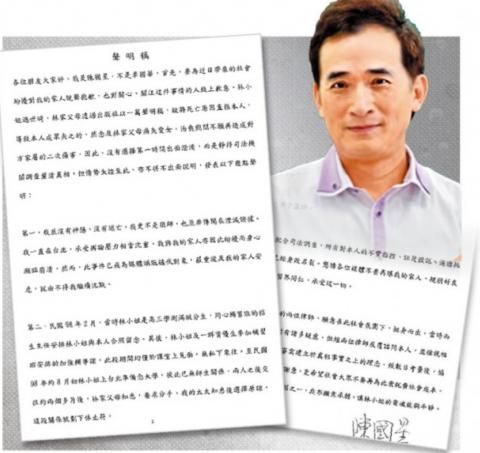 A composite picture shows cram-school teacher Chen Kuo-hsing alongside a public statement he released in May concerning writer Lin Yi-han's suicide on April 27.
Photo copied by Wang Chun-chung, Taipei Times
On May 1, Tainan prosecutors launched an investigation into Chen, including his alleged assault of Lin and other unidentified victims, Deputy Chief Prosecutor Chen Chien-hung (陳建弘) told a news conference.
The office had called Chen Kuo-hsing and 27 witnesses for questioning, but found no evidence to support an indictment, Chen Chien-hung said.
The office had launched an investigation amid public calls for justice, but Lin's parents declined to press charges when contacted by the office, he said.
No potential victims or individuals with direct knowledge of potential victims had come forward, he added.
As Lin is dead, the prosecution must rely on the objective examination of direct and indirect evidence to substantiate the opposing claims of the accusers and Chen Kuo-hsing, he said.
The charge of sex with a minor cannot be sustained because phone records — collaborated by testimony from Lin's classmates — showed that Lin did not have relations with Chen Kuo-hsing before she was 16, he said.
The charge of sexual coercion by abusing authority cannot be established since the physical relationship between Lin and Chen Kuo-hsing happened after Lin left the cram school, he said.
Lin's medical record was subpoenaed and examined by prosectors and they found no evidence suggesting Lin had ever asked for forensic documentation of injury or sexual assault from any hospital, he said.
Furthermore, Lin's characterization of the relationship as recorded by her psychiatrist's notes are inconsistent, which she had described as "coercive" in one case and "merely a romance" in another, Chen Chien-hung said.
"The investigation did not reveal objective and positive evidence to substantiate the subjective speculations of the accusing parties, and there are no sufficient grounds to proceed with the case," he said.
Tainan Mayor William Lai (賴清德) said while a court of law might lack evidence to try Chen Kuo-hsing, he bears moral responsibility for his actions that led to Lin's traumatization and suicide.
"Chen Kuo-hsing will have to live with his guilty conscience," Lai said.
National Taiwan University professor of law Lee Mau-sheng (李茂生) said on Facebook: "Anyone with a superficial knowledge of criminal procedures would have known this was a foregone conclusion."
The investigation was conducted to calm an indignant public and the prosecutors' explanation for filing charges are likely the point of the exercise, Lee said.
Comments will be moderated. Keep comments relevant to the article. Remarks containing abusive and obscene language, personal attacks of any kind or promotion will be removed and the user banned. Final decision will be at the discretion of the Taipei Times.