Alex Tsai, wife, seven others questioned by prosecutors
ABROAD: Former Chinese Nationalist Party lawmaker Alex Tsai last month said he was moving to China to take up the chairmanship of Jiangsu Min'An Automotive Co
The Taipei District Prosecutors' Office yesterday interviewed former Chinese Nationalist Party (KMT) lawmaker Alex Tsai (蔡正元), and searched his residence and office in connection with a probe into embezzlement allegations related to the finances of Central Motion Pictures Corp (CMPC, 中央電影公司), sources said.
Tsai was still being questioned at press time last night.
Tsai, who served as executive director of the KMT Central Policy Committee and party spokesman after giving up his legislative seat, was CMPC president from 2006 to 2007.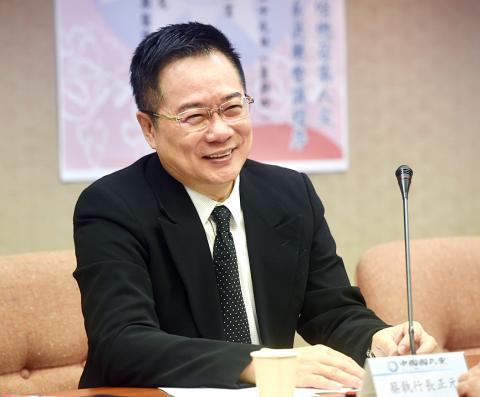 Then-Chinese Nationalist Party (KMT) Central Policy director Alex Tsai smiles while attending a news conference in Taipei on Jun. 29.
Photo: Chien Jung-fong, Taipei Times
Nine other people were questioned by prosecutors, including Tsai's wife, Queena Hung (洪菱霙), and her father, Hung Hsin-hsing (洪信行), and several of their residences and offices were also searched.
In August last year, Journal on the Rule of Law publisher Huang Yueh-hung (黃越宏) went to the prosecutors to accuse Tsai of siphoning off NT$170 million (US$5.59 million at the current exchange rate) of CMPC funds during his tenure as its president under the pretext of capital reductions.
Huang accused Tsai of embezzling the money for the benefit of his wife, his father-in-law and himself, and laundering it through Queena Hung's Chintsuan Co (金鑽) and Hung Hsin-hsing's Apollo Co (阿波羅) — a company founded by Tsai.
Sources said the prosecutors authorized the searches and the filing of official interview requests because they suspect him of pocketing NT$300 million from the CMPC.
It is not the first time that Tsai has faced questioning or a potential court case over business practices at CMPC.
The Supreme Court on May 21 last year ordered Tsai to return NT$170 million to CMPC that it said he had illegally pocketed during CMPC's 2005 sale and subsequent capital reduction efforts.
Tsai announced in the middle of last month that he was stepping down from his KMT posts as of the end of the month because he would be moving to China to take up the post of chairman of Jiangsu Min'An Automotive Co (敏安汽車).
The Ill-gotten Party Assets Settlement Committee has scheduled a public hearing on CMPC for Aug. 16, committee spokeswoman Shih Chin-fang (施錦芳) said yesterday.
The committee announced on April 10 that it was in the process of investigating the KMT's sale of CMPC, once a state-owned enterprise.
Critics have long said that the KMT sold CMPC off cheaply to shadowy investment groups owned by party loyalists in anticipation that the party's assets would one day become legal and political liabilities.
CMPC possessed several valuable properties that it obtained through the government, which were sold to its new owners following its transfer from the KMT, at a price that "plainly did not correspond to the properties' market value," the committee said in April.
It also said it would hold the parties involved in the deal responsible for any loss of public funds that might have occurred.
A day after the committee's announcement, the Democratic Progressive Party (DPP) called on prosecutors to question former president Ma Ying-jeou (馬英九) about his role in the sale of CMPC, China Television Co (中視) and Broadcasting Corp of China (中廣), which he oversaw when he was the KMT chairman.
Additional reporting by CNA and additional staff writer
Comments will be moderated. Keep comments relevant to the article. Remarks containing abusive and obscene language, personal attacks of any kind or promotion will be removed and the user banned. Final decision will be at the discretion of the Taipei Times.