Scrap ROC, seek global recognition for Taiwan: Koo
Presidential adviser Koo Kwang-ming (辜寬敏) yesterday urged the government to normalize the nation by seeking international recognition as "Taiwan" instead of as the Republic of China (ROC), after Panama switched diplomatic recognition from Taipei to Beijing on Tuesday.
Following the diplomatic debacle, the long-time independence advocate said that Panama's decision did not come as a surprise as the number of Taiwan's diplomatic allies has continuously dropped since the ROC was expelled from the UN.
The diplomatic switch is part of a "trend that cannot be reversed" and Taiwan should be prepared for a further decrease in the number of its allies, he said.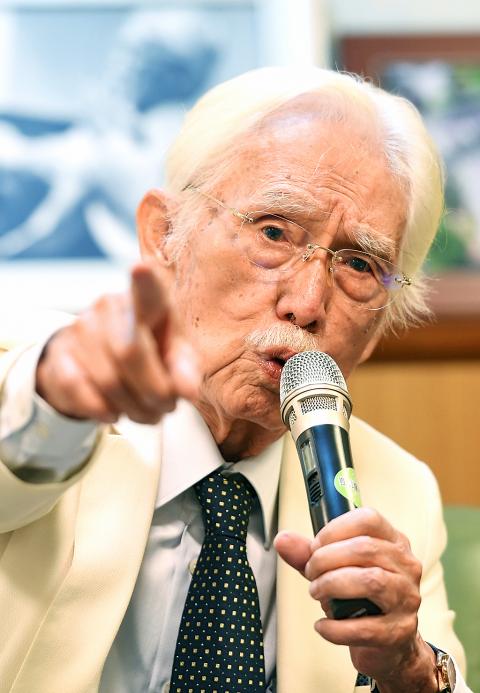 Presidential adviser Koo Kwang-ming speaks at a news conference in Taipei yesterday, urging the government to seek international recognition for the country as "Taiwan."
Photo: Liu Hsin-de, Taipei Times
However, the decrease in the ROC's diplomatic allies could increase the space for Taiwan as "an independent state" unassociated with the ROC, he said.
Koo urged the government to abandon the ROC framework and draft a new constitution — to be approved by a referendum — and seek formal UN membership and international recognition with a new state identity.
"Only 20 countries — whose populations are smaller than Taiwan's — in the world recognize the ROC. What is the meaning of their recognition of the ROC?" Koo said.
Praising President Tsai Ing-wen (蔡英文) for adopting a tougher tone with China when she announced Panama's diplomatic switch, Koo said it was "the first time she took a hard line" on Beijing's attempt to suppress Taipei in the international arena, which was a "major change of attitude" in Tsai's dealings with China.
However, Tsai should not direct her attention only on Beijing, but also toward the Taiwanese public and make Taiwan's "normalization" her top priority, he said.
Koo opposes Tsai's China policy of maintaining the "status quo" in cross-strait relations, and has called for increased efforts to make Taiwan a "normal" and independent nation.
"There should be no more talks about maintaining the 'status quo.' Action should be taken to deal with our basic problems," such as renaming the ROC "Taiwan" or drafting a new constitution, Koo said.
Prior to World War II, the only independent countries in east Asia were China, Japan and Thailand, but "70 years later, what Asian country still does not have a proper identity? Only Taiwan," he said.
About one month ago, he suggested to Tsai that she should reorient cross-strait relations as "brother nations," but Tsai only said priority should be given to "Taiwan's admission to the UN," Koo said.
Beijing is also re-evaluating its Taiwan policy because it has realized its hardline policy has created antagonism in Taiwan, Koo said.
Comments will be moderated. Keep comments relevant to the article. Remarks containing abusive and obscene language, personal attacks of any kind or promotion will be removed and the user banned. Final decision will be at the discretion of the Taipei Times.