Joshua Wong insinuates itinerary leaked
'VERY STRANGE': The democracy advocate said it was normal for lawmakers to meet in democratic societies, and queried how protesters knew where to find them
Hong Kong democracy campaigner Joshua Wong (黃之鋒), who arrived in Taiwan in the wee hours of Jan. 7 along with three pro-localization Hong Kong lawmakers, yesterday said it was "very strange" that protesters acquired the group's flight and hotel information.
Hong Kong lawmakers Edward Yiu (姚松炎), Nathan Law (羅冠聰) and Eddie Chu (朱凱迪), and Wong, who is secretary-general of Demosisto, a Hong Kong center-left pro-democracy party established last year, were invited by the New Power Party (NPP) to attend two political forums over the weekend. They were confronted by more than 100 pro-unification protesters on their arrival at Taiwan Taoyuan International Airport after midnight.
Demonstrators, some of whom were masked, shouted at them to leave Taiwan. A few protesters ran toward the Hong Kong politicians and attempted to attack them.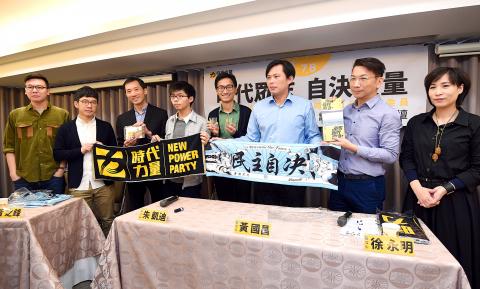 From left, Taiwan March founder Lin Fei-fan, Hong Kong legislators Nathan Law and Edward Yiu, Democracy campaigner Joshua Wong, Hong Kong Legislator Eddie Chu and New Power Party legislators Huang Kuo-chang, Hsu Yung-ming and Kawlo Iyun Pacidal, pose for a picture at a political forum in Taipei yesterday.
Photo: Chien Jung-fong, Taipei Times
The three Hong Kong lawmakers and Wong, along with NPP legislators and young democracy advocates, participated in a forum yesterday.
Several protesters held banners outside the venue that described the legislators as "pro-Hong Kong independence" and telling them to "go back to Hong Kong."
"We had protesters outside our hotel last night and this morning. It is really very strange how pro-Beijing protesters knew which hotel we were staying in and which flight we took," Wong said. "It is very normal for lawmakers elected by the public to meet and communicate in democratic societies."
"In the future, we hope democratic movement advocates from Hong Kong and members of Taiwan's civic society can have more chances to meet, because as we deal with China and various forms of suppression, we can exchange experiences," he said.
NPP Executive Chairman Huang Kuo-chang (黃國昌) said he was grateful to the police for maintaining security at the airport, the group's hotel and the forum's venue, adding that he hopes the government investigates whether certain organizations are "controlling" the protesters.
Young people around the world are worried about their futures, so new lawmakers in Hong Kong and Taiwan were elected after major social movements, because the public hopes new faces can take office to effect changes in institutions previously controlled by political elites, Chu said at the forum.
A judicial review of the appointments of Yiu and Law is under way, with the Hong Kong government claiming that their oaths at a swearing-in ceremony of the Hong Kong Legislative Council in October last year were invalid.
Chu said he is also facing a lawsuit, and if the government uses such means to disqualify councilors, it would lose the public would lose faith in elections, adding that the three would run for office again if they are disqualified.
After China's Taiwan Affairs Office branded the meeting between Hong Kong and Taiwanese lawmakers as collusion between pro-Taiwan independence and pro-Hong Kong independence forces, NPP Legislator Hsu Yung-ming (徐永明) said he hopes Beijing stops describing the event as a conspiracy.
"The forum for dialogue between Hong Kong and Taiwanese lawmakers is a normal meeting, and because the NPP is banned from going to Hong Kong, we invited friends from Hong Kong to Taiwan," he said.
Taiwanese are coming closer to a consensus about the future of the nation, and how to achieve reforms will be important in the next stage of the nation's evolution, Hsu said, adding that Taiwan has already moved on from a debate over independence and unification to questions of parity and justice.
Both Taiwan and Hong Kong face Chinese suppression, but Taiwan is luckier because it has acquired self-determination, and the majority of Taiwanese have formed an identity and recognize Taiwan, Huang said.
Comments will be moderated. Keep comments relevant to the article. Remarks containing abusive and obscene language, personal attacks of any kind or promotion will be removed and the user banned. Final decision will be at the discretion of the Taipei Times.