Disruption left in typhoon's wake
DELAYS: Taoyuan Airport said that 12,800 passengers were affected by delays due to the typhoon, which only accounts for about 11.9% of the total daily airport traffic
Taiwan proper and the nation's outlying islands are expected to be out of the storm circle of Typhoon Malakas by 4am and 11am respectively today, the Central Weather Bureau said yesterday.
Land and sea warnings for Malakas are expected to be lifted this morning, the bureau said.
At 8pm yesterday, Malakas was centered about 150km east-northeast of Taipei, moving at 5kph north-northeast, data from the bureau showed.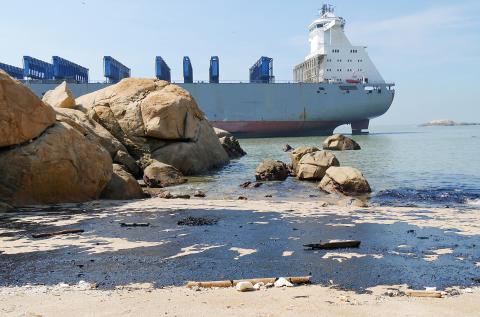 A beach in Kinmen County is polluted by an oil spill yesterday from a Chinese cargo ship that was stranded on the beach when Typhoon Meranti hit the region.
Photo: Wu Cheng-ting, Taipei Times
It was packing maximum sustained winds of 162kph, with gusts reaching 198kph, the bureau said.
There had been no reports of injury as of press time last night.
A total of 2,788 people in New Taipei City, Taoyuan and Yilan and Hualien counties were evacuated as a precautionary measure, the Central Emergency Operation Center said.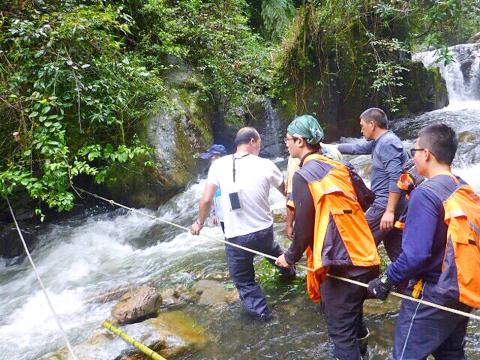 Taoyuan firefighters attempt a rescue mission yesterday after mountain climbers went missing on a mountain in Taoyuan.
Photo: Li Jung-ping, Taipei Times
The bureau maintained torrential rain alerts for mountain areas in New Taipei City, Taoyuan and Hsinchu and Miaoli counties.
It also issued heavy rain alerts for Keelung and Yilan County, as well as for mountain areas in Taipei, and Taichung, as well as Nantou and Yilan counties. The bureau cautioned people in these areas to beware of rock falls, landslides, flash floods and flooding in low-lying areas.
The Taiwan Railways Administration suspended all services on its Pingsi and Shenao lines yesterday, as well as services on its North Link and Yilan lines in northeastern Taiwan until 6pm.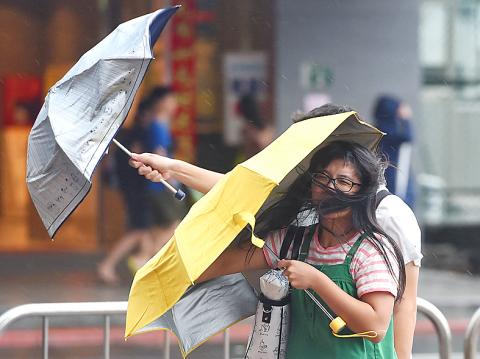 A woman tries to hold on to her umbrella against strong winds in Taipei yesterday as Typhoon Malakas pummeled northern Taiwan.
Photo: Liao Chen-huei, Taipei Times
The Taiwan High Speed Rail yesterday maintained its normal schedule.
Taoyuan Airport Corp, the company that runs Taiwan Taoyuan International Airport, said that 68 flights were disrupted by the typhoon, affecting about 12,800 passengers.
The company said that as of 4pm, 68 flights were affected, mostly China-registered airlines, including 39 passenger flights that were canceled, 25 flights that were delayed and four cargo flights that were canceled.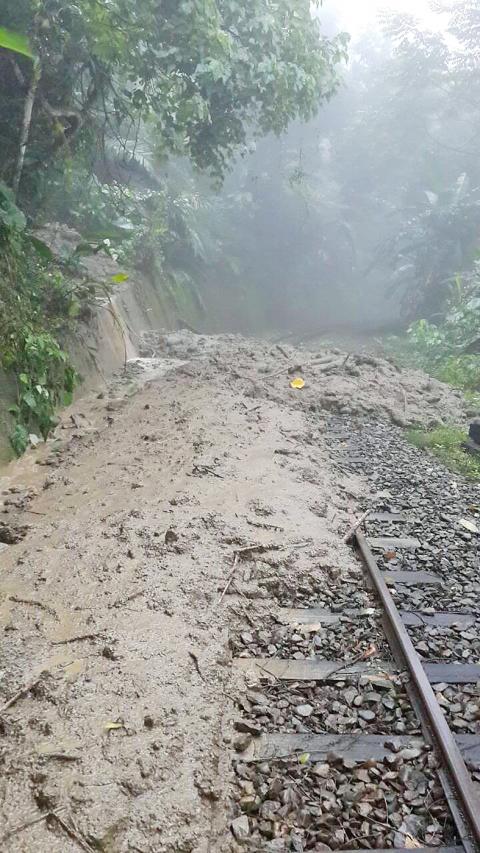 The tracks on the Alishan Forest Railway in Chiayi County's Alishan are yesterday covered by mudslides caused by the rain brought by typhoons Meranti and Malakas.
Photo courtesy of Alishan Forest Railway Administration
On average, 570 flights arrive and depart from the airport each day, the company said, adding that the affected flights accounted for 11.9 percent of the total.
Meanwhile, UNI Air (立榮航空) yesterday said that its round-trip service between Taipei International Airport (Songshan airport) and Kinmen would be canceled today.
Its flights to and from Matsu before 10am today would also be canceled, but the airline is expected to resume its normal schedule after 10am.
As today is the last day of the four-day Mid-Autumn Festival, UNI Air said it would offer four additional flights — including two flights between Kinmen and Songshan airport, one between Kaohsiung and Magong Airport and one between Magong and Songshan airport.
Comments will be moderated. Keep comments relevant to the article. Remarks containing abusive and obscene language, personal attacks of any kind or promotion will be removed and the user banned. Final decision will be at the discretion of the Taipei Times.