Lawmakers scuffle amid assets debate
'GREEN TERROR': KMT lawmakers accused their DPP counterparts of using 'majority violence,' while the convener said the opposition did not know the rules
Scuffles among lawmakers broke out in the legislature in Taipei yesterday as a combined session completed the final procedural step before sending draft legislation targeting "illicit party assets" into cross-caucus negotiations.
A combined session of the Legislative Yuan's Internal Administration Committee, the Judiciary and Organic Laws and Statues Committee, and the Finance Committee on Monday passed the draft legislation after Chinese Nationalist Party (KMT) legislators stormed out of a review session at which they used extended "procedural remarks" to slow the progress of a Democratic Progress Party (DPP)-sponsored proposal.
Yesterday's session was to confirm Monday's meeting minutes to enable the draft act to be sent out of committee ahead of a five-day recess, including the Dragon Boat Festival, and before KMT Legislator Huang Chao-shun (黃昭順) is scheduled to take her turn in the rotation as convener of the Internal Administration Committee next week.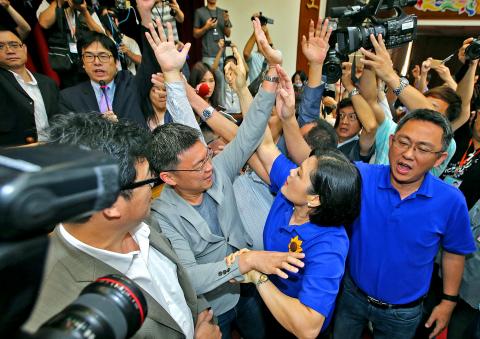 Legislators clash over a draft bill for the handling of illicit party assets as Democratic Progressive Party Legislator Chen Chi-mai, second left, back, announces the suspension of the meeting.
Photo: CNA
Members of the New Power Party caucus arrived early to prevent KMT legislators from occupying the convener's podium — a strategy commonly used by members of the opposition to impede proceedings.
After the reading of the official rendition of Monday's minutes, session convener Chen Chi-mai (陳其邁) — a DPP legislator — finalized the minutes while KMT lawmakers voiced objections, sparking retorts from the DPP and leading to shouting from both sides.
"We have objections — you have not let me speak about procedure," KMT caucus Secretary-General Lin Te-fu (林德福) said, repeatedly grabbing microphones away from Chen and at one point slamming a microphone against the podium.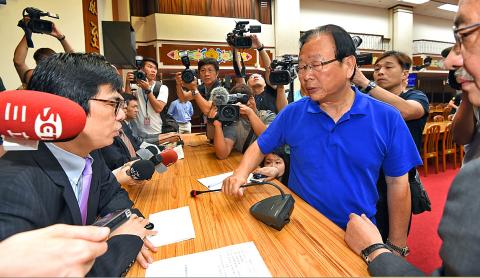 Chinese Nationalist Party (KMT) caucus Secretary-General Lin Te-fu, right, grabs a microphone from Democratic Progressive Party Legislator Chen Chi-mai at the legislature Taipei yesterday.
Photo: Liu Hsin-de, Taipei Times
Following several minutes of shouting, Chen called for a vote on a DPP motion to adjourn, leading to tussles as several KMT legislators charged the convener's podium, with Lin wrenching the microphone away from Chen immediately after he announced the passage of the adjournment motion.
"We have a right to give procedural remarks and we registered, but they refused to give us an opportunity to express our views," KMT Legislator Chang Li-shan (張麗善) said as her colleagues shouted slogans accusing the DPP of using "majority violence" and imposing "green terror."
"A motion to adjourn takes priority — those are the ABCs of procedural rules," Chen said. "The KMT should familiarize itself with procedural rules and make its opinions known during the substantive review process, rather than resorting to a flustered and reckless procedural boycott."
Declaring whether to finalize meeting minutes is to be done at the discretion of committee conveners according to the Rules of Procedure of the Legislative Yuan, he said, adding that the regulations stipulate any objections to the wording of the documents should be submitted in writing — ruling out the use of procedural remarks.
"All of this stalling is to protect the KMT's assets, but [KMT lawmakers] seem to think that acting as the opposition is just a matter of putting on a new uniform," said DPP Legislator Chuang Jui-hsiung (莊瑞雄), referring to blue polo shirts and jeans KMT legislators wore at the session.
"They have forgotten to do their homework," Chuang said, adding that former legislative speaker Wang Jin-pyng (王金平) — a KMT legislator — had issued a ruling stating that finalizing committee minutes was not subject to a vote.
The draft bill now moves to cross-caucus negotiations, with a vote expected early next month following the discussions.
Comments will be moderated. Keep comments relevant to the article. Remarks containing abusive and obscene language, personal attacks of any kind or promotion will be removed and the user banned. Final decision will be at the discretion of the Taipei Times.