Cold weather brings snow to nation
RECORD LOWS: With thermometers registering just 4ºC in Taipei, it was the lowest temperature recorded in the capital in 44 years and the second-lowest ever
A rare sight of snow wowed people nationwide yesterday, from Taipei to Pingtung County.
Under the influence of a strong cold air mass, many places in Taiwan — even those located at an altitude of only 400m to 500m — received a covering of snow or soft hail overnight, exciting locals, who likely have never seen snow in real life since they were born.
Despite low temperatures, people were seen swarming to elevated areas, including Keelung's 726m-high Jiangziliaoshan (姜子寮山), Taipei's Yangmingshan (陽明山) and New Taipei City's Linkou (林口) and Pinglin (坪林) districts, to appreciate the natural beauty of the snow.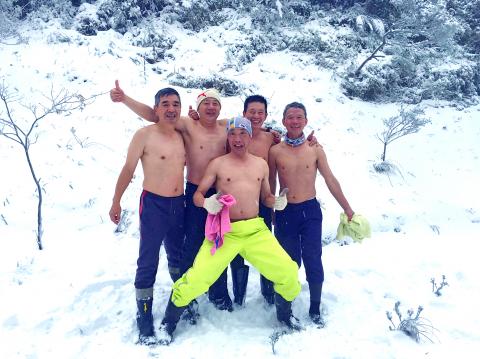 Hikers yesterday strip to the waist to pose in the snow while trekking along the Shengmushan section of the National Trail System in Yilan County's Jiaosi Township.
Photo: CNA
As of yesterday morning, the accumulated snow had reached 20cm in Taoyuan's Lalashan (拉拉山) Forest Recreation Area.
The Motian (摩天嶺-) mountain area along the Southern Cross-Island Highway also reported showers of snow started at 4am yesterday, as well as on Yunlin County's Jiananyun Peak (嘉南雲峰), where snow began falling at about 11am yesterday at an altitude of about 1,500m.
Under the influence of a cold air mass, the outlying island group of Penghu experienced soft hail yesterday morning.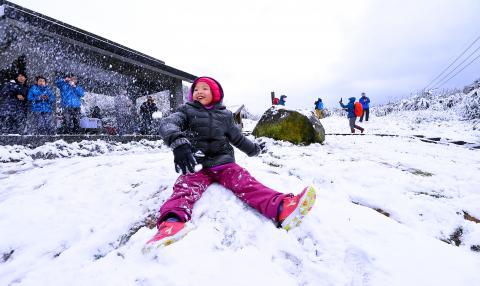 A child plays in snow yesterday on Wujihshan, which stands at the border of Taipei's Neihu District and New Taipei City's Sijhih District.
Photo: Chang Chia-ming, Taipei Times
Pingtung County's Dawushan (大武山) also reported soft hail from halfway up the mountain to the summit at midnight on Saturday.
The Central Weather Bureau said 27 weather stations in different parts of Taiwan registered their lowest temperatures yesterday.
The temperature in Taipei fell to 4ºC, the lowest level detected in the capital in 44 years and the second-lowest since 3.2 degrees was recorded in 1972.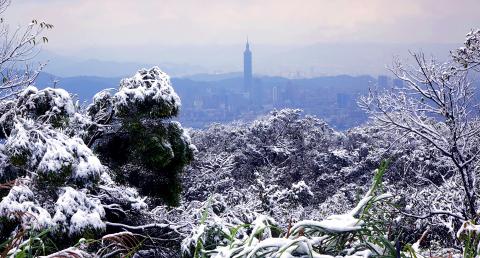 Trees on Wujishan, which stands at the border of Taipei and New Taipei City, are decked in frost and snow yesterday. A dim silhouette of the Taipei 101 building can be seen in the distance.
Photo: Chang Chia-ming, Taipei Times
It was minus-3.1ºC in the Yangmingshan area, 5.8ºC in Yilan County's Suao (蘇澳), and 4.2ºC in Taoyuan's Sinwu District (新屋) — all new lows for these places. In New Taipei City's Banciao District (板橋), it was 3.8ºC yesterday morning — the second-lowest level in history.
The temperature in Taipei is forecast to dip to 3ºC early today, while central and southern regions are expected to experience temperatures of 4ºC and 6ºC respectively, the bureau said.
Chances of precipitation are expected to be low across the nation today, apart from in mountainous regions higher than 600m.
The bureau urged people to be aware of icy road conditions.
The bureau has issued special warnings for low temperatures and heavy rain across Taiwan, urging the public to take precautions and keep warm before the cold wave leaves Taiwan tomorrow, when temperatures across the nation are expected to rebound noticeably.
Comments will be moderated. Keep comments relevant to the article. Remarks containing abusive and obscene language, personal attacks of any kind or promotion will be removed and the user banned. Final decision will be at the discretion of the Taipei Times.