Typhoon Dujuan rips through nation
TIME OFF: Taipei, New Taipei City, Keelung and Taichung, as well as Chuanghua, Nantou, Penghu and Lienchiang counties, declared a full day off today
More than 4,000 people were evacuated yesterday in areas of northern and eastern Taiwan as Typhoon Dujuan approached the nation, gathering strength as it bore down on the east coast.
The military, working with local governments, evacuated people from areas vulnerable to falling rocks, mudslides and flooding in 39 townships and districts in Yilan, Hualien, Taitung, Hsinchu and Nantou counties and Taipei and New Taipei City.
New Taipei City Mayor Eric Chu (朱立倫) said the vulnerable areas include Wulai District (烏來), which was hit hard by Typhoon Soudelor last month, with some residents unable to return home for weeks. Most shops and hotels in the hot springs town remain closed as roads and flood damage are yet to be fully repaired.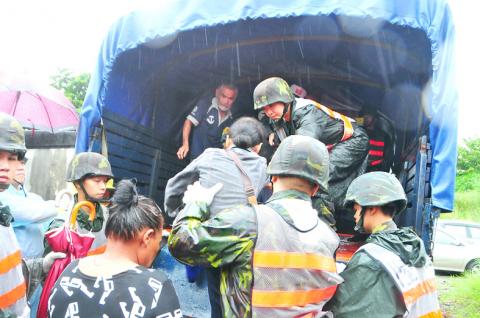 Members of the army evacuate elderly, women and children from Rongguang Community in Hualien County's Jian Township yesterday as a precautionary measure before Typhoon Dujuan hits.
Photo: Hua Meng-ching, Taipei Times
"To be honest, we all feel very depressed. Any damage might further prolong the time needed for reconstruction," said Chou Chih-kang, an Wulai neighborhood leader.
Television footage showed fast-moving flood waters swamping roads just outside Taipei and huge waves crashing against the northeast coastline.
Taipei 101 also reported that one of the glass doors to the underground portion of its mall was damaged by a strong gust of wind, but it had been repaired by the evening.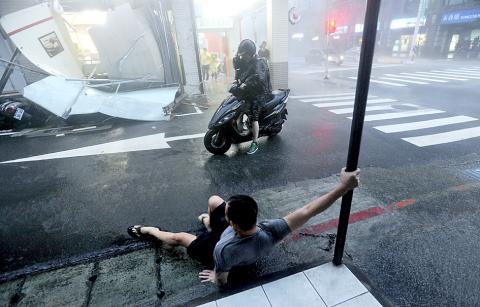 A man lies on the ground after being blown over by Typhoon Dujuan in Taipei yesterday.
Photo: Lin Cheng-kung, Taipei Times
As of 7pm last night, the Central Emergency Operation Center said no injuries had been reported.
A total of 937,900 households nationwide lost power at some point during the day and as of 7:20pm, 532,800 households were still waiting for power to be restored, mostly in Yilan County and Taichung.
The Central Weather Bureau (CWB) said Dujuan made landfall at Suao Township (蘇澳) in Yilan County at 5:40pm. Suao brought gusts of wind reaching 243.7kph, the second-highest on record since a weather station was established in the township 34 years ago, the bureau said.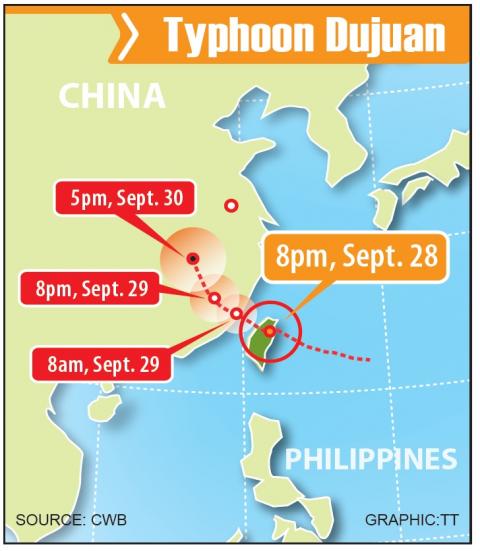 The strongest gusts ever experienced in Suao occurred during Typhoon Gladys in 1994, when wind speeds hit 246.9kph, the bureau said.
As of 9pm, the storm was centered 30km northeast of Taichung, moving at 20kph west-northwest, the bureau said.
With a radius of 220km, the storm's strongest winds were estimated to be 184kph.
A super flood tide was due yesterday evening, and this, coupled with heavy tides brought by Dujuan, could inundate low-lying areas along the west coast of Taiwan proper, as well as riversides in the area.
Authorities said coastal areas could be particularly dangerous as tides are affected by the "supermoon" — a rare astrological event in which the moon appears brighter and larger — because it has reached its closest orbital point to Earth, resulting in its gravitational pull being stronger than usual.
According to the Ministry of National Defense, more than 24,000 personnel are on standby for disaster relief and evacuations, with 100 shelters set up.
At 8pm last night, Taipei, New Taipei City and Keelung had declared a half-typhoon day today, canceling work and classes this morning. However, at 10pm the three cities announced that the whole day would be a typhoon day.
Chuanghua, Nantou, Penghu, Yilan and Lienchiang counties and Taichung also declared a typhoon day for the full day. Taitung County and Tainan City are to operate as normal working days. Kaohsiung City, and Pingtung and Hualien Counties were yet to make announcements.
A Bon Jovi concert scheduled to take place last night at the Taipei World Trade Center Nangang Exhibition Hall was canceled because of the typhoon. The event promoter yesterday afternoon said that tickets for last night's show could be exchanged or refunded at the exhibition hall starting at noon today. It also said that 90 percent of the tickets would be able to be exchanged.
The weather bureau said the typhoon would move away from Taiwan by noon today, but that rain and wind would only ease up after it made landfall in China.
Comments will be moderated. Keep comments relevant to the article. Remarks containing abusive and obscene language, personal attacks of any kind or promotion will be removed and the user banned. Final decision will be at the discretion of the Taipei Times.