Report outlines possible PLA attacks
'OPERATION DECAPITATION': The MND said that China's plans for attack would begin with threats and culminate in mounting airborne and amphibious landings for invasion
China continues to target Taiwan for attack and invasion in the event of conflict, and Beijing is likely to declare a South China Sea air defense identification zone (ADIZ) in the near future to bolster its claim on the islets and reefs in the region, the Ministry of National Defense (MND) said.
According to MND reports released yesterday, Beijing convened high-level meetings to re-evaluate its cross-strait policies following last year's Sunflower movement and related protests by Taiwanese against the government's move to force a cross-strait service trade agreement with China through the legislature.
The report said China is concerned about the outcome of Taiwan's presidential and legislative elections in January next year, and its People's Liberation Army (PLA) has therefore conducted a series of military drills in recent months simulating an invasion of Taiwan, known as "Operation Decapitation," in which airborne paratroopers and special forces practiced descending on the Presidential Office Building in Taipei City in a rapid assault.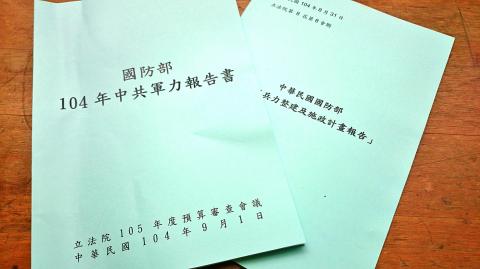 A copy of the Ministry of National Defense's report, sent to the legislature yesterday, on the capability of China's People's Liberation Army to attack Taiwan.
Photo: Lo Tian-pin, Taipei Times
Outlining China's plans for attack against Taiwan, the report said Beijing would first use a combination of military threats and actions to intimidate Taiwanese, then blockade major ports of the nation's frontier islands, such as Kinmen, Matsu and other outlying maritime territories.
After that, PLA missiles and other firepower would be deployed to attack Taiwan's major military and political headquarters, along with telecommunications infrastructure, which would be followed by mounting airborne and amphibious landings for an invasion.
The report said the possible scenarios for a Beijing attack could arise from situations such as Taiwan's declaration of independence or heading unequivocally toward independence, acquisition of nuclear weapons, internal political turmoil, delaying of dialogue on cross-strait negotiations toward unification, foreign forces interfering in Taiwan's internal affairs, or deployment of foreign troops in the country.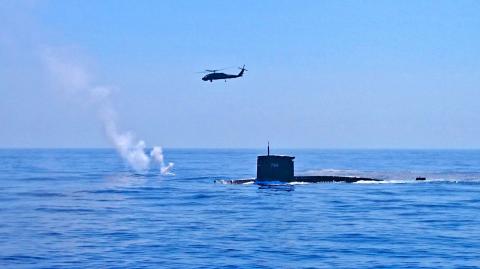 The Republic of China navy and airforce conduct a joint anti-submarine drill in this undated photograph. The Ministry of National Defense yesterday released a report outlining seven possible scenarios in which China's People's Liberation Army could try to attack Taiwan.
Photo: Lo Tian-pin, Taipei Times
The ministry said Taiwan's armed forces are capable of defending the nation, and would undertake drills to simulate a defense of the Presidential Office Building and the greater Taipei area, in what is dubbed "Counter-Operation Decapitation," during the yearly Han Kuang military exercises, which are scheduled to take place next week.
In the past few days, marine amphibious units together with other special forces troops have been seen conducting drills along coastal regions and shores of the Tamsui River (淡水河) in northern Taiwan, while the military police brigade tasked with maintaining the security of the Presidential Office Building have also been training to defend against a potential attack.
The report concluded that China's island-building spree in the South China Sea has completely changed the strategic structure in the region, adding that China has stepped up militarization and to claim sovereignty while exploring deposits of oil, hydrocarbons and other natural resources.
China has begun reclamation work on seven reefs and is undertaking construction of a seaport, airport runways and other infrastructure facilities, the report said.
Additional reporting by CNA
Comments will be moderated. Keep comments relevant to the article. Remarks containing abusive and obscene language, personal attacks of any kind or promotion will be removed and the user banned. Final decision will be at the discretion of the Taipei Times.