Tsai meets US academics and expats from Taiwan
Democratic Progressive Party (DPP) Chairperson Tsai Ing-wen (蔡英文) on Saturday held a closed-door forum with eight US academics in Los Angeles to discuss maintaining the cross-strait "status quo."
Most attendees said the DPP presidential candidate's proposals made sense, said Clayton Dube, director of the US-China Institute at the University of South California (USC) Annenberg School for Communication and Journalism.
However, Dube declined to elaborate on what Tsai discussed.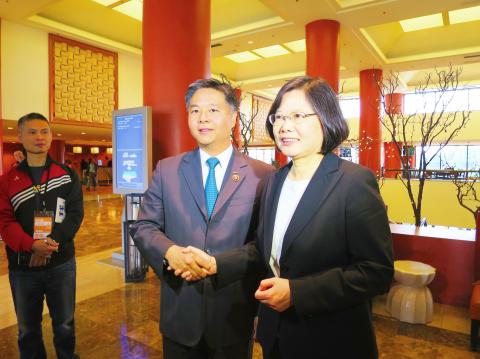 Democratic Progressive Party Chairperson Tsai Ing-wen shakes hands with US Representative Ted Lieu in Los Angeles yesterday.
Photo: Chen Hui-ping, Taipei Times
DPP Secretary-General Joseph Wu (吳釗燮) told reporters that "what was discussed will not be made public."
Asked the US' view of the so-called "1992 consensus," Dube said the US accepts whatever is agreed upon and conducted in peaceful means between Taiwan and China.
Stanley Rosen, a USC political science professor and member of the US-China Institute, and Wang Feng (王豐), a sociology professor at the University of California at Irvine, also attended the forum.
Tsai has previously said that maintaining the cross-strait "status quo" means maintaining peace, so both sides can pursue development amid peace and stability.
She has declined to support the "1992 consensus," saying that the term became popular only in 2000, adding that even those who were involved in the Hong Kong negotiations in 1992 have expressed different views about it, as has former president Lee Teng-hui (李登輝).
Beijing on Wednesday last week said that Tsai had to clarify what she meant by "maintaining the status quo" if she were elected.
US Deputy Assistant Secretary of State for East Asian and Pacific Affairs Susan Thornton on May 21 said that, regardless of who wins Taiwan's presidential election next year, the US "hopes to continue our close cooperation, and it must be said that an important ingredient of that close cooperation in recent years has been the stable management of cross-strait ties."
Tsai arrived in Los Angeles on Friday for a six-city US tour.
On Saturday, she met with US Representative Ted Lieu (劉雲平), a Taiwanese-American whose grandparents still live in Taiwan, to discuss labor-related issues and the Trans-Pacific Partnership.
At a dinner party hosted for her by Taiwanese expatriates, Tsai said the focus of her cross-strait policy is maintaining the "status quo," accenting that peaceful development of cross-strait ties would be her administration's main goal if she were elected.
"I am not here for an interview," she said, adding that the common language between Taiwan and the US is "democracy, democracy and democracy."
The "1992 consensus" refers to a supposed tacit deal between the Chinese Nationalist Party (KMT) and Beijing that each acknowledges there is "one China," with each side having its own interpretation of what "China" means.
Comments will be moderated. Keep comments relevant to the article. Remarks containing abusive and obscene language, personal attacks of any kind or promotion will be removed and the user banned. Final decision will be at the discretion of the Taipei Times.