Military officials must resign: legislators
'SHOCKED AND INFURIATED': A bipartisan volley of vitriol and demands for resignations greeted MND officials, amid fears recent security lapses might affect ties with the US
The security breach involving AH-64E Apache helicopters could have repercussions on the Taiwan-US relationship and on future arms sales, Premier Mao Chi-kuo (毛治國) said yesterday when questioned on the legislative floor in Taipei about it.
Deputy Minister of National Defense Admiral Chen Yung-kang (陳永康), however, said Taiwan-US cooperation is multifaceted and would not be affected by the incidents.
The controversy set off by a visit by a group of civilians to the restricted 601st Air Cavalry Brigade base housing US-made AH-64E Apache helicopters — led by Apache helicopter pilot Lieutenant Colonel Lao Nai-cheng (勞乃成) — has continued over the past few days, with Lao's wife saying that the publicized trip was not the first time she had visited an Apache helicopter and Brigade Commander Chien Tsung-yuan (簡聰淵) yesterday being accused of having organized a tour for his friends and relatives at the base in February.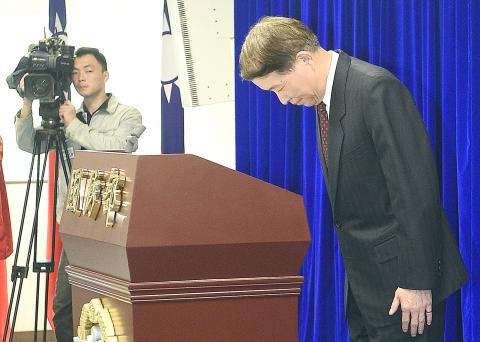 Minister of National Defense Kao Kuang-chi, right, bows at a ministry press conference in Taipei yesterday morning, apologizing for security lapses at the army's 601st Air Cavalry Brigade.
Photo: Chen Chih-chu, Taipei Times
The premier and the Ministry of National Defense were berated yesterday during a legislative question-and-answer session by lawmakers of the ruling and opposition parties.
Chinese Nationalist Party (KMT) Legislator Lee Ching-hua (李慶華) demanded the resignations of Minister of National Defense Kao Kuang-chi (高廣圻) and Chief of the General Staff Yen Teh-fa (嚴德發), as well as severe punishments for Lao, Chien, Army Special Forces Command's Airborne Headquarters Commanding Officer Lieutenant General Chen Chien-tsai (陳建財) and Army Commander Chiu Kuo-cheng (邱國正).
"There is no need for [Kao and Yen] anymore," Lee said in response to Mao's remarks that the rectification of military discipline is more important than resignations. "This is apparently not an isolated case and from now on there will be at least 'one [military scandal] explosion a day.'"
"Kao was reported as saying that he was 'shocked and infuriated.' 'Shocked and infuriated' my ass. How about he first gets infuriated at himself? 'Shave your own beard before trying to shave others,'" the lawmaker said, invoking a Chinese-language proverb.
Military officials have said that Taiwan is the first nation to own AH-64E attack helicopters outside the US.
Referring to such remarks, Lee said: "We are letting them become toys and the military camp an entertainment park. How are we to face our ally [the US]?"
Mao said that the scandal might have an impact on US-Taiwan ties, as well as potential arms sales.
Chen Yung-kang, however, dismissed the concern when KMT Legislator Yang Ying-hsiung (楊應雄) asked about whether the US has reacted to the security breach.
"As Taiwan and the US have worked together on various [military] fronts and engaged in constant communication, future cooperation will not be affected by this incident," Chen Yung-kang said.
Democratic Progressive Party (DPP) Legislator Kuan Bi-ling (管碧玲) accused Chen Yung-kang of lying for saying that the 601st Air Cavalry Brigade base is "not a key point" within the purview of the Vital Area Regulations (要塞堡壘地帶法).
Accusing the ministry of misleading prosecutors with false information, Kuan presented what she said was a copy of the document the ministry sent to prosecutors saying that military airports are not considered "key points" for national security.
"However, Article 1 of the Vital Area Regulations clearly states that 'tactical locations, military ports and airports which are of such importance that they must be retained or controlled for the purposes of national defense are called key points.' Either you are lying or mistaken," Kuan said, asking the deputy minister to step down for the error.
To Chen Yung-kang's remark that an Apache pilot's interactive helmet "does not receive or send out signals when cut off from power," Kuan said that — according to the official standards for categorizing military and national defense secrets — "equipment and facilities" are all classified information, without further specifications on whether they need to be powered or in the air.
There has been no significant change in ties between Taiwan and the US as a result of the breach, the American Institute in Taiwan (AIT) said later yesterday in response to Mao's concerns.
It is a matter for Taiwan to handle, AIT spokesman Mark Zimmer said. "We're watching the investigation [being conducted by Taiwan]."
Additional reporting by CNA
Comments will be moderated. Keep comments relevant to the article. Remarks containing abusive and obscene language, personal attacks of any kind or promotion will be removed and the user banned. Final decision will be at the discretion of the Taipei Times.