Tuvalu battered by Cyclone Pam
Nearly half the population of Tuvalu have been severely affected by the devastation wrought by Cyclone Pam, Tuvaluan Prime Minister Enele Sopoaga said yesterday, with other Pacific island nations also taking a hit.
While the focus has been on devastation in neighboring Vanuatu, Tuvalu — a grouping of nine coral atolls with a population of less than 11,000 — is also struggling to cope, Sopoaga told Radio New Zealand International.
"Forty-five percent of the population of Tuvalu, most of whom are on the outer islands, have been affected, badly, severely affected," he said of the island chain about 1,550km northeast of Vanuatu. "We are worried about the aftermath in terms of hygiene and supplies of essential materials, like food, medicine and water."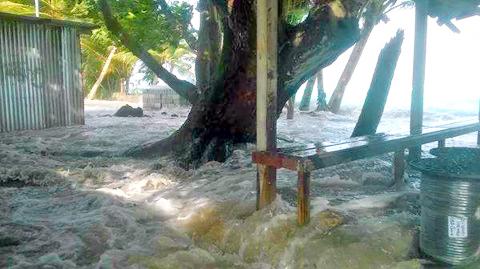 A handout image provided by Red Cross Australia on Friday shows rising water in Tuvalu before Cyclone Pam arrived this weekend.
Photo: EPA
Few details of the impact were given, but Sopoaga said most people living on the outer islands of the diplomatic ally of Taiwan were affected, with houses and crops washed away.
He told the broadcaster there were health and safety concerns after cemeteries were destroyed, adding that government boats were setting off later yesterday to assess the extent of the damage.
Aurelia Balpe, the Fiji-based head of the International Federation of Red Cross and Red Crescent Societies in the Pacific, said there had been extensive flooding in the low-lying nation.
"Tuvalu has had storm surges and up to six of its islands have been affected. People have spoken of four to five meter waves," she said, adding that "people are hip-high in water."
"Some houses have fallen over and other infrastructure has been hit, with one hospital destroyed," she added.
Balpe said other Pacific nations, including the Solomon Islands and Kiribati — also allies of Taiwan — had also been hit.
"Kiribati has also had storm surges," she said, with the main causeway on the islands badly damaged. "There's basically one road on the islands and the bridge has been destroyed, which is seriously impacting transport."
On the Solomon Islands, several houses were razed by landslides.
"It is unprecedented in terms of the number of places impacted, but we have not heard of casualties in the Solomons, Kiribati and Tuvalu at the moment," Balpe said.
Australian Foreign Minister Julie Bishop said Canberra was responding to a request from Tuvalu, one of the world's smallest and most remote countries.
"Tuvalu has announced a state of emergency and we are responding to that request with basic supplies, water, sanitation, tents, blankets and food," Bishop said in Perth, Australia. "In the case of Fiji, Solomon Islands and Kiribati, we understand assessments are being made. The impact is not as great, but we wait to hear."
Comments will be moderated. Keep comments relevant to the article. Remarks containing abusive and obscene language, personal attacks of any kind or promotion will be removed and the user banned. Final decision will be at the discretion of the Taipei Times.